Andy watches Gwyneth Paltrow drive by in a Land Rover; I scratch my head and try to figure out how far off Christopher Street Two Boots actually is, and how long it'll take us to order pizza once we finally get there.
Clearly, my stomach isn't affected by star power. (Especially since Gwyneth probably hasn't eaten a carb since Hush. Bless her heart.)
***
Soon enough, we're powering through massive sauce-slathered slices and watching as hipster after hipster pours in for their daily carb fix. And as we look out at passersby puttering along sidewalks, I imagine how much this street has seen, especially with our next stop just a few blocks away.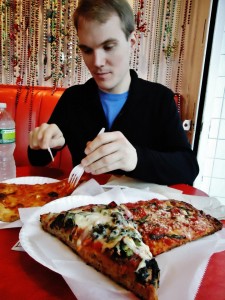 We finish up, and join the hive buzzing outside. As we remark at a particular mo's great cowl neck sweater, the air chills and the remaining sunlight filters behind 1 World Trade Center.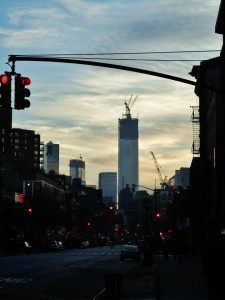 We turn a corner, dodge some taxis, then walk up to Stonewall Inn. Surprisingly unimposing, Stonewall's façade is bathed in light, its slightly tattered rainbow flags fluttering in the breeze.   
It still has the Bam–Pow! effect it did when I first saw it earlier this year. And I almost recite exactly what I did back then: So, this is where it happened.
To most people, this building isn't anything special—just another bar with poster ads featuring scantily-clad, ripped models. The same can be said for Christopher Street Park across the way, minus the poster models (on most days, I mean).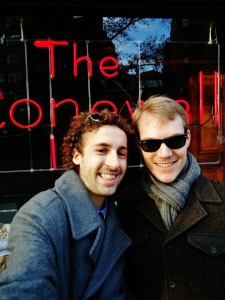 After the requisite pictures, we venture inside. And that's when I feel the "something else" about this place. No, it's not the booze. It's the ambience, the tacit understanding that these boards, these walls, are hallowed ground to many LGBT Americans.
We sidle up to the same bar where generations of LGBTs and prominent civil rights figureheads initiated romantic conversations or decided to take a stand.
With two cosmos in tow, we leave the tab open and seat ourselves in a dimly lit corner.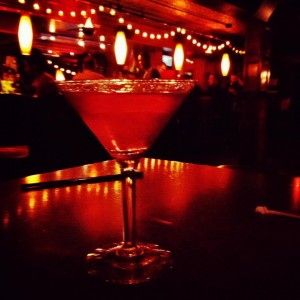 A trio of men carouse at the bar, and two women on a date navigate the awkwardness of ice-breaking conversations. The older bartender surveys the bar with a measured, seasoned eye, and strikes up conversations with a few nervous single guys sitting at the opposite end of the bar.
There's no pretense. No expectations. Just unencumbered joy.
And I imagine this to be the atmosphere in 1969 when the police attempted to quash this haven and imprison those who railed against them. But thanks to those brave figures, Andy and I, along with all the others, are able to enjoy a drink or two, and absorb the history through osmosis.
***
Framed photographs along the wall depict various scenes before and after the Stonewall riots—the tension and catharsis are palpable.
"I wonder where these people are now," Andy muses. "Especially that one."
He points to a young guy seated on the steps of the neighboring business front. With his gaze fixed on something far away—perhaps processing the moment—he pushes his blonde hair behind one ear. Above him, two women share a celebratory kiss, and three men wrap their arms around one another, each smiling directly into the camera. In the foreground, a brunette with glasses smiles wryly, his eyes betraying a mischievous air.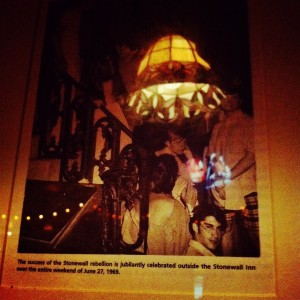 Looking from the photograph to the present scenes unfolding before us, I think how little has changed. But how everything did.
How one event can propel others forward, out of societal shackles, into action. How ardently and passionately our forbearers have fought for our rights, and how far we still must go. How indescribable it is to have Andy by my side, in a place like this.
Knowing that, in a different time, we could've been sitting there, reflecting on our respective days, when the door crashed open and batons started flying. Knowing that there're still heinous crimes committed against people just for dallying in front of such an establishment.
Knowing that we have the ability to craft a better future for a gay couple who, years into the future, will sit exactly where we are and ruminate about the people who've been seated at this table.
And, with hope, will thank us, too.