It's around 6:00. It must be. Joanna's signature high-pitched whine punctuates the dark bedroom as she rustles up through her crate blankets to greet another day.
Before my mind even registers the ungodly hour, my body, zombie-like, starts shaking off the night's shallow slumber as I propel one leg off the bed followed by the duvet-snagged other – and then stoop down to the small blue crate nestled against an Eastlake vanity.
Predictably, Joanna feigns sleepiness in a halfhearted attempt to cajole me to scoop her up so that she, the exhausted one, can be rubbed and doted upon for approximately two minutes before she's harnessed to visit her favorite garbage-dotted bushes along the sidewalk.
The front door's loud thwack and my jingling keys do little to rouse Toby who, judging from snores and grunts, is still covered in his towel fort atop the living room's sagging Victorian hexagonal chair.
Outside, typical characters are performing their morning scenes – the jogger clop clop clopping along the pavement; the flyer stapler bash bash bashing one more concert announcement into an already thickly layered telephone pole; the neighborhood druggies hack hack hacking up partial lungs while lighting up in alcoves where the faint morning light still hasn't penetrated. Mini trash tornados circle and die in the street, and the sky threatens a morning shower. Joanna sniffs castoff food wrappers and smashed jalapenos outlining where the late-night hot dog vendor set up to entice drunken revelers to convalesce with compressed, meaty bliss.
Back inside, filtered light warms the apartment ever so slightly, and the dogs settle down with their post-breakfast treats while I indulge in a few cups of hot cocoa – my recent, somewhat successful attempt at limiting my coffee intake. The expected chocolatey skim forms on top, which once stirred vigorously, settles into the thickened mixture swirling around in the jadeite mug. I sip and gulp, and then rub my favorite geranium's rough leaves – letting their peppery fragrance kick me in the nostrils.
It's one of those mornings framed for reflection.
We've packed a lot into the last three years: we moved across the country; I started a new career; we moved out of our first CA perch, our tiny Koreatown studio, for our WeHo digs; we adopted Toby, then Pearl; Andy got another job; we got married; Pearl passed away; Andy got a promotion; we moved to Seattle; I finished my manuscript, and got a new job; we adopted Joanna; Joanna broke her leg; we decided to stay strong and lean in.
And now, in a few months, we'll be moving again – but this time, only a stone's throw to a larger place where we can let ourselves root in Seattle's ever damp soil and save up for a house. We're re-learning to focus on the good bits that sustain us – whether it's overfilling our apartment with greenery, or enjoying the fact that Toby and Joanna have finally bonded.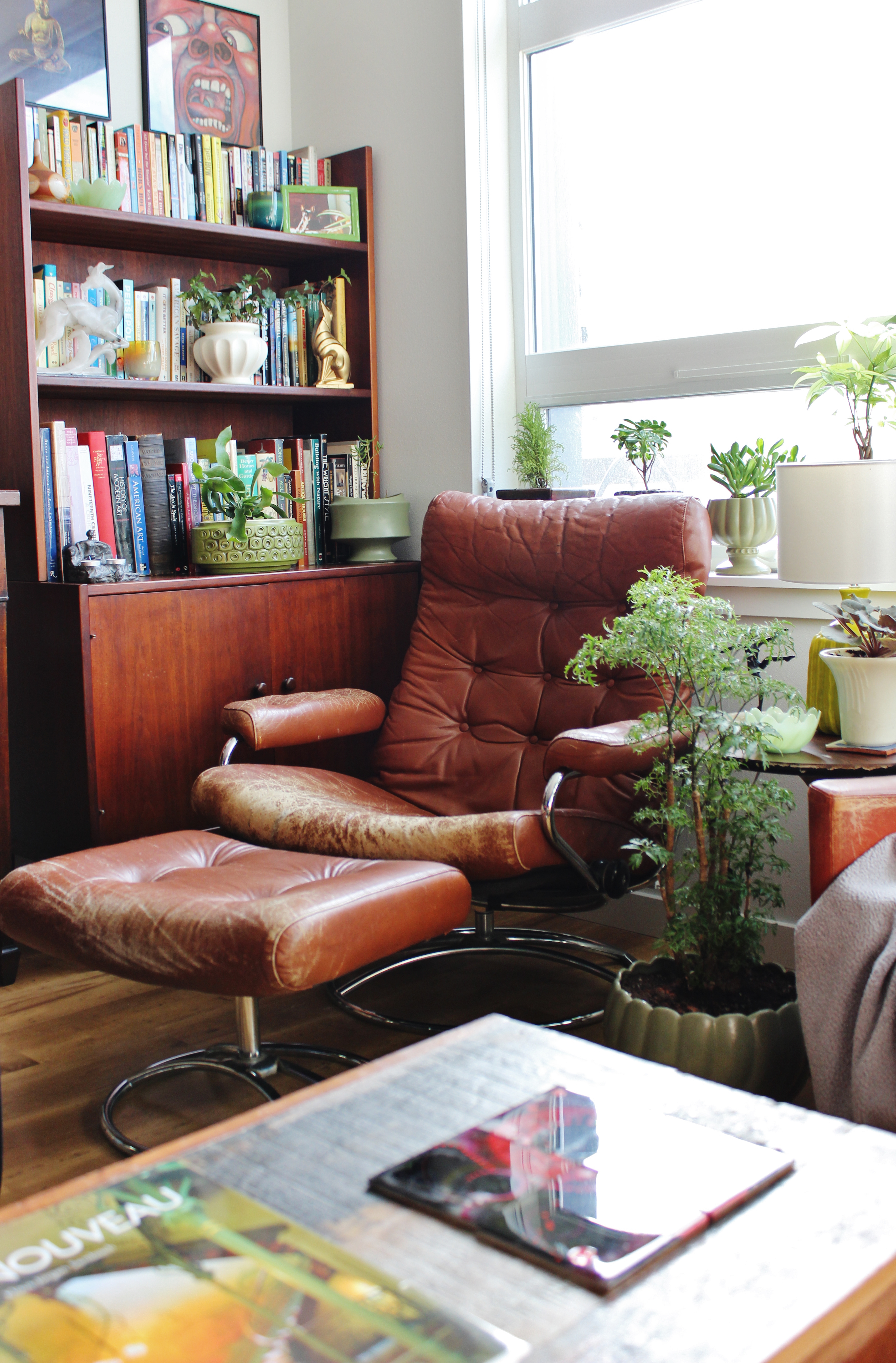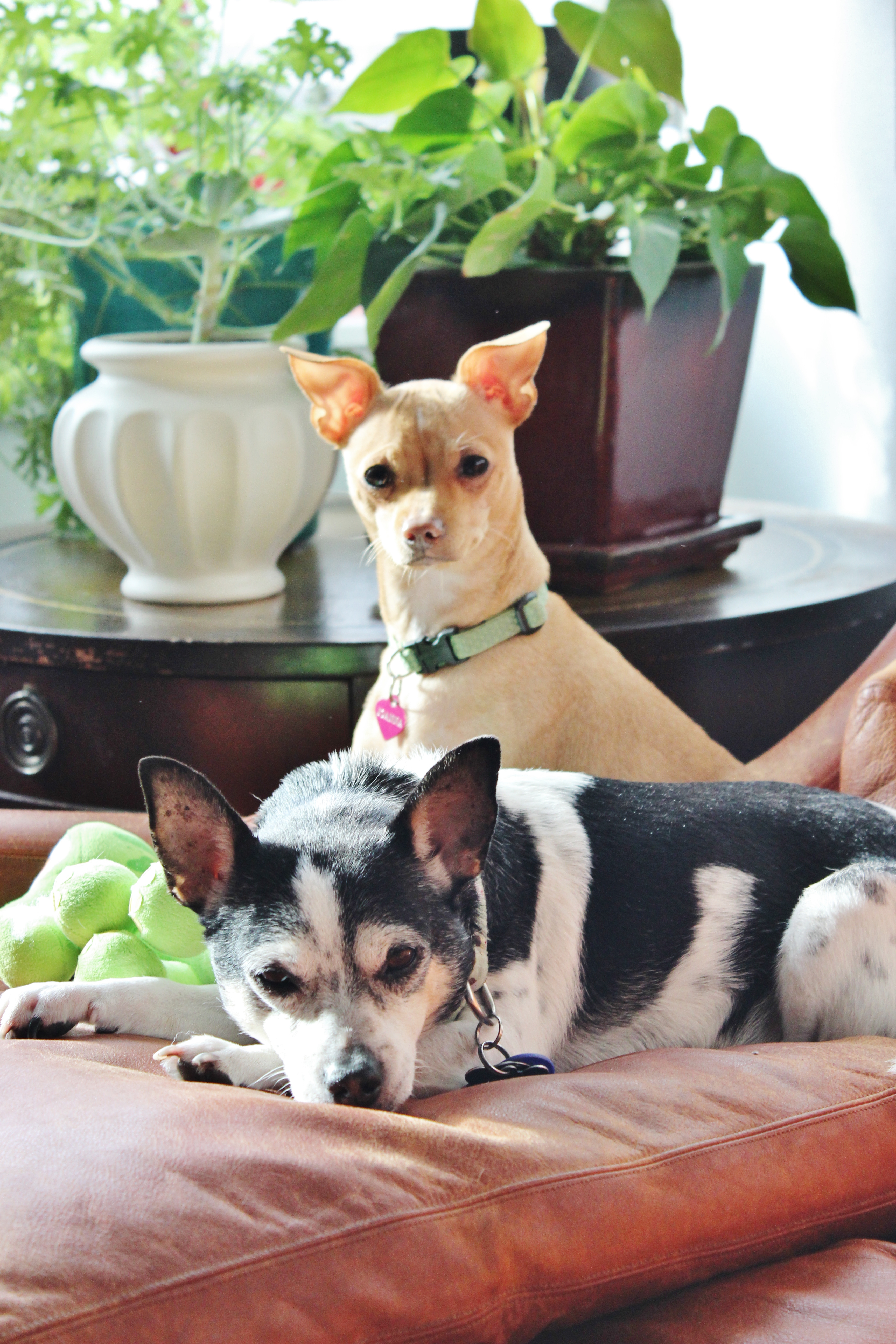 And acknowledging that life is a string of unscripted, unknown experiences, from which we can either choose to grow or wilt.