We've all had those days.
You know.
When you have horrendous nightmares and wake up with a sore throat, a harbinger of a future week of infirmity. When you swear it was 2 AM two minutes ago when you got up to take Ibuprofen and Mucinex, but now the first of your three alarms is going off. When you find some ginger tea in the pantry, make a mug full, and scald the top of your mouth with the first sip.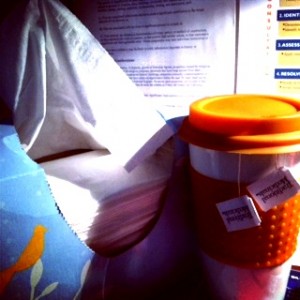 When you think about the other day when you couldn't remember your age and were left wondering what you've done with your twenties. When you think about performing a PIT maneuver on the incompetent Sebring driver hovering in your blind spot, just so the burning embers of the ensuing wreckage will shine in your eyes—give them some dimension this somber Monday morning. When you find yourself on the side of the road crying "I'll never let go, Jack!" as Celine Dion bellows about how her heart will go on.
When you finally get to work, see the pink mold growing on the office wall, fight the urge to vomit, and realize you have a massive rust stain on your sweater.
You know, those days.
Not that any of that happened this morning.
***
So then you think the day will pick up. It won't be so bad. Cheer up, buttercup! And all that bullshit.
Your coworkers filter in. One of them blows up the bathroom, and another chatters your ear off about purple or penguins. Still, you try to be optimistic. Even when the rust stain doesn't rinse out. Even when it's easier to cry and give up.
Because, after all, the new hire is coming today. Perhaps they'll be a sociable savior, a respite of sorts from the spineless amoebas with whom you work. Then you see pleated pants. An unkempt beard. Detect the slight inadequacies specific to a socially-inept anthropologist.
You fight the urge to eat your feelings. And then convince yourself it's the only alternative.
So you lip sync the chorus of "Bleed Like Me" as he's introduced by the office's Numero Uno Nutbag (NUM).
And imagine yourself somewhere else.