The retail clerk looks at me with such horror that I wonder if I momentarily blacked out and smacked a bunch of orphans before running off with their milk money.
"You know, the cute shorts the gays are wearing."
He straightens his intensely starched suit and pulls his collar to the side, as if he has a puff of cartooned steam to ventilate. Then slides the slim bag across the counter with a "Sorry, no."
Which is when I realize that I haven't changed that much since moving to California. That I'm still the most embarrassing person to be around. Ever.
***
Not long after moving here, Andy and I started fielding inquiries from well-meaning family members — specifically about how we shouldn't let ourselves get sucked into "the scene" and to always "be true to yourselves." Which translated to "Don't get hooked on drugs and lose everything and become an asshole who stops talking to your family and friends."
But I'm already horrible about keeping in touch (sorry, y'all), and the closest I get to drugs is when I walk past one of the bazillion legal pot dispensaries along Santa Monica Blvd. I'm too old to give a damn about the thumpa thumpa going on in West West Hollywood, and I'm much more enthralled with the quiet, in-bed-by-nine East West Hollywood.
It wasn't until our gay, man-infested destiny was realized that I learned how much people equate such a move — especially to a big city — with going off the rails and absolutely ruining your life. Granted, it does require a little insanity to drop everything and move — but it's not necessarily symptomatic of a deep-seated issue.
For us, this whole crazy journey has been about self-discovery and starting anew. Of course, we miss our friends and family at the Center and across North Carolina, and the Boys Clubs at The Borough. But we keep ourselves centered here, in our new home. Because everyone shifts from place to place as they make their way in the world and figure out who they are in this moment and who they're going to be. And each revelation and stride is tinged with a bit of heroism.
***
Getting settled is hard. After almost a year, we're just now starting to settle down — the dust isn't quite as thick, and we can breathe again.
But a year ago, we were moving.
Andy had a job. I didn't.
We had a tiny, closet-sized apartment waiting for us in Koreatown.
And we wondered if we were going to make it.
But we started gaining steam. I got a job.
We started saving and dreaming and working toward our goals.
And then we moved again. To a place we both love.
And adopted our furry son.
And started acknowledging that we need to give ourselves a little slack — that rebuilding a social network isn't going to be easy. But it'll happen.
And that our dreams outside the daily grind can be brought to fruition — that they're still there, regardless of context.
So as we creep up on the anniversary of our move, we're finding ourselves just as energized and scared and hopeful as we were a year ago.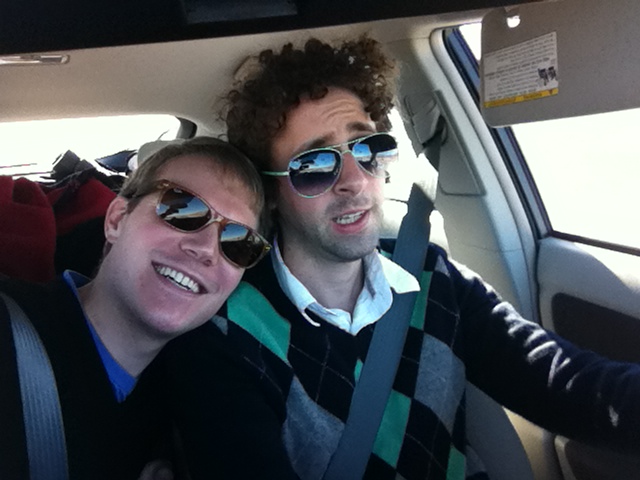 And just as we were then, we're charging headlong into it all — reveling in the ambiguity, and cherishing the experiences to come.