Weaving through the roundabout, my Toyota's front end wheezed and groaned—mechanical harbingers of exorbitant maintenance bills—the volume rising as I hit a pothole, jarring the nearly life-size wooden macaw from its perch on the backseat.
Moments earlier, I'd left a yard sale where the air was heavy with the aroma of freshly laid manure.
"Sorry about the smell!" the seller's friend shouted as I exited the car, crinkling my nose.
"No worries," I responded.
I'd actually just spread similar smelling compost around the bases of struggling plants in my garden, willing the nutrients to trickle down and enliven their withering bodies.
As I made my way into the yard, I noticed the seller was lifting crates packed with items out of her glutted garage. After perusing the first couple of items, I spied a tag from an antique mall I frequented, lifting it to read the item description.
"Oh, and don't pay any attention to the prices on those tags," she called, setting down a box. "They're just for history. They're not the prices."
I later learned that her mother had a booth at the antique mall, and had recently died, leaving her daughter to purge the unsold items.
Judging from what I saw, I regretted not having more cash. But since it was the end of the month and I'd be left with just a couple of bucks in my bank account after rent was drafted, I reminded myself I didn't need anything else—that this was just for fun. Residing in an area where the cost of living is constantly climbing, and where I barely make ends meet, my fun must be measured strictly in dollars and cents.
Eying a green-tinted bean pot, I lifted it up to confirm my suspicion; it was Frankoma. I considered asking how much it was, but refrained. For a few weeks I'd mulled over the idea of starting an little online shop, re-selling cheap yard sale finds like this one. But I was wary of amassing items and having them sit while I hashed out logistics for this potential, highly unprobable venture. It reminded me too much of my fifth grade get rich quick scheme: manufacturing necklaces made from perforated shells I'd hoarded from a trip to Destin, stringing them together with mint-flavored dental floss. I'd rationalized that the mint smell would make the necklaces seem more authentic and tropical. In the end, I only sold one for five dollars to a kid named Lee, and ended up with three massive buckets of shells bleaching in a corner of my room. My gums, however, were resplendent.
I lowered the pot back down onto the throw, and moved through the other items as another picker showed up.
Immediately, I recognized the woman would be a headache-inducing nightmare for the seller. Barely entering the thick of it, she lifted up a baby doll with a melted head and demanded to know how much. I quietly continued, watching her out of the corner of my eyes. Item by item, she slowly amassed a pile, including the Frankoma piece. I nodded over to her as she picked it up, mentioning that it was a good score and throwing in a bit of history about Frankoma.
After that, she asked me about every single item she considered, prefacing each inquiry with some derivation of, "Since you seem to know a hell of a lot about this stuff…" During a lull in the questioning, the seller confided to me, "Yeah, I should probably eBay a lot of this stuff. But I just want it gone, you know? It's an energy thing." Her tone fading to a whisper, her eyes watering as she turned away.
I nodded and said I completely understood. Whenever I make a decision to shed something, I want it gone immediately; I quickly grow to loathe and resent the space it occupies.
A few other folks pulled up, and I wound my way back to the few things I assumed I could afford with the couple of bucks I had in my pocket—the macaw, and a thin artist's palette. Since the macaw was on a stake, I intended to use it as a plant anchor. Three dollars later, I walked them back to my car, the sound of the bargain hunter's booming voice drifting after me.
***
As I reached into the backseat with my free arm to shift the macaw back into place, I spied a plastic chair coming into view on my right-hand side. Closer, I noticed a paper sign reading "Fun stuff for sale" duct-taped to it, a sloppily painted red arrow pointing down a narrow alley.
I glanced down the shadowy lane as I passed, but didn't see anything remotely resembling fun. But as I crept up to the end of the block, I circled back down the other side, determining where the alley ended and if I could see anything from a different angle. Still nothing. I circled the block again, debating whether or not to venture down the alley, before deciding to park.
As I passed the chair and followed the arrow, I told myself that I wouldn't be entirely surprised if I came upon a naked man swirling a cracked wine glass and wearing a furry horse head with "fun stuff" painted in dripping red across his hairy, mole-covered, protruding gut.
About twenty feet down, a small driveway opened up to one side, and I noticed various items strewn across a few tables and broken fishing poles propped against a fence. I didn't see an attendant until I was fully in the backyard.
The middle-aged man was shirtless, wearing a faded hat turned backwards. As he turned at my approach, I noticed he had plumber's crack, and patches of thick upper arm hair.
I mumbled a greeting and quickly pored over the items, recognizing immediately that there was nothing I wanted. But he kept getting closer, making the situation all the more awkward. I felt slightly hemmed in, my southern politeness chiding, "Be respectful and give this shit another once over," while my intuition screamed, "WHAT ARE YOU DOING IN AN ALLEY WITH A STRANGER? RUN!"
"Clearing things out, huh?" I said, forcing a casual tone.
"YEP YOU KNOW JUST TRYING TO MAKE ROOM FOR HER STUFF," he boomed, motioning to a chair barely visible around the corner, presumably occupied by some unseen figure. Mother perhaps.
The way he spoke suggested an urgency to everything.
Rusted tools and tarnished silver covered one table, with a few boxes beneath housing moldy Judy Blume books, and a disturbingly old tome simply titled The Human Body—the figure on the front skinless, with exposed sinews and bulging eyeballs.
He noticed me reviewing the books, and shuffled even closer, his sagging bellybutton nearly level with my ear.
NO ONE BUYS BOOKS ANYMORE. THEY'RE ALL PLUGGED INTO THEIR PHONES AND THOSE THINGS YA KNOW?"
He made a winding motion around his ear. I nodded and said it hurt my heart that books weren't being read as much, even though I'd just read an article about how Millennials are opting for print books over audio or e-versions. But this was all about placation.
When he turned away, I used the opportunity to put a little more distance between us, and reviewed which items could possibly be of use. I was desperate for a diamond in the rough—something that I could snag with the two dollars I had in my wallet.
"What about the extension cord?"
"AH THAT'S FIFTEEN DOLLARS."
I tried not to laugh in his face. Judging from the taped up sections, anyone who used it would probably be electrocuted the moment the prongs touched an outlet. I inched away from it, but he moved quickly, sidling up next to me, forcing me back toward it.
"YOU KNOW WHAT THIS IS DON'TCHA?"
What you tie your victims up with?
I looked on vacantly, screaming inwardly.
"IT'S A HUNDRED FOOTER!"
"Oh, wow."
Quickly, I pivoted to an adjacent table and rummaged through a pile of dull files, and considered how many bodies the rusted saw next to them had dismembered.
A faded yellow radio on a nearby table began playing a song with incredibly explicit lyrics, and I tried to inwardly hum something uplifting.
"THIS IS SUPPOSED TO BE THE HALLELUJAH STATION!"
He ran over to the radio and turned the song down, muttering about the obscenities before returning to the shaded corner and mumbling in the chair's direction.
If I ran now, I'd probably at least make it out of the alley, and then I could hit my car's panic button before he pulled me back into the alley's dark reaches, back to Mother.
I turned and stepped on a piece of gravel, which crunched loudly and ground beneath my Birkenstocks. He redirected his attention from the radio to me, and began charging back. To deflect whatever commentary—or knife thrust—he had ready, I grabbed the closest thing and asked about the price.
What about this brush?
Its wire teeth were bent, misshapen, and rusty, and its plastic body scuffed and cracked. It was garbage, and I hoped it was less than three dollars.
"UM YEAH THAT'S TWO DOLLARS."
Hallelujah!
"Great, um, I'll use it for my grill."
I didn't have a grill.
"OH MAN I DIDN'T EVEN THINK ABOUT THAT AND I JUST BOUGHT A GRILL CLEANER."
He ran over to a pile of tools propped against a rotting shed, as if to prove its existence.
"WHEN THE HANDLE BROKE OFF OF THAT I JUST SAID FUCK IT."
I pondered how he'd broken the handle—most likely forcing his latest victim into a bath, scrubbing dirty, filthy hair from their supple skin, chiding in a sing-song voice that Mother demanded a clean canvas.
So not only was I buying a garbage brush, but one that was broken to boot. I eyed the hole in the center of the plastic body where the handle had broken off, doing my best to avert his steely gaze.
"Well, this will do it!" I shouted, extending my crumpled two dollars.
"OK GREAT."
He grabbed them with his roughened hands and shoved them into his pocket.
I turned and darted away, walking quickly to the street—all the while waiting for his hairy arm to pull me back, a chloroform-soaked rag pressed to my face, the brush falling out of my limp hand onto the alleyway, like the pearls from Bruce Wayne's mother in the original Batman.
Sunlight glanced across my face as I skittered past the "fun stuff" sign and jumped into my car, pressing the accelerator.
***
JoJo twirled and barked at the macaw as I planted it in the center of my elephant ear plant's pot, taking care to tie the most unstable stalks to the stake. I wiped the macaw down with a damp cloth and stepped back, smiling at the bright, chipping paint—wondering about where it came from, the stories it carried.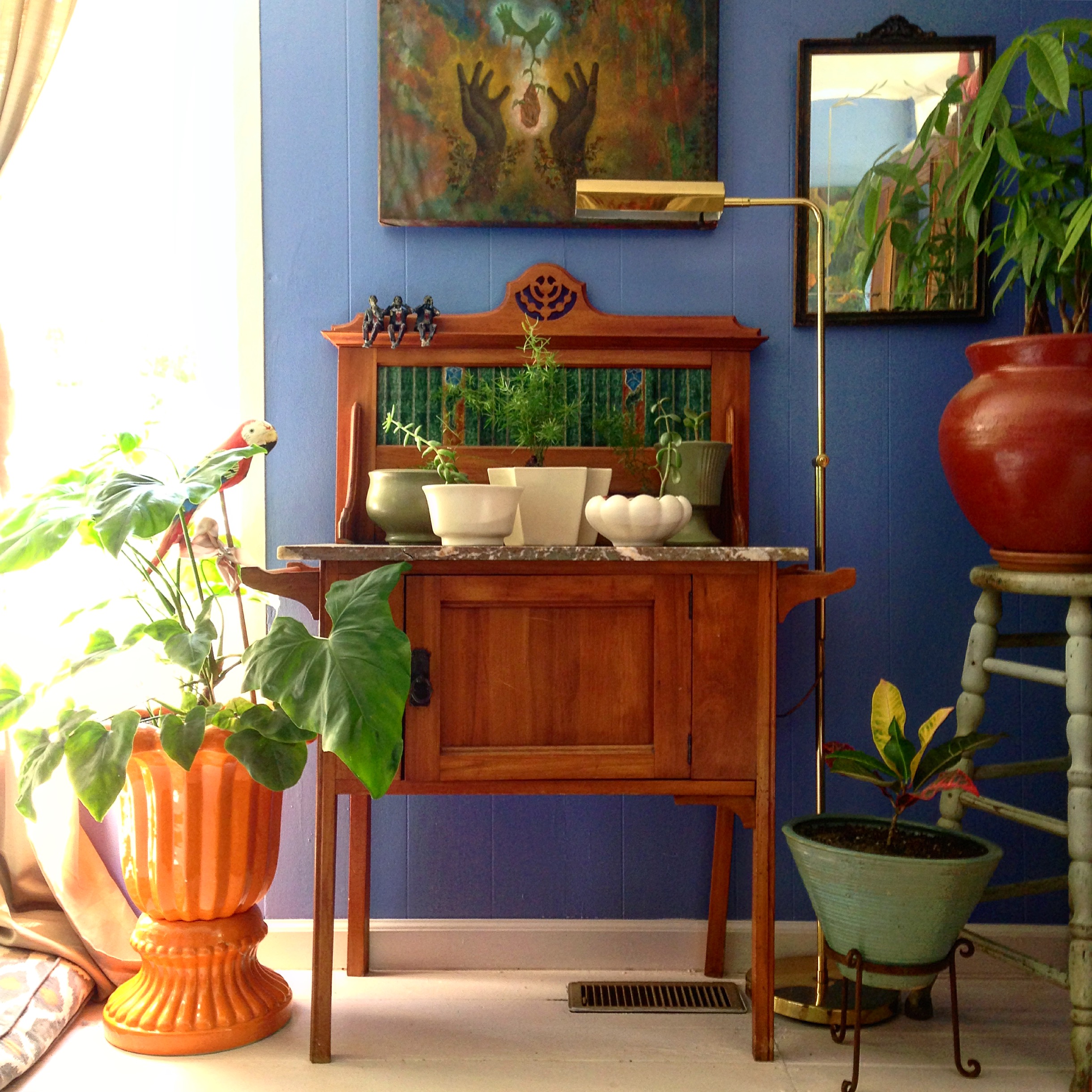 I tossed the wire brush into a bin of home improvement tools, and laughed to myself at the absurdity of the whole exchange and that, in retrospect, it wasn't the wisest move. I wondered if he'd sold anything else.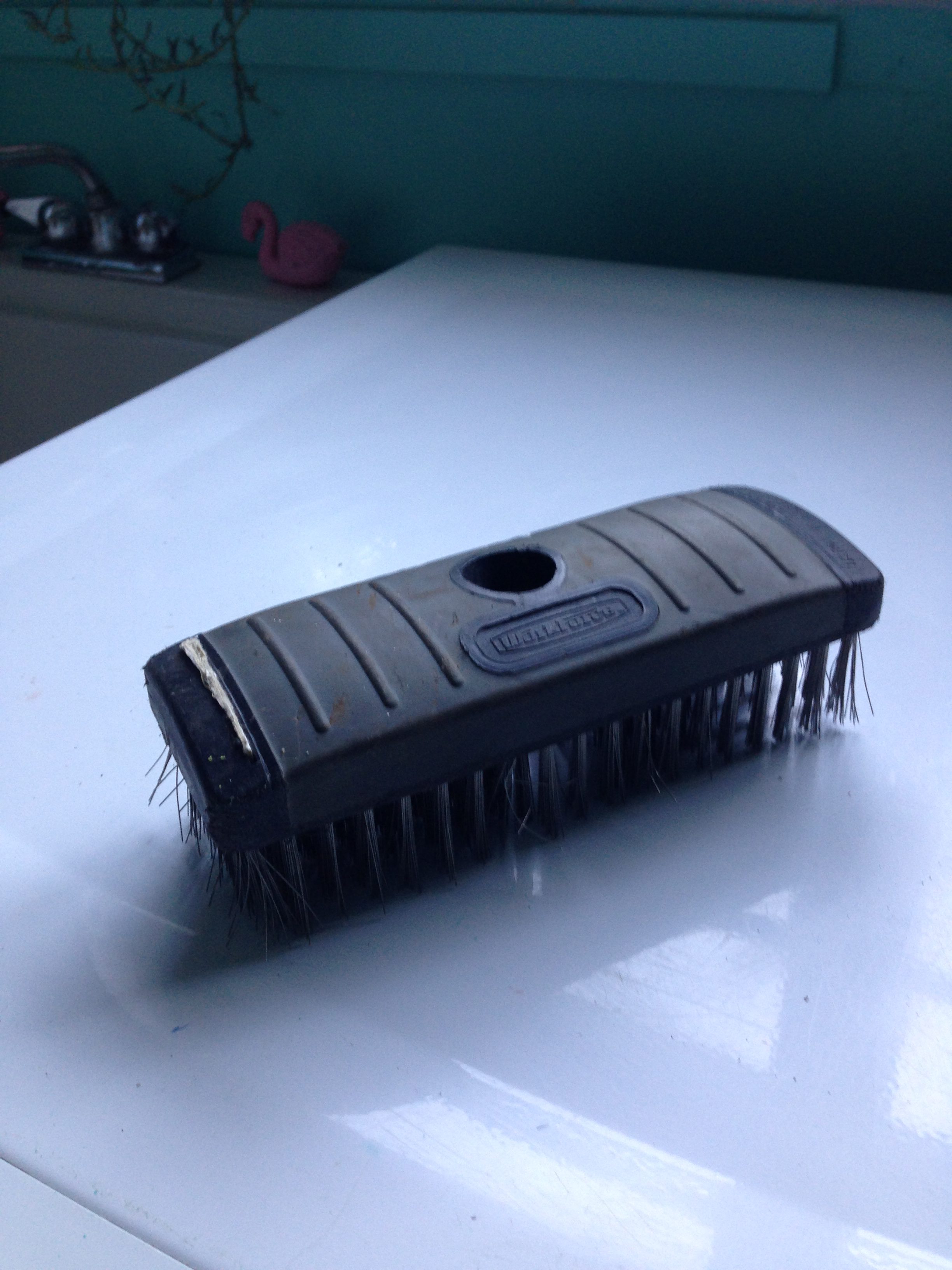 Heading out to my garden, I grabbed a bowl I'd snagged at an estate sale months before. Its roughened glaze and off-kilter shape had struck me, and I imagined the potter who'd made it, who'd scrawled their name into the base. In the other hand, I toted my partially filled kettle, and planned to use the leftover water from the morning's tea to refill the bird bath.
Rounding the corner, I stopped suddenly. Harriet, my resident Northern Harrier hawk, stood squarely in the middle of the bird bath, cleaning her beak in the little water that remained. The wind ruffled her plumage and she shook droplets all over herself. Within moments, she took flight, fracturing small twigs in the trees above, sending squirrels darting in all directions, barking frantically at her ascent. I waited for a moment, and then filled the concrete bath—a lone puff of down floating on top of the glassy pool.
Pod by pod, I plucked peas from their wispy stalks, tossing them into the bowl atop romaine leaves. I nudged baby cucumbers and eggplants and strawberries slowly budding on their vines, willing them to bulk up—to make the end of the month seem a little less wanting.
With my bowl full, I turned to head inside, and smiled at the streak of pink emblazoned across the gray sky; a beautiful farewell to another day gone.
Inside, I cut up everything and made a salad, positioning myself with it in front of one of my fans along the sun porch's window bank. The heat was subsiding, but the cool air was a necessary, enlivening jolt; I still had things to do—writing to complete, art projects to start.
But I just stared out at the green, watching the light fade from the sky, trying to remind myself that I have to stop racing around from project to project lest I miss the beauty of quietly simple moments. There's a certain fullness to my life that comes from embracing the world on a very basic level, of recognizing that I'm one tiny cog in a vast, pulsing world of bizarre creatures—tormented, suffering, vulnerable, jubilant.
As I do every night before I lay down to sleep, I reminded myself how fortunate I've been to have the opportunity to bring some of my goals to fruition, and to keep working toward others, especially now—when so many have so little, and our country is descending further into darkness. I usually murmur this to myself while looking at a glass jar I mended as a high schooler—aspiring to be an archaeologist, which I was able to be for nearly a decade—which contains fortunes from long since crumbled cookies.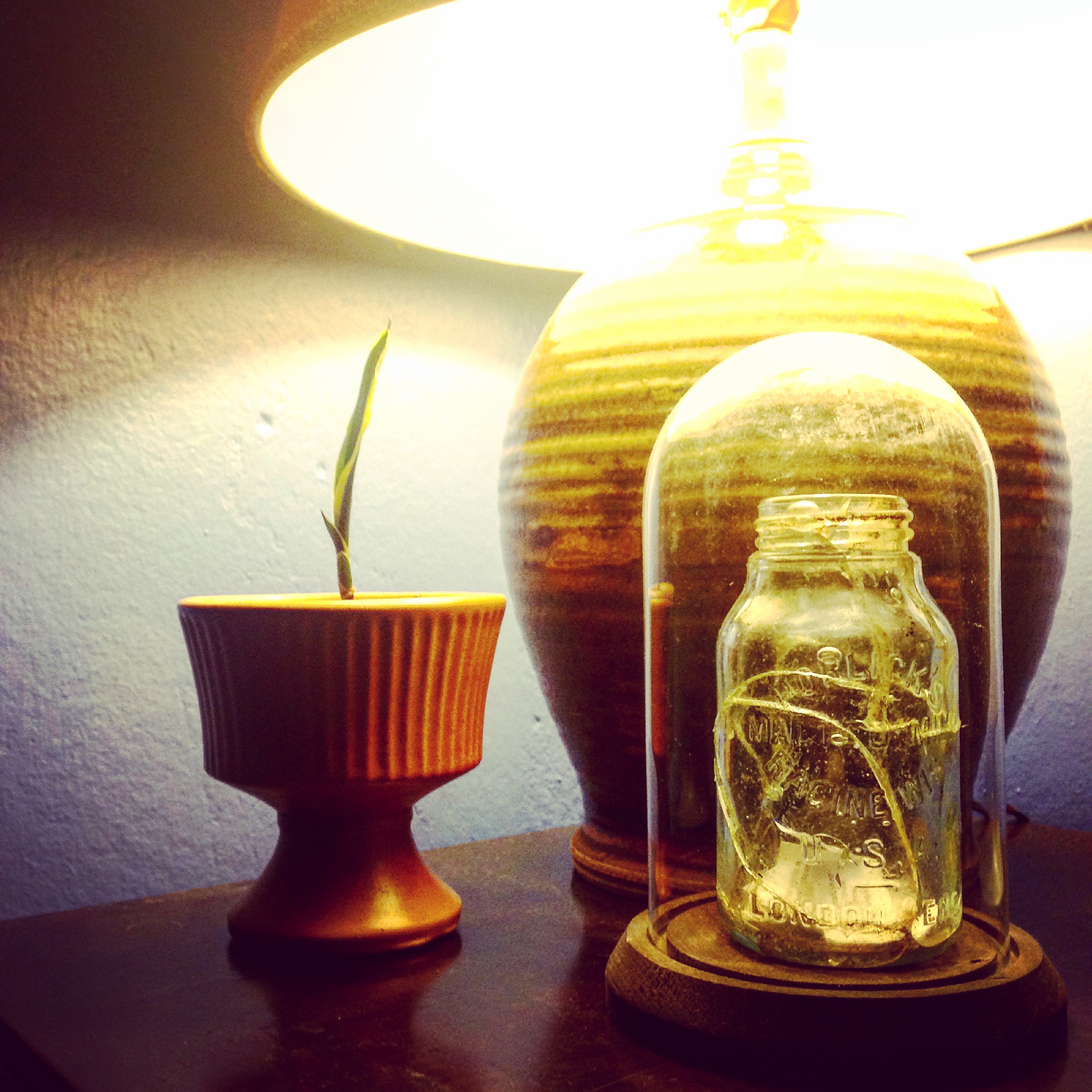 It always reminds me that, though each of us may feel like a distinct, lonely shard in a fractured mirror, only by mending ourselves into a stronger whole will we be able to protect the future we know is within reach, that's worth the fight.
***
Embedded in the most mundane moments of a given day, there're stories of how we've swept the suffocating cobwebs off our weathered pasts, refreshing them with a coat of paint—liberally brushing on vibrancy and radiance, reflecting the color we know our lives can bring. But the only way of adding them to the blindingly fantastic kaleidoscope of humanity is by sharing them—reminding one another that we're not alone.
That each of us has the power to bridge the gap between calamity and creation—sparking beauty, love, and connection, the promise that permeates every atom around us.