Every year around this time, everyone starts cramming in gym sessions in the hopes that those extra crunches and lunges will somehow offset the caloric intake of Thanksgiving dinner.
They think about the long commutes to their destinations, what dishes to prepare, and try to figure out how in the hell they're going to distract their crazy grandmother long enough to snatch away her hoarded painkillers and substitute them with multivitamins.
***
But rarely do we stop and consider that (1) Thanksgiving is a celebration of the upheaval of Native American life-ways, courtesy of colonists and their smallpox blankets; and (2) Clichéd attempts to be "good people" shouldn't be reserved for the holidays.
You shouldn't wait to donate to a food pantry. You shouldn't carelessly throw your money into a shiny red bucket and feel the weight of your good deed lift off your shoulders (because you just funded bigots). And you shouldn't forget that plenty of people don't have homes or friends or any support to lean on during these socially-reinforced, absurdly ritualized holidays.
Now, I'm the first to admit my guilt for doing all of these things. (And that I'm a Scrooge.) But after realizing that The Salvation Army is severely anti-LGBT, I began ignoring their ringing bells.
And when I've celebrated difficult times in my life with friends by my side, especially when I'd isolated myself to such a degree that I didn't return home for the holidays, I realized how important each of them is for keeping me going 24/7—even if I don't touch base with them for weeks or months. 
Just knowing they're there means the world.
Knowing there're people out there who'll do the right thing has a profoundly comforting effect. And it's even more comforting to know that that effect is like a stone cast into a pond—the subsequent waves ripple through your life, informing your decisions.
***
Had I not had parents who were determined to show my sister and I how life isn't fair, that it isn't balanced, it would've taken me much longer to learn how to pay it forward.
Until I saw unexpected joy flash across the faces of kids who didn't think they'd get anything for Christmas; until I understood the value of sitting and talking to a blind woman, and letting her dog feel the grass outside instead of the scattered, waste-stained newspapers it used; until I watched a curmudgeonly nursing home resident abandoned by her family crack a smile at a pack of Reese's and a carton of Marlboro Lights—I didn't truly comprehend the enormous responsibility we each have to extend a hand and do something good.
***
This time last year, I was prepping a turkey for the first Transgiving at the LGBT Center of Raleigh. Over that year, the Center had become a home base for me, and had been the primary reason I'd moved to Raleigh. Getting involved—giving back in some small way—brought together a family of good people. Up to that point, I'd never known anyone who identified as trans, and I quickly realized how uninformed I'd let myself become.
While I'd been obsessed with gay male subculture and understanding everything I'd let myself believe it to be to about—butch, fem, top, bottom, vers, bear, twink…—I'd let myself forget the very thing that united LGBT individuals during the Stonewall Riots, that bonded them in a way: community.
So often we jabber about the LGBT community, like it's a cohesive whole. But let's face it: the "T" in LGBT is always tossed to the back. The "T" is never at the front. Because being "T" isn't as seemingly trendy or cool or understood as being "L" or "G" or "B."
***
But this time of year, there's a reason why TDOR begins with a "T." Today, on the Transgender Day of Remembrance, we—the TBLGs, the allies—remember every trans or gender non-conforming person who's been killed this year for being themselves.
For trying to live their lives to the fullest. For giving themselves a shot. For trying to educate others. For simply trying to be.
For searching for companionship and support in a sometimes cold, unforgiving world.
Every year, TDOR reminds us just how callous and hateful people can be, and how easily ignorance and fear can destroy us.
Can blind us.
Can lull us into complacency.
Can keep us from giving back.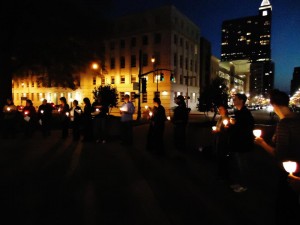 But we also have reminders of just how wonderful we humans can be to one another.
***
So, last year, after the first Transgiving ended with smiles, laughter, and joyful tears, we surveyed the mountains of food and did what made sense. With our cars loaded down, we distributed as many plates as we could to those who didn't have a home to go to, who didn't have a friend to chat with or a shoulder to lean on.
And as we emerged empty-handed from one dark park, I realized that it didn't matter that we were trans, gay, lesbian, bi, queer, straight.
What mattered was that we were human.
That we tried to share that humanity.
Even a little bit.