Eyeglasses are my porcupine quills: indicators that you should venture elsewhere—far, far away from me.
And yet, bastards still poke, poke, poke.
Like the coworker invading my self-quarantined office.
"Wow, you eat a lot of yogurt. You eat that entire container in a day?"
I sharpen my gaze on her reddened cankles and slowly work my way up to her bloated face.
"There are worse things to eat."
Point taken. She leaves.
***
But on the cusp of one of the most divisive elections in recent history, there're plenty more who just don't take the hints. Popular bloggers and prolific writers have penned articles of the "De-Friend Me" ilk, targeting Facebook and the "Friends" list we all like to think we regulate.
Still, I'm a curious being. So I pulled up my "Friends" list and searched "Mitt Romney" and "Paul Ryan." And lo and behold! I found "friends" who've "liked" them. And I mean like them like them, not "liking" them to glean the latest drivel from the far right.
And sure, I wasn't surprised by a few. I mean, c'mon. Like I really thought those people from high school I've been meaning to delete—who've stayed in the same small town, who're still beating their bibles with as much conviction as the "good ol' days"—are about to stand up and do something proactive for the future.
Bubye and good luck, y'all.
Still, there are the stealth supporters–friends you suspect will welcome you into their home, treat you nicely to your face. Then fill in the Romney/Ryan bubble on their voter form, and justify your continued marginalization by citing economic turmoil or foreign policies.
And yes, don't we all wish LGBT rights weren't topics to address in a presidential election, to sway someone's vote? It'd be wonderful if they weren't issues of concern. But they are.
So when my life is dragged out for public consumption, and my civil rights are contorted into "benefits" that I'm not "qualified" to receive, pardon me for getting a tad defensive.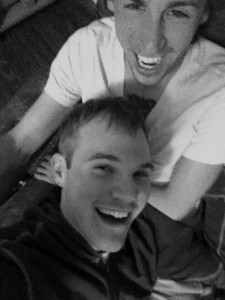 For a lot of "friends," it's fun to have "the gays" in your fold, even if you're quietly homophobic. Because having friends like them garners you certain attention, makes you feel special. But all you're doing is appropriating part of someone's life for personal gain.
You smile when they babysit your kids, buy you a drink, say you look nice, organize your wedding, treat you with respect.
And still you turn your back on them in the voter booth. There, within that tiny space, you align yourself with the same side pushing to disenfranchise the majority of Americans who don't fall within a particular income bracket; whose skin isn't the right color; whose first language isn't English; whose health isn't perfect; whose lives are just as disposable when they're deployed as they are upon returning from service; whose bodies are "temples for God and country" and not for personal use and protection.
If you find yourself voting for that kind of national legacy, I hope you're proud of yourself.
Because I'm not.
And I'm too goddamned tired to entertain "friends" from different "walks of life" if that means having people around me who think I'm not entitled to have the same rights that they enjoy. Who can't see that "Romney/Ryan" signs translate to "Hates Gays, Loves Misogynists."
But that's reality.
And I wonder if dealing with this bullshit is worth it. If Andy and I wouldn't be better off packing our apartment and moving to a country where we aren't defined by gender identity and treated as "others." Someplace where we can just be, and be respected.
It's my hope that my true friends will have my back during this election. But if you're planning to vote for Romney/Ryan, don't expect to have any semblance of a relationship with me, regardless of how long we've known one another.
I'm not just talking "de-friending" me on Facebook. 
I mean, don't speak to me. Don't wish me well. Just leave.
I'll understand.
I just wish you could, too.