Pearl halfheartedly side-eyed the screaming man as he slung horrendous accusations at his soon-to-be ex-girlfriend.
"YOU CAN'T EVEN LOOK ME IN THE FUCKING FACE CAN YOU?! CAN YOU?"
The woman crossed the street and yelled some unintelligible riposte. Which is when Toby retracted his face into his three chins, and gave them both a healthy fat-eye.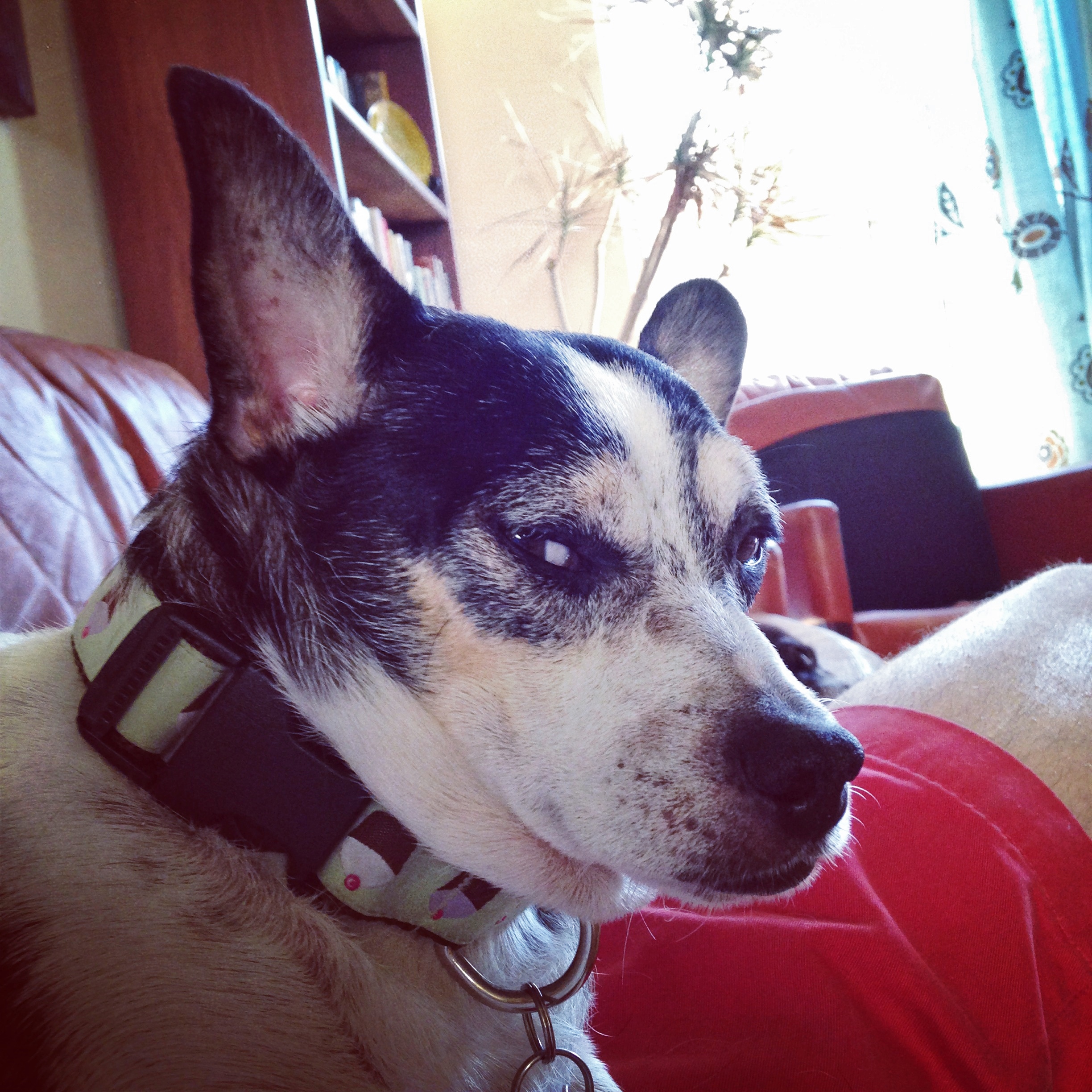 And I muttered about how nice it'd be to walk the dogs in a post-apocalyptic world where the streets would be deserted and the only fuss I'd hear would be anguished, short-lived cries from a fellow survivor being eaten by disease-plagued zombies.
Oh, to dream.
I had a similar thought as I walked home earlier that day and passed a woman perched on her bicycle seat who narrowed her eyes at the sewer drain as she screamed into her phone.
"…then WHERE ARE YOU? No. NO. YOU'RE NOT AT THE GODDAMN LIBRARY. YOU'RE AT THAT BITCH'S HOUSE, AREN'T YOU?!"
I shuffled past slurping my long-drained coffee, and looked down at my nonexistent watch.
If I learned nothing else from engaging my crazy K-town apostle-stalker, it's that it's best to always have something immediately within reach that can occupy your full attention at a moment's notice – for instance, when you see your stalker, but he doesn't see you, put the phone to your ear, or get yourself suddenly engrossed in your book, or pound back that completely drained coffee. It's your escape, your camouflage.
It's not as though I'm trying to become less invested in social interaction – it's just sort of happened, and I'm not entirely certain I want to make a concerted effort to stop the process. Now, it's not as though I'm backsliding into my misunderstood goth years when the World, in all its Unfairness, decided to rage against Me (and when I decided every other word in my angsty journal entries had to be capitalized). I guess I'm entering that phase of my life where I give much less of a damn about what anyone thinks, and acquiesce more easily to my internal 800-year-old grandpa — who demands I be in bed by 9:30.
And I'm fine with it.
***
It comes as no surprise that, lately, I've been a little out of touch. Not only with my writing, but with everything and everyone in general. I've felt like crap, am getting burnt out at work, and have had a litany of health stuff crop up – most of which is due to fatigue and my genetic predisposition to inherit every horrible trait I possibly can.
But there's something else I've realized, too. As fun as the past year in WeHo has been, I've let myself become a cliché – running to work and home and the gym in some sort of masochistic cycle that leaves little to no room for fun, much less spontaneity.
That, though, has come to an end. I've intentionally thrown a wrench into the entire working system of cogs and gears that've collectively ground me to a pulp. And even though I'm building more cake mass than muscle mass lately, I'm much happier. Because, together, Andy and I are reclaiming our weekends, and have started a little routine of our own: a non-routine road trip every weekend. Whether it's to Sierra Madre or Pasadena, we're setting out on our own terms and reminding ourselves why we moved here.
And while our first road trip involved Toby barfing all over the backseat, we found great Fiestaware haunts and plenty of fun, fascinating places along the way. Which is why we're starting to get that moving itch again. And no, it's not pushing us to scratch outside state lines. Just a little northeast – to Pasadena.
Walking around and taking in Pasadena, we reveled in everything that this smaller LA suburb has that we crave:
Historic, thriving downtown. (Y'all, it means more than you know. At least to me.)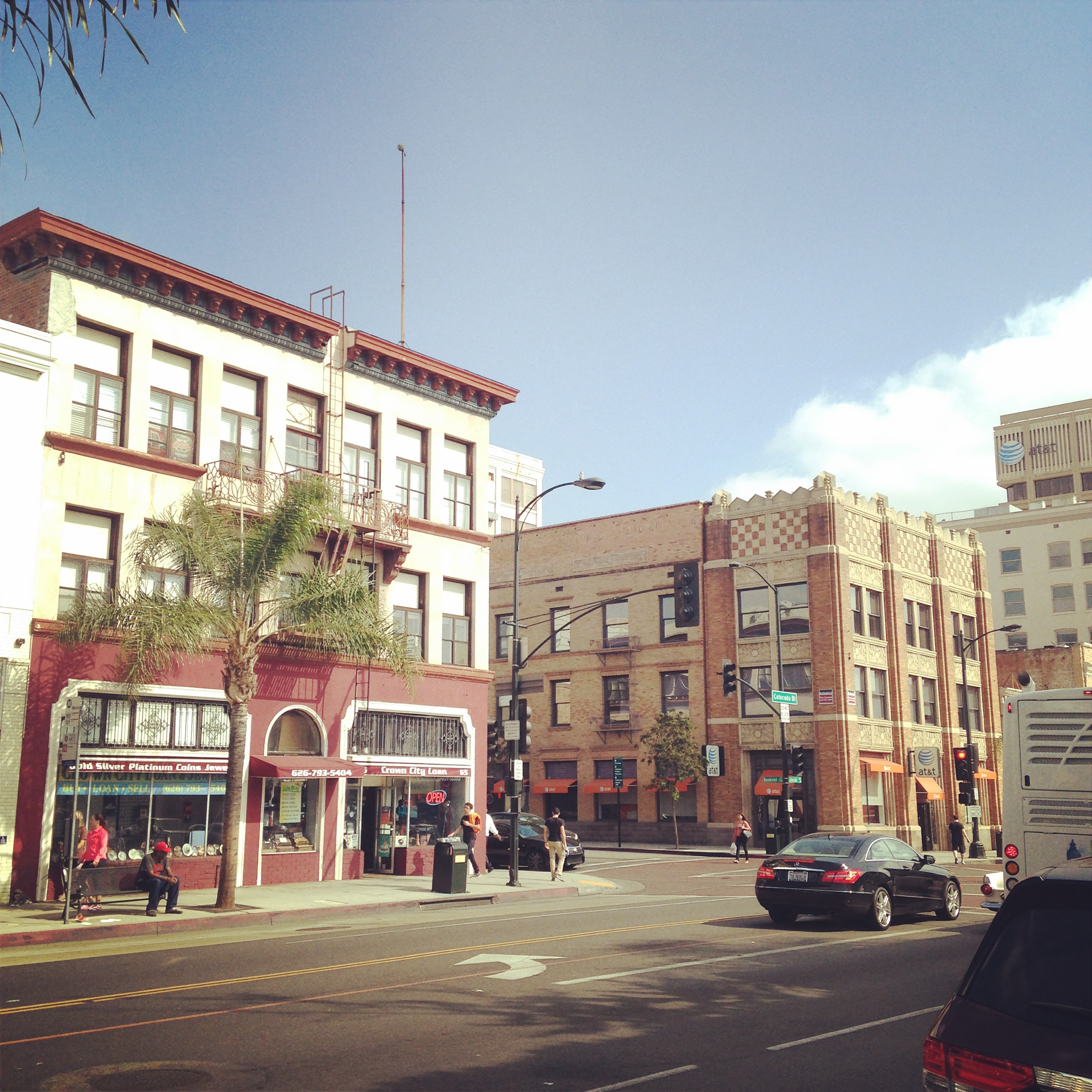 Historic, financially accessible neighborhoods. (Holy shitballs. We may actually be able to buy a house one day! MAYBE EVEN A CRAFTSMAN.)
Reasonably priced antique malls. (ACTUAL good, fair priced stuff. Not that crappy chair grandma died in that's now retailing for $5,000 because it's "vintage.")
A $2 movie theater…among other theaters. (Okay, so LA and WeHo have plenty of theaters, but they don't have the $2 one.)
Tons of local eateries sans trash-talking twinks. (Yes, there're good, local eateries almost everywhere. But at least in Pasadena, there're fewer asshats sitting around carping about calories.)
Now, I know what you're thinking: WHY ARE YOU ALWAYS WANTING TO MOVE THE SECOND YOU'RE FINALLY STABLE?
Believe me, I ask myself that all the time. And as much as I've enjoyed putting down roots in LA and WeHo, let's face it, they haven't really taken hold, much less thrived. It's partly due to a lack of trying, partly due to the gritty grind of LA, and WeHo's super young thumpa-thumpa demographic.
I never thought I'd write it, but I actually want to move to a suburb. But not to a little box on a hillside: somewhere that's moderately clean, that has stuff to do, and where if I walk to the store in slightly worn jeans and a plain white tee I won't feel quite as many judgmental stares from gym bunnies.
It'd also be great to get away from the hipster couples with kids who're flocking to our neighborhood. If I have to hear one more damn conversation about how little Rainforest just can't have his soy snacks anymore because his sister Daisy-Greenhouse can only eat things that taste like chalk, I'm going to put an add out for Twisty the Clown's removal services (y'all, I love some American Horror Story, but that damn clown is flippin' terrifying).
So, here's my First World conundrum: I don't want to be around a bazillion club-hoppers that'd probably kill a prize-fighter for a sandwich, but I also don't want to be around a bazillion hipsters, even though we're sort of hipsterish. And I certainly don't want to be around a bunch of bubbas.
Perhaps the solution is the same one my parents came to when they retired: move out to the middle of goddamn nowhere. That way, if anyone does visit, you can shoot them, drag their body to the pond, and let the gators do the rest.
Or, we can stick to our guns, hunker down, and start saving money for a house while living somewhere that has what we want, at the scale that we want. Like, say, Pasadena.
As maddening as it is to realize, it's actually freeing to know that what I want to do in my free time revolves around a few hobbies: being with our little family, watching movies, eating good food, exploring historic areas, being artsy and writerly when I can, and antiquing for ALL THE FIESTAWARE.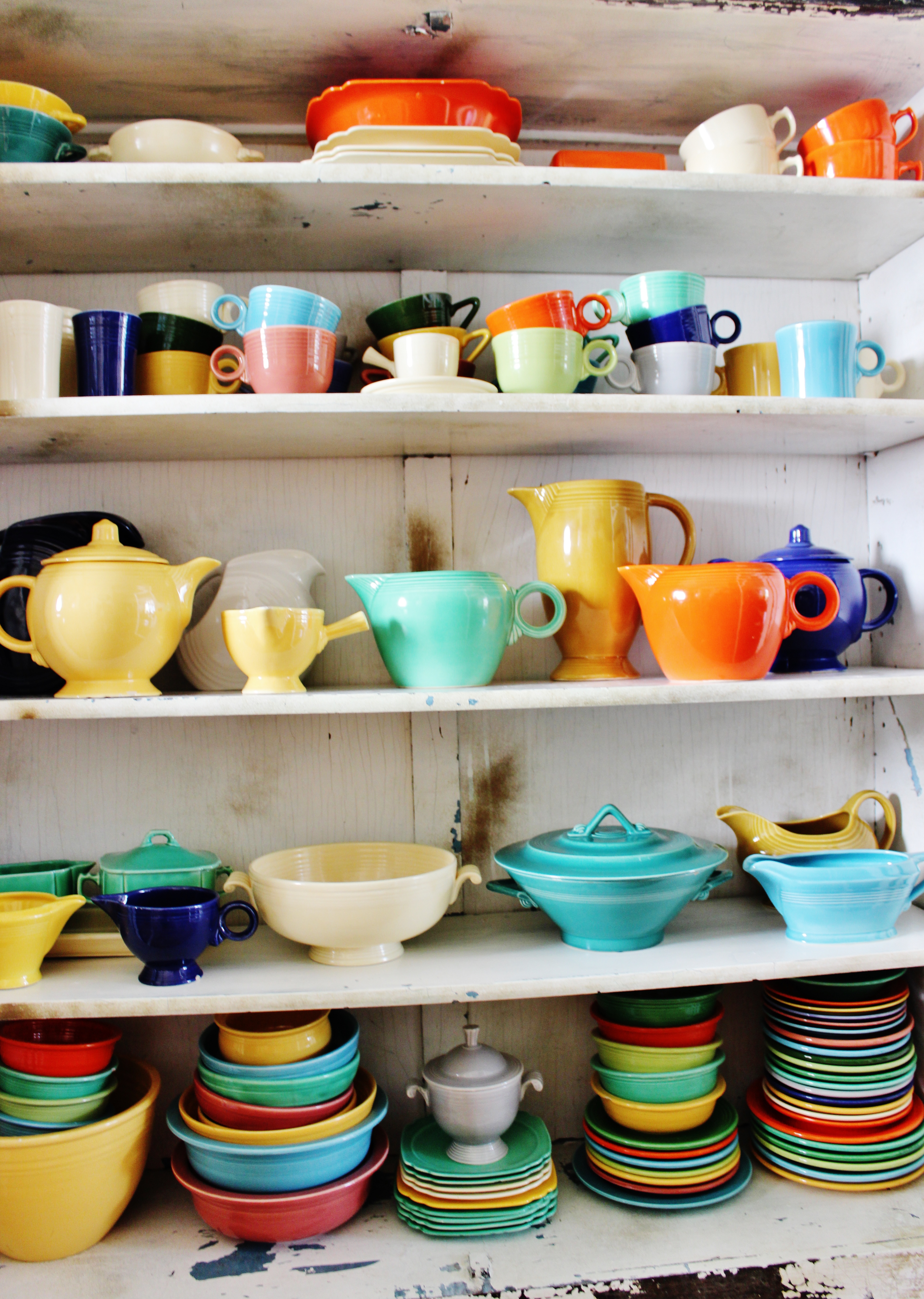 That's it. That's what I do.
I don't need to live in the heart of Boyztown to feel as though I've "made it," or that it's the only place I can feel at home. I don't need the glitz and glam of Hollywood, and I couldn't give two healthy shits about celebrities. Now, is it cool to see Jane Lynch waiting in line at the grocery store? Sure. Is it necessary to be happy with where I live? Hell naw.
Of course, I'm not saying that everyone who lives in WeHo lives here for those reasons. WeHo has a ton of great stuff happening, and a lot of great people. But most of the activities are geared more for people who don't have regular jobs, or have crazy scheduling flexibility during the week. And as much as my former Goth self would hate to hear it, I'd prefer to be somewhere quieter and more subdued, where we can have a little more space without having to sell our kidneys to make rent.
Sort of like how Mary-Louise Parker's character in The Client got that little white house with a walk-in closet, and how Diane Lane's character pushed open that iron gate and claimed that amazing Italian villa in Under the Tuscan Sun.
Sans murder-witnessing and slighted romance.
The hardest part in all of this is figuring out what it is you want to build on the foundation you lay. And, right now, our foundation is pretty rock solid.
It's just time to start building again.