It's odd what little things claim the last bit of wherewithal I have not to crumple and cry over the shattered remains of a former life.
After all, it's a doughnut shop, a cheap convenience store. But among the strewn cream-filled dough and dollar store merchandise, crafting supplies and thrift store clothes, is a bit of me–the late teen-early twenty-something me. So amid the wreckage I see a broken reflection, something alien and somehow familiar; something that raises the hairs on the back of my neck and whispers, "Remember me?"
And much more: places where lifelong friendships were born and nurtured from nascent beginnings, full of awkwardness and immaturity and fun; the long walks through neighborhoods and energy-fueled conversations etched into a historic landscape. Everything comfortably familiar I took for granted.
But I can only grasp at former landmarks–the pawn shop where I bought my first TV, the restaurant with the best hangover cure, the picturesque neighborhood of forties- and fifties- era cottages. All now reduced to splinters, pieces of broken lives–friends' lives changed in moments, their voices echoing across static-laden telephone lines.
But then I have cause to breathe a sigh of relief–a luxury, really: Though drained and wrenched, they've made it. They're not red X's.
The landscape will always change. But I need friends to watch with me as it reforms, springs from its leveled state, and rises again–just like we did all those years ago: looking to the horizon of an unknown future, hoping for answers in the sunrise.
***
The Tuscaloosa tornado only took a few minutes to raze so much of what had been my home for four years–some of the most formative of my life. And I became acutely aware of how quickly so much could be ripped away to a soundtrack of reverberating tornado sirens, and the subsequent stale silence.
Evil is often guised as a fiery deity, a slithering reptile. But that evening, as I watched part of my past being obliterated, and wondering who among my friends was witnessing it firsthand, I felt that the vortex–an all-consuming monster–was close enough to evil incarnate. And when I was able to exhale, I became immensely protective of all that I identify as my South.
***
But my South isn't as many things as it is. The Civil War never consumed front porch conversations, and Confederate flags didn't wave from front yards dotted with rusted-out Fords. And the local ABC Store wasn't the nexus for the incestuous relationships in which all southerners allegedly engage.
My South is a string of recollections and experiences–and each may be a little ahead or a little behind the curve, but still mine. And they all have the same base: the Alabama I experienced before I finally went through puberty; before I came out; before I knew anything of consequence; before I left it all. The Alabama between the bygone and the here and now.
The Opelika with the Walmart-Western Sizzlin' hub near the interstate, before Opal knocked the "Western" clean off and it became "The Sizzlin'." An Opelika with its intact mill village. The railroad town where O.B. Ennis and A&P were the go-to grocery stores before Kroger and Winn-Dixie got popular. The feed-and-seed store with the back room incubator that filled the warm air with newly-hatched chicks' cheeps. Gorging on Tyler's hamburgers, fries, and apple pies the first year we spent making a home out of the old clapboard house in the derelict historic district.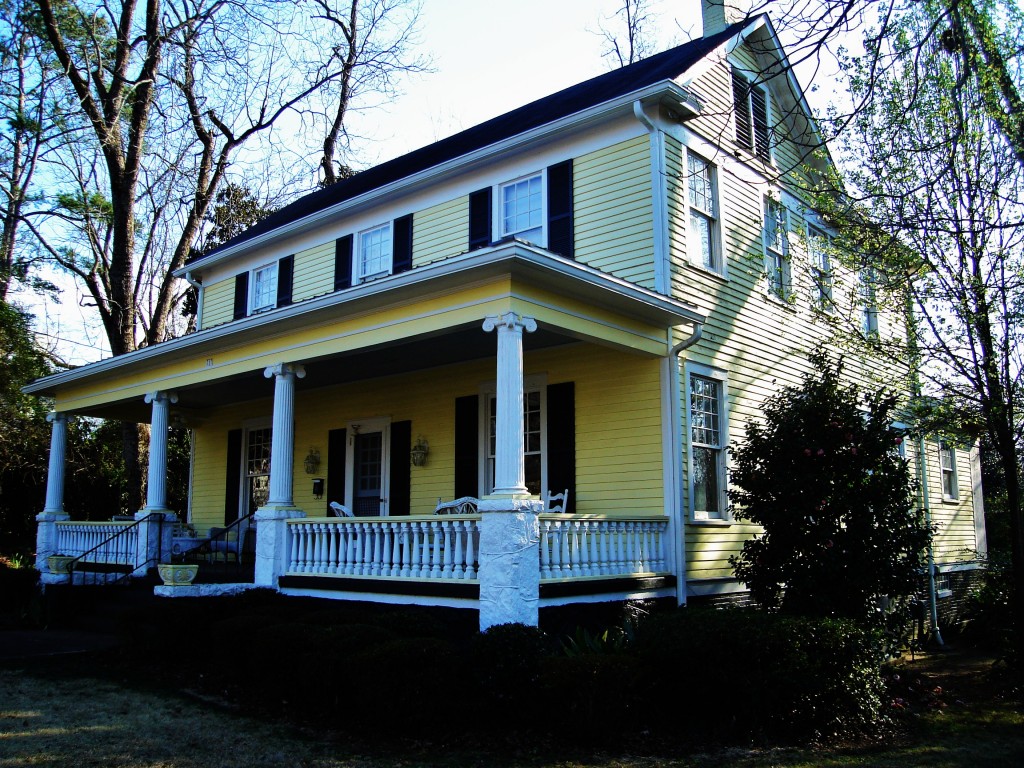 It's when we got too tired and covered in lead paint dust, and ventured downtown with ten dollars to entertain ourselves, starting with egg salad sandwiches and pickles at Haynies–a genuine soda fountain. How we'd let our feet dangle from the red vinyl swivel stools as we munched on the toasted bread slathered with silky egg salad. With the only noise being the buzz of a radio and the fans swirling overhead, watching the dills float around in the huge glass jar on the countertop.
Walking, contentedly full, to Southern Video–with its worn, velvet-lined floor–and renting the reliable standbys: The Witches or a Tell-Faire Peak Theatre rendition of a Grimm's Fairy Tale, and our favorite Nintendo game, Jackal. And then walk back–our parents unconcerned about a seven or eight block walk, unlike today. It was just a blink, not that long ago.
Hearing in sixth grade about Windows, and wondering what the hubbub could be about. Being part of a generation to play outside–using our imaginations like remote controls: a mud hole as a sea; plywood and blown-out tires as a fort in an azalea bush. Fourth of July, and the neighbors: young families with big dreams for the big houses falling apart around them–gathering in the graveled alley next to our house and setting up card-tables to feast on fried chicken, ambrosia salad, macaroni and cheese, paprika-laced deviled eggs, collard greens, potato salad, pies and cobblers.
The front porch–the columns, the cold floor beneath my feet, the balustrades salvaged from a demolished house, the porch swing and fan; how I'd curl up in the wicker settee with a bowl of ice-cream and glass of sweet tea just as the cicadas started screaming their heat songs.
Coming home after band practice to a Royal Doulton bowl full of lukewarm venison meatballs. The food, an Italian-Deep South blend: pigeons and polenta; collards and fried chicken; the discount bakery's tandy cakes and apple pies; pasta fagioli and chipped beef; Mrs. Story's hot dogs and The Dairy Barn's milkshakes and Thomas Pharmacy's peppermint sticks; pecan tassies and butter cookies; cornbread and pinto beans; venison and wild turkey; pizzelles and coffee.
The landscape: azaleas and spider lilies; irises and hydrangeas; pecans and oaks where old elms used to root; kudzu and English ivy; acubas and iron weed and camellias. The people: Miss Ruby watering her mint plants; childhood friends maiming bugs with magnifying glasses; Laura and me flipping through World Book encyclopedias–stopping on colorful images of dogs and horses–and watching Bonanza and American Gladiators while gorging on pigs-in-blankets and Kid Cuisines.
Everything else: antique shops and flea markets; turkey feathers and deer antlers; squirrel traps and garden snakes; a rattler's warning in waist-high grass; wildflowers and mischief.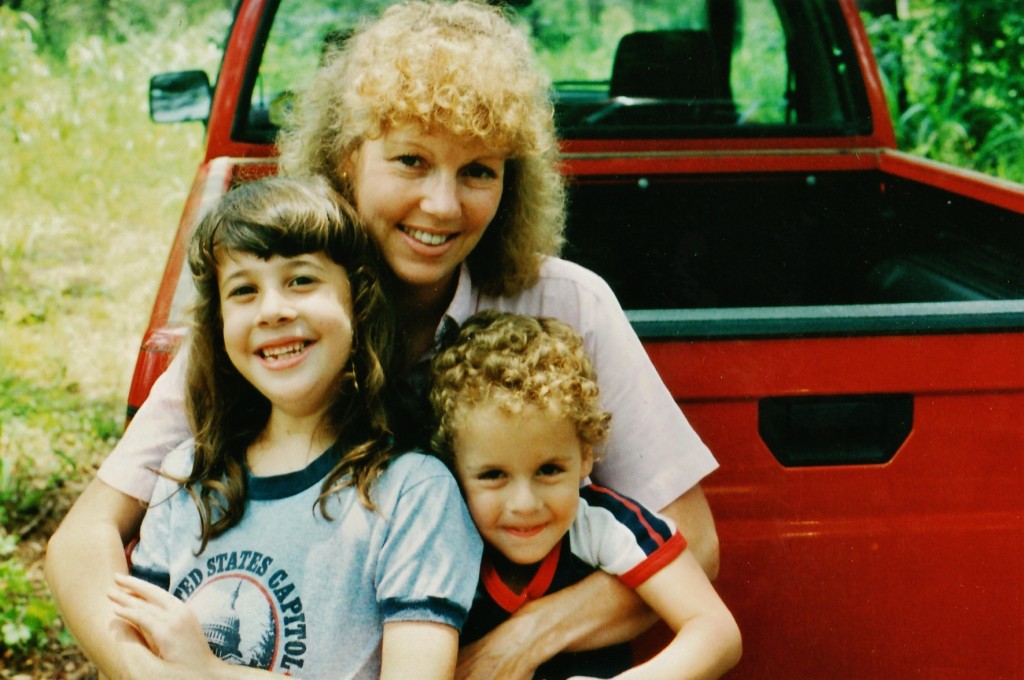 Tracking time with hunting photographs: from when I'm just shy of antler tines, to shoulder-high; to a face smeared with blood, holding the deer myself. Felling trees and planting them, burning underbrush and pissing outside.
It's the comforting sepia curling around the edges of these memories, creating a warmth I associate with home.