"Honey. HONEY!"
I'm paying more attention to my stubble than my side view mirror. And the Prius pays the price.
*Khrrreachhh*
The sound from the pylon-Prius contact makes me cringe.
I get out to assess the damage, but a nearby imbecile distracts me.
"Don't worry about it!" he hoots, his over-sized Hawaiian shorts billowing in the wind, "I'm sure your parents will just be happy that you're okay!"
He follows with a har har har, which is when I reach over, grab his head, and slam it into the car hood repeatedly while screaming, "I'M 30 FUCKING YEARS OLD! MY PARENTS ARE THE LEAST OF MY PROBLEMS!"
Or at least that's what I wish I did. With the sickening scraping noise reverberating between my ears, I scowl, mutter, and get back in.
Then stare out at the steady traffic and sigh.
"Is this day over yet?"
Andy sighs in agreement and pats my leg.
Soon enough, we're picking up cupcakes and wedding cake and coordinating a shopping trip that goes slightly according to plan, albeit tinged with a modicum of requisite family drama. But hey, with North meeting South on the West coast, I'm just glad we all managed to survive with someone being shanked (my side doesn't play, y'all).
Kidding!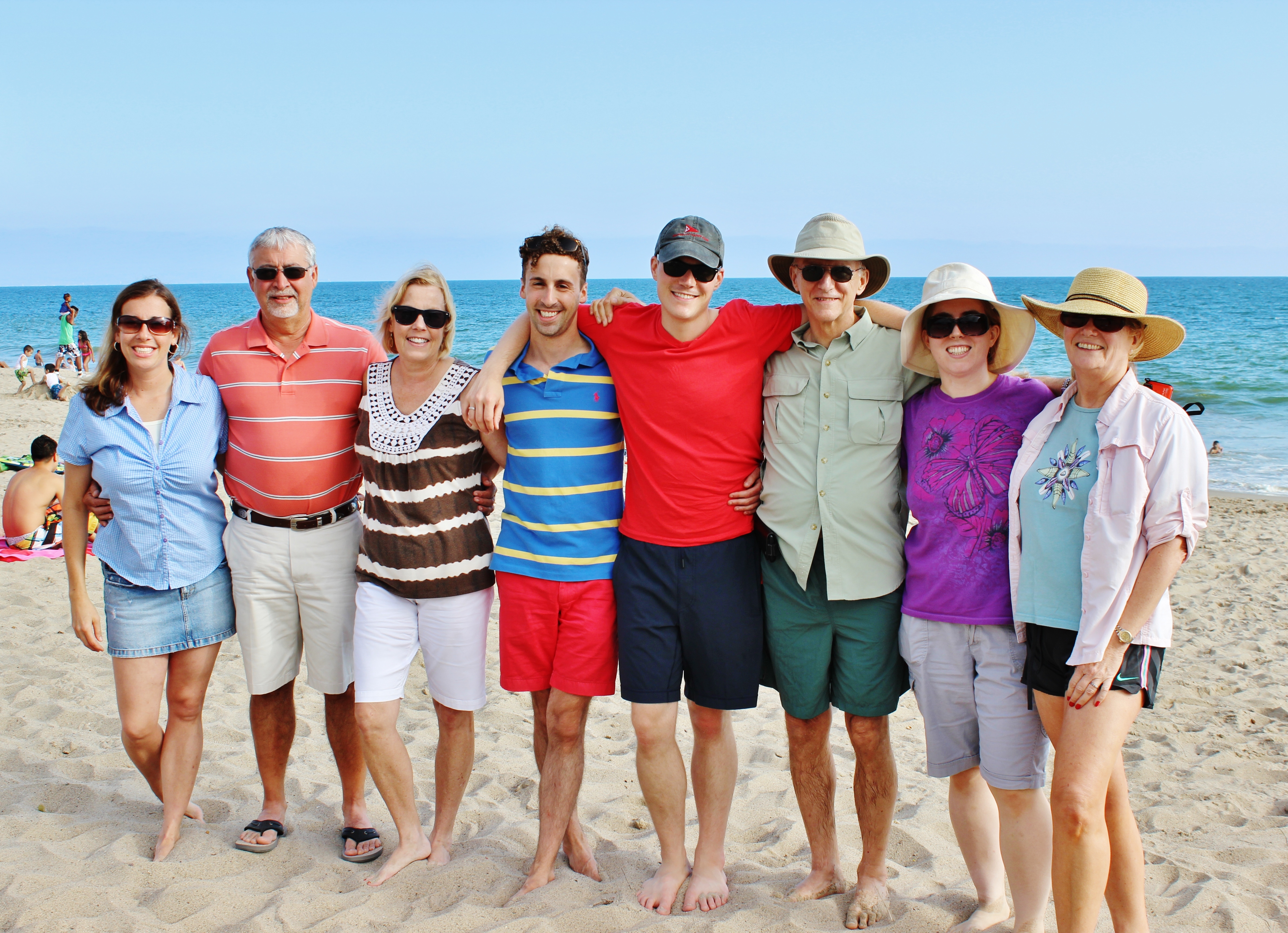 By go-time, we're all gathered in our small apartment and sweating slightly. Our friend Amanda rocks an awesome dress, and holds the iPad with the ceremony proceedings as Andy and I step up to our places.
The dogs are milling about underfoot, and the sun is setting, throwing light behind us. We're all together — both sides finally together and sharing in a symbolic day that so many take for granted.
And as I stare through tear-welled eyes to Andy, I know that all of the stress and exhaustion and traveling and hard work have been worth it. That we're damn fortunate to be surrounded by our supportive families in a state where our "I Do"'s stick legally.
"I do."
"I do."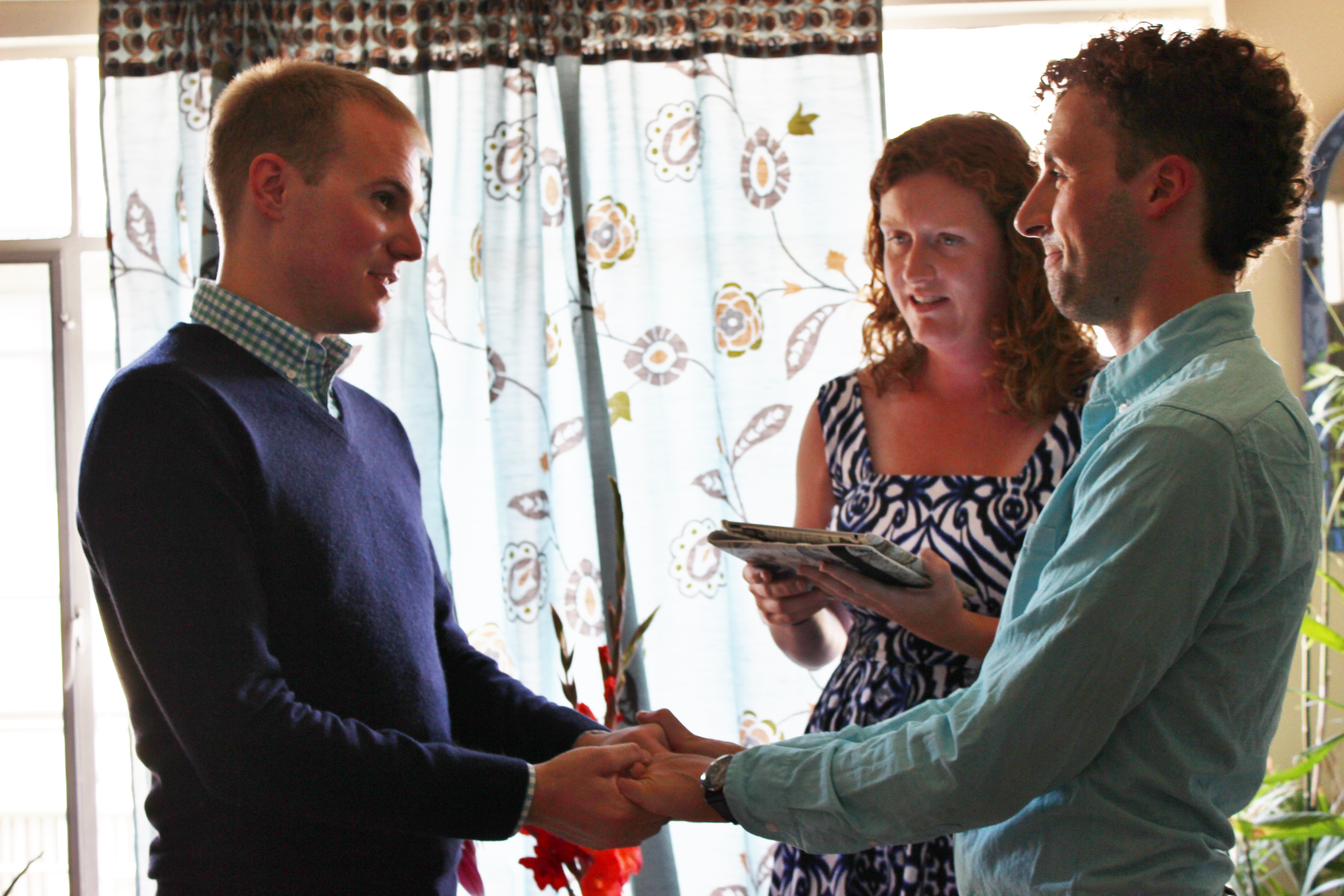 Then, Toby farts.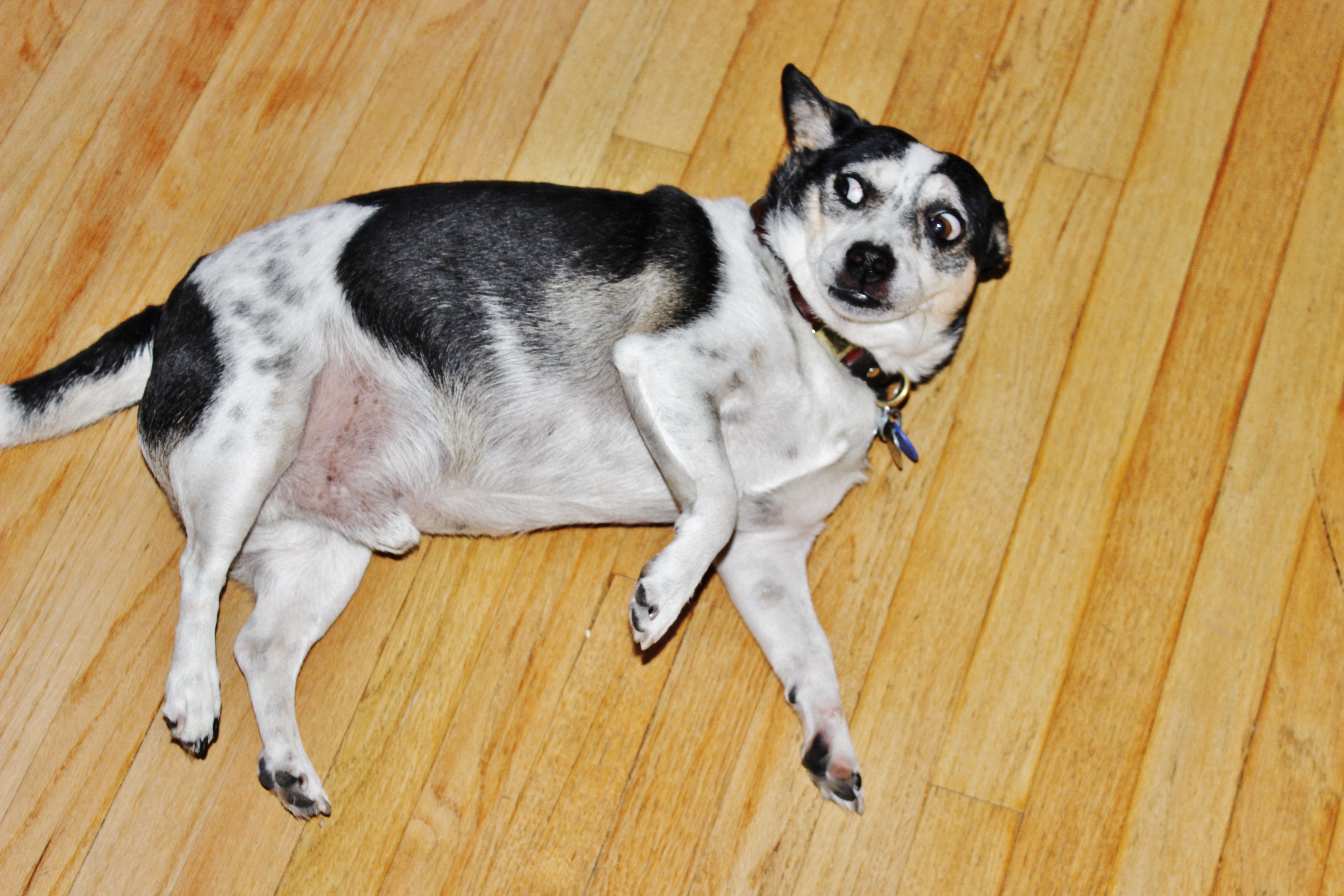 And everyone's eyes well with tears.
And then it's over. We're husbands — as beautifully alien sounding as it is familiar.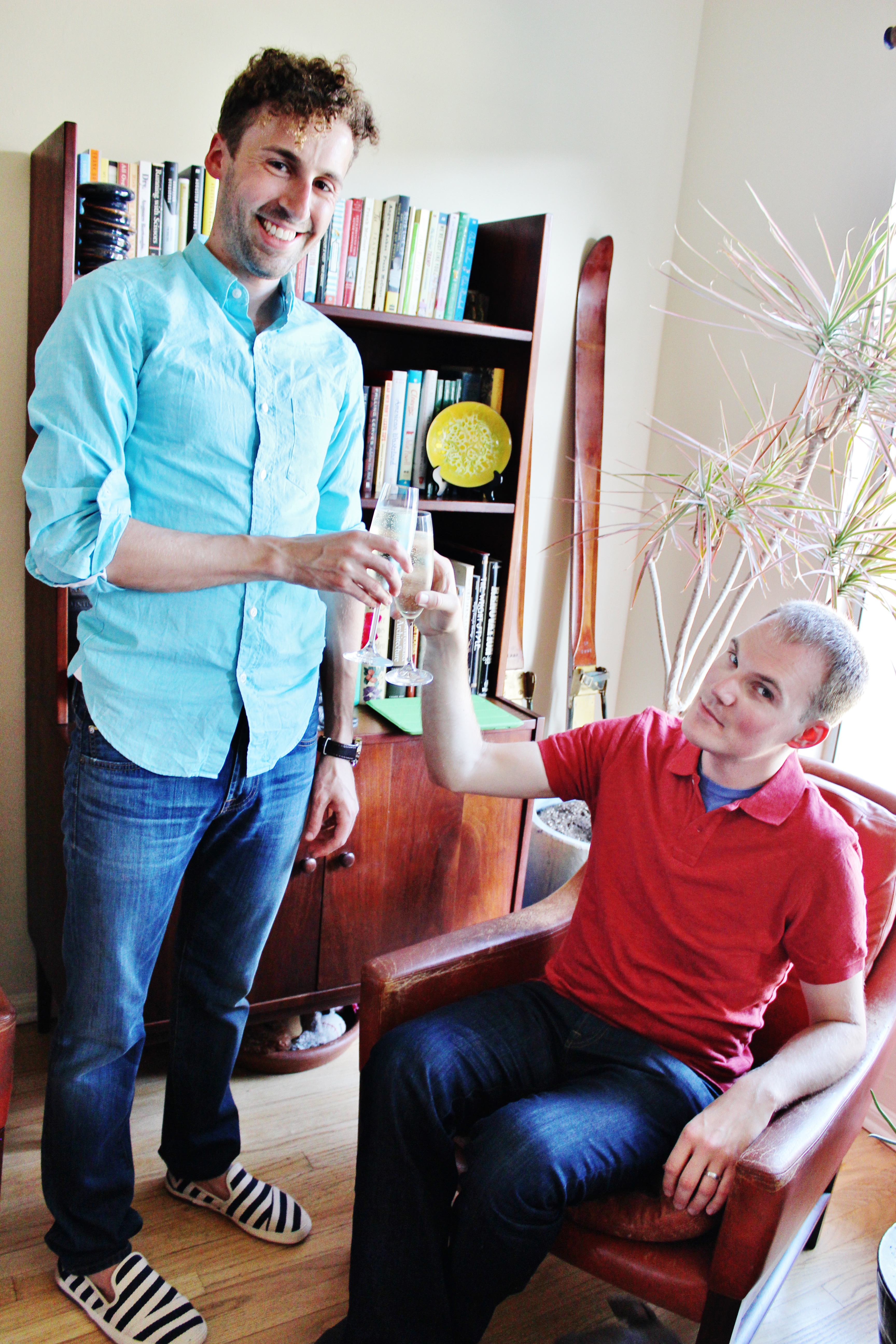 ***
Dust devils twirl along the plains, whipping up bits of trash and desiccated plant life. We pass a deserted, ghoulish mining hamlet dotted with windowless clapboard shacks and decapitated, dead palm trees. An audiobook version of Deception Point plays as Andy dozes. The landscape around us is like that of another planet, which is fitting given our audiobook choice.
With the pups boarded hours ago, their empty crates rattle slightly from the backseat. We pass Palm Springs, and I wonder if we've made a mistake as Arizona draws closer. After all, we're not even heading to Sedona. Phoenix is firmly fixed in our sights – an unlikely destination for a honeymoon. But we're not exactly accustomed to doing the expected.
Andy nods awake and smiles over at me. And I inhale deeply, knowing we're going to have a wonderful time rescuing antiques from the hellacious heat and lounging at the historic resort.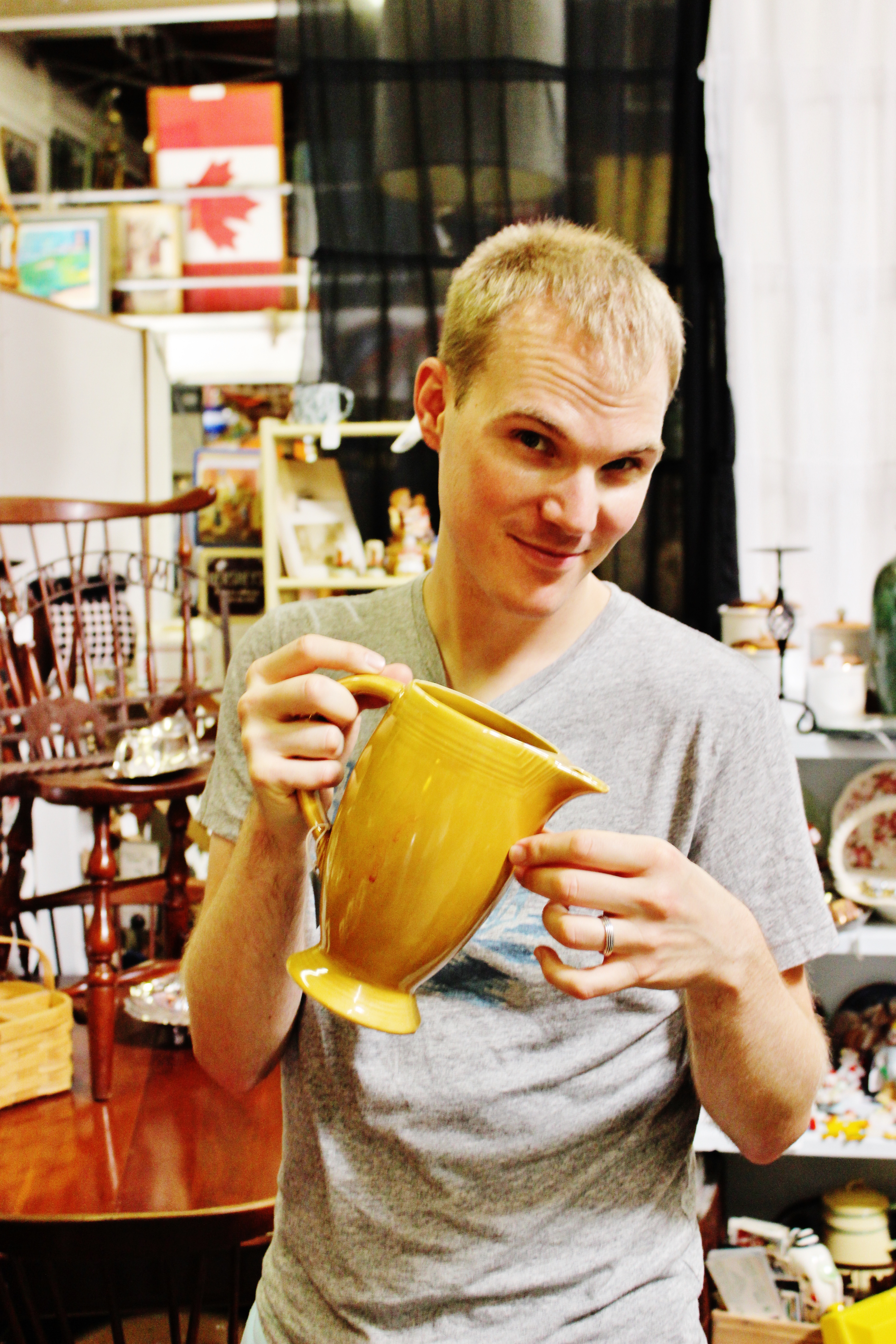 ***
The drunken man slumping down in the overstuffed eat-in movie seat next to Andy wheezes and grunts before deflating into an intoxicated stupor.
"Muhumf. uhuhahhhh."
Annoyed, Andy stares at me over his milkshake and inches closer to the edge of his seat. The plushy cushions make farting noises every single time I press the button to recline, drawing attention from neighboring viewers slopping quesadillas and nachos down their vodka-lubricated gullets while wiping their hands across the pleathered arms.
As if sensing the question bubbling to my lips, Andy leans over.
"I wonder if they disinfect these seats."
I nod, then punch the recliner button one more time.
Pffft.
The opening scene of Tammy reminds me of the time a deer slammed into the side of my dad's truck on his way out to our property to hunt. With no other humane alternative, Dad returned home with a kill without ever having to fire a shot.
The drunk smacks his lips and adjusts himself, and the teenage attendant asks if he wants anything.
"Lotz ah beeeer," he slurs.
A heated conversation ensues, during which Andy nearly claws his way over the table rest between our seats. With the teenager gone, the man reclines a bit more.
"Oomphah." Pffft.
Minutes later, he stands up, turns, and lets loose a yowl as he tumbles headlong down the stairs. No one moves to help him. Somewhere from the back, an inebriated woman sums it all up.
"Well, shit."
He never returns. Andy relaxes, and we watch one character chastise another about hustling and working your ass off to get to be where you are, and how, as lesbians, she and her partner didn't have anything handed to them. A row back, a man sighs and smacks his lips is dismay. And I'm reminded we're not honeymooning in a blue state.
***
Pearl and Toby snore loudly on the sofas as we watch Orange is the New Black and unwrap our antiquing spoils. My ring slips on my left ring finger, and I nudge it back with a smile.
And think about the long, long roads we've both traveled to get to this point — and how grateful I am to have learned from the past few years and everything that's come with them.
And how excited I am to embrace and shape what comes next.