I'll just go ahead and write it. Put it out there. Feel the weight of a lackadaisical writing mantle be lifted off of me and onto the shoulders of some other, more resolute writerlyish person. Deep breath.
Using a limited vocabulary to convey just how life-changing a trip can be is, well, limiting.
(See?!)
Just kidding! I'll never shut up, nor will I ever stop using words incorrectly.
So, here we go. The first (but definitely not last) post since the cross country road trip came to its conclusion Sunday night.
***
Like I was writing, a road trip of this scale can leave much more in its wake than an ear infection and six cavities. Because there're certain things we learned along the way that'll have long-lasting implications for every single thing we do from here on out.
Such as:
1. Never substitute anything for your favorite vodka. Dirty, dry martinis just aren't the same without Grey Goose.
2. You should get drunk and watch The Muppet Show on mute in a trashy gay bar at least once. And appreciate how well their mouthing syncs with Rihanna's music.
3. French toast will never be the same after eating at Olea's in San Francisco.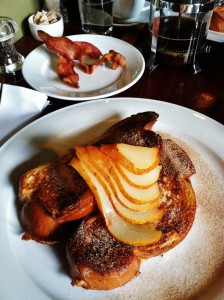 4.  When faded and tattered, Hampton Inn signage is incredibly disturbing.
5.  When all else fails, and you have no idea of a city's sketchiness factor, plug the local  Whole Foods address into the GPS. You may have to fight over the last of the vegan gummy bears, but at least you won't get knifed. And you might even see Jake Gyllenhaal.
6.  If you have a visible tattoo, use it to your advantage in Bubba Land while doing your best to engage in overly butch behavior. (Yes, even in a line at a gas station Subway. Especially in a line at a gas station Subway.)
7.  Celebrities are much shorter in real life. But they still sort of shine.
8.  Coffee is a necessity. If trying to travel cheaply, just skip lunch. Your partner will thank you for it.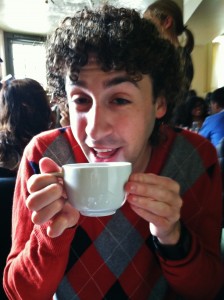 9.  Always tip the silver fox valet. Well.
10.  Los Angeles has a lot of charm if you're willing to wade through some muck first.
11.  Don't ever discount a city or state without first visiting it. Almost every state has something amazing hidden away. Except Mississippi.
12. Only stop at Mississippi's visitor's center if you want to be offered apple cider laced with Jesus.
13.  A peanut butter and jelly sandwich is always a good default. Culinary safety blankets should never be underestimated.
14.  If you want a primer on what's wrong with America, spend approximately six minutes at Fisherman's Wharf in San Francisco.
15.  Alabama's red clay has restorative properties.
16.  Traipse around the woods and talk about life. It's incredibly freeing. Even if you're not talking to anyone.
17.  Daydreaming is the basis for action and change.
18.  Frustration and borderline migraines will dispel after the first bite of well-cooked chow mein. Even at 11:00 PM. On Christmas.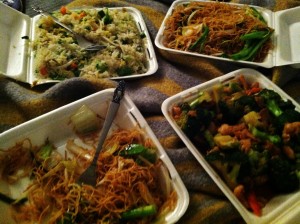 19.  Always carry an umbrella in San Francisco. And remember it may not always fit between construction scaffolding.
20.  Strong drinks and antiquing should almost always be coupled.
21.  Silence can be just as meaningful as conversation.
22.  Brandi Carlile should be on every traveler's playlist.
23.  Wait for that overnighted fleece. You will reap the rewards your entire trip. Even if you have to admit that he was right.
24.  Never eat at a Vegas casino. It'll just make you sad inside. And your insides sad.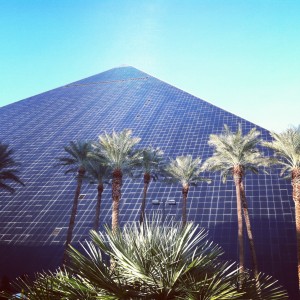 25.  Sometimes, you just have to quiet that inner food critic and eat something because, as Andy says, "It's warm. And you can chew it."
26.  The Grand Canyon will take your breathe away. (Or is that the 14 degree weather?)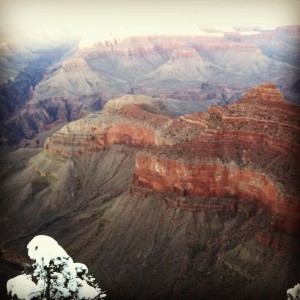 27.  A Post It that reads "Duvet covers & sheets are clean for your arrival" probably means exactly the opposite. And that a porno was just shot there.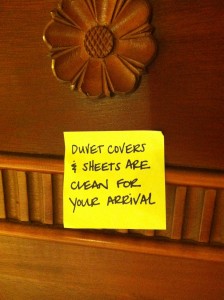 28.  The comfort of holding hands in silence cannot be overstated.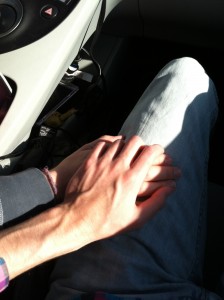 29.  Deciding that you can't grow anymore in a place you love means it's time to move on. Not that you've failed.
30.  Revel in the ambiguity, for it's all that we know.
***
I know what you're thinking. Chow mein, really?
Alright.
But at least a few of them are serious and slightly sentimental. (Or are you crying because you have a wicked New Year's hangover? At least now you know Point 1 is valid. Booyah.)
So, while I'm downing medication for my agitated ear and sinuses, and Andy and I are setting our sights on the future, there's plenty more to figure out.
One fork-full of chow mein at a time.