Right after I fully deconstructed my nightmare involving the mist from The Mist, zombies from The Walking Dead, and the My Little Pony castle, but not before poking the Keurig like a non-caffeinated Neanderthal (redundant?) and giving up and going with the French press, I thought about a blog post I read a few nights ago.
No, not the stellar drivel I post on here. (But, thanks!)
It was a hilarious one a friend re-posted on Facebook about Valentine's Day and coupledom. And how upchuck-worthy the whole shebang pans out to be.
***
Now, I'll be the first one to write, say, or scream that I rather loathe the overtly saccharine, heart-studded, flower-bedecked celebration that is Valentine's Day. (Because, really, nothing says Happy Burned Alive Martyr Day than a stuffed bear holding a "Be Mine" heart.)
Until this year, I had every reason to accidentally slash the tires of deliver trucks carting said stuffed animals and rose bouquets to happy couples.
And maybe invest in Nutella stock and dust off that copy of Elizabethtown.
Not that I was ever bitter.
But this year, I actually have a cute, 5′ 11″ reason to become frantic and ensure something fantastical marks the evening.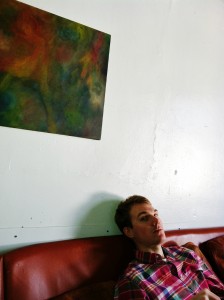 Or at least serve pre- pre-dinner cocktails so that he won't mind that our V-day meal is mostly lentils, and the flowery centerpiece looks suspiciously like the blooms growing in the only nice yard on the street. (Hey, cutting costs, y'all!)
Still, neither of us is super gung-ho about V-Day (which sounds like a celebration of venereal disease). Mostly because it conjures up memories of past V-Day's.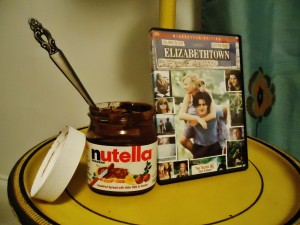 *Shudders*
Or other holidays I've spent alone. Like New Year's 2011, when my pajama dancing to "Raise Your Glass" was illuminated by police cruiser lights, as the authorities investigated a domestic disturbance in my sketchy neighborhood.
You know, the 'hood where my neighbor stole half of my storm door in retribution for me not lending her high self my car to pick up her "cousin" in Greensboro. Probably the same racist cousin who wanted to kill me for giving his cousin a ride to the bar to pick up his hungover self.
Not that I'm bitter about that.
Anywho, I ADDigress.
All of these shades of V-day's past made me appreciate Orlando Soria's blog post all the more.
***
So, Soria highlights multiple ways couples make it unbearable (in general) for single folks, especially around the holidays.
(1) You say "we" instead of "I."
We have no idea what you're talking about. Kidding!
I catch myself doing this a lot, mostly because I'm southern and try to be inclusive and not leave anyone out.
(2) You make everyone else feel like a third wheel.
I have no idea what you mean. But could you be a peach and go refill our martinis?
I really hope we–er, I, er…ah!–don't do that. But honestly, I've felt like the third wheel way too damn much in my life. So get the hell over it. Kisses!
(3) You were more fun when you were single.
If you mean, did I drink a lot more, stay out later, and maybe go into more adult stores? Sure. But did I do all of that in the hopes I'd find a man? Yes.
(4) Inviting you to parties is way less exciting because you're not going to hook up with anyone.
That's a scream. I was never cool enough to hook up with anyone at a party, much less talk about it afterward. The closest I got was when some random guy gave me and a friend a mystery shot on our way out the door from a college party, and I barely got home before the roofie kicked in (after I drove over a roundabout, destroying a flowerbed of pansies).
(5) Because the dramatic relationship you have with your boyfriend seems interesting to you, but is boring to everyone else.
I think the most drama we have is over decor or coffee. Or both. I mean, we drove across the country and back, unpacked our shit a bazillion times, and still didn't kill each other. In fact, we only had a few tiffs. And they were usually fueled by coffee deprivation.
(6) You and your boyfriend look alike, and that's creepy.
A 5′ 10″ curly-haired brunette with a facial scar, brown eyes, Italian nose, tattoos, and a voice that sounds like a strangled cat doesn't really resemble the 5′ 11″ fair-skinned, blue-green-eyed blonde WASP.
(7) Because inviting you means we have to invite your totally annoying boyfriend.
I hope I'm not that annoying.
(8) You nuzzle noses. At. The. Dinner. Table.
Andy's not a fan of PDA. So nuzzling is out. Despite my mother's chanting of, "Kiss him, kiss him!" at the dinner table when she and my dad first met Andy.
(9) You act like you've been married for ten years and you've been dating for two weeks.
Now, I've written about this before, in the context of gay time vs. straight time. But that's not to say that we don't act like a married couple. Even if we can't legally get married.
(10) Now that you've entered coupledom your only hobby is shopping flea markets to find vintage furniture for your awesome house.
Precisely. But I loved doing that before Andy and I got together. Still, it's a lot more fun to hunt around for vintage Fiestaware with him. Plus, if someone's going to grab the same thing, one of us can trip them. (When it comes to antiquing and snagging finds, we're coordinated like friggin velociraptors going in for the kill.)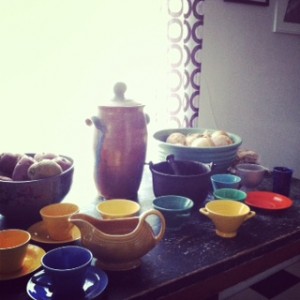 (11) Let's face it. Sluts are more fun.
One night-stand stories get old, though. Because everyone has them. Some are funny, but most end with, "And I tried to get out of the house, but the alarm was set."
What?
(12) You have twice the wardrobe because you're the same size as your boyfriend and that's just not fair to the rest of us who have to buy all our clothes.
Andy's wardrobe–full of cashmere and cardigans and J. Crew–is much better than mine. And I get corroboration every single time I wear something of his. Like the cowl neck sweater I wore the other day. A massively butch soldier stopped me as I walked in circles trying to remember where I parked my car, and said, "Man, that's a nice sweater. Like, seriously. Classic."
NO ONE HAS EVER SAID THAT ABOUT MY CONVERSE SHIRT!
(13) You save money on rent by co-habitating, and that is also not fair to the rest of us who have to pay our own damn rent.
Yes, but. When everyone else was settling down out of college, I ended up in a basement apartment with a mold problem, a drug-dealer neighbor, and a shower drain that, according to the plumber, "was full of a wookie-looking thing" from the previous tenant. Not to mention the ugly cry I had on a moving box that first night after realizing what a mistake I'd made.
(14) Because you use the phrase "Date Night."
Bah. Never. I'm not even that gay.
(15) You post pictures of your obnoxious smarmy dates and your stupid glamorous vacations all over Facebook while constantly writing saccharine status updates professing your love.
Bah. Always. (Even if I'm the one doing it because someone else never gets on Facebook. Kidding, snookums!)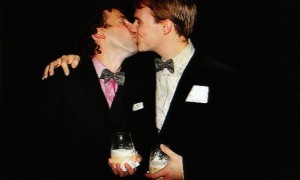 (16) Because your on-again, off-again relationship is constantly forcing your friends to choose whose side they're on.
Well, since I'm happy to report we're always on, that's a non-issue.
(17) You only hang out with other couples.
Ha! We don't hang out with anybody!
Actually, our jobs are ridiculously far away, and we have approximately two hours every night before bed to actually decompress. Socializing rarely makes the cut.
Instead, we watch The Tudors.
***
So, yes. I can see why the upcoming Day of Burned Flesh may be eye roll-inducing for a lot of people. But I'm not sweating it. (Unlike St. Valentine–oh! Alright, I'm done. Really.)
Because all the social hype around it seems to reinforce that ridiculous notion that you can only be happy when you've found a complement to your crazy self. That anything outside of that is far from perfection.
But that's absurd.
If everything was perfect, Andy and I could shower bon bons on one another every single day, not finalize a budget and scrimp and save where we can.
We'd both have jobs where we're appreciated and our efforts acknowledged. Not the situation we're preparing to enter, with me being unemployed and Andy continuing in his job until we can make something else work.
We'd be able to think every single day is Valentine's Day–that life is always sweet, and rose petals line every path we take.
But kittens, I don't have to tell y'all that we don't live in that kind of world.
We live in a world where we're each trying to find a balance–trying to sort out our lives, balancing the sweet with the bitter, the savory with the foul.
And as I skim my hand across Andy's chest every night, instead of across an empty pillow, I'm reminded never to take him for granted.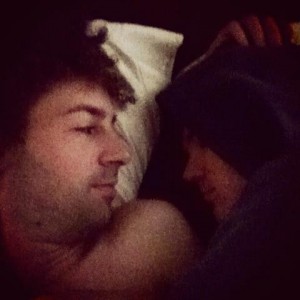 Never to think that I need one day above all others to remind me that I'm ridiculously fortunate.