From the living room I watched as the breeze ripped through the densely vegetated slopes, rattling the tree branches and tousling their fragile new leaves.
In the distance, the Space Needle glowed torch-like and I stared on until the gusts died down and the wind-bent trees rebounded into place, cluttering the view ever so slightly. Built in the early 40s, Gay Gardens had had quite a view of the growing Seattle skyline, even before the 1962 World's Fair raised the city's most iconic building. And gradually, the view narrowed with the enveloping canopy, and the little rotting cottage became isolated behind a nearly impenetrable green wall of blackberry bushes and aged rhododendrons.
JoJo dozed in my lap, and I focused on the mediocre movie I'd snagged from the Renton Goodwill a few weeks prior. The wind howled again, and a thud echoed across the roof, rousing JoJo who woofed and scampered around searching for the offending noisemaker.
The next morning, as I made my rounds ripping up weeds, I noticed one of the chimney caps had gotten dislodged from the windstorm. A few weeks prior, the same thing had happened, and some wee beast had made its way into the attic, startling me and JoJo awake with what could only be described as zombie-inspired guttural cleansing. So as I clawed my way up onto the roof, I worked quickly to carefully re-center the cap, ensuring there was no available point of entry. In the process, I eyed a rogue brick that'd dislodged from the chimney stack—clearly the thud-inducing culprit from the previous night. I shoved it back into place, completing the puzzle.
With the spotty clouds opening up between intermittent rain showers, I had an unobstructed view of Elliott Bay and a faint rainbow. Just below me, pale pink buds studded the branches of a gnarled tree clinging precariously to the back slope. Glutted with promising effulgence, each one dripped and glistened in the rapidly clearing grayish mist.
I took a deep breath and slowly took stock of my little home, feeling an overwhelming sense of gratitude for having the opportunity to play a role in reviving this oasis.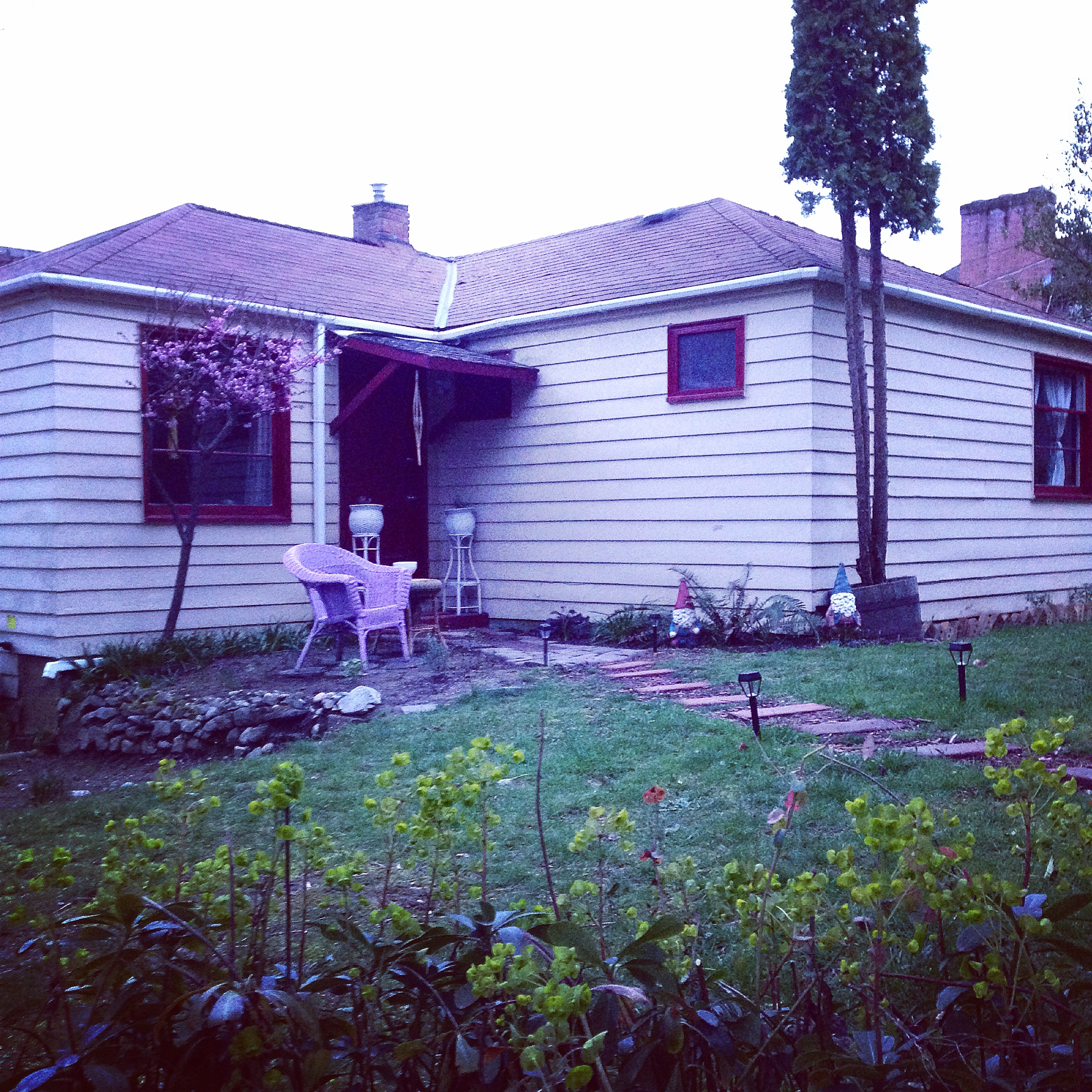 And in my bones I felt something familiar—the sense that Gay Gardens will be where I celebrate many life-changing moments, each of which will become a part of this Eden, adding to the narrative of this secret long-held by time.