I love to eat. And cook. And eat.
And since I do both of these things so much, I thought I'd throw a few simple, faithful standbys to my fellow eaters/feeders.
So, here they are–fresh from my recipe boxes and tins! (And don't worry–this is a temporary tab. I'll make it a bit more user-friendly in the future!)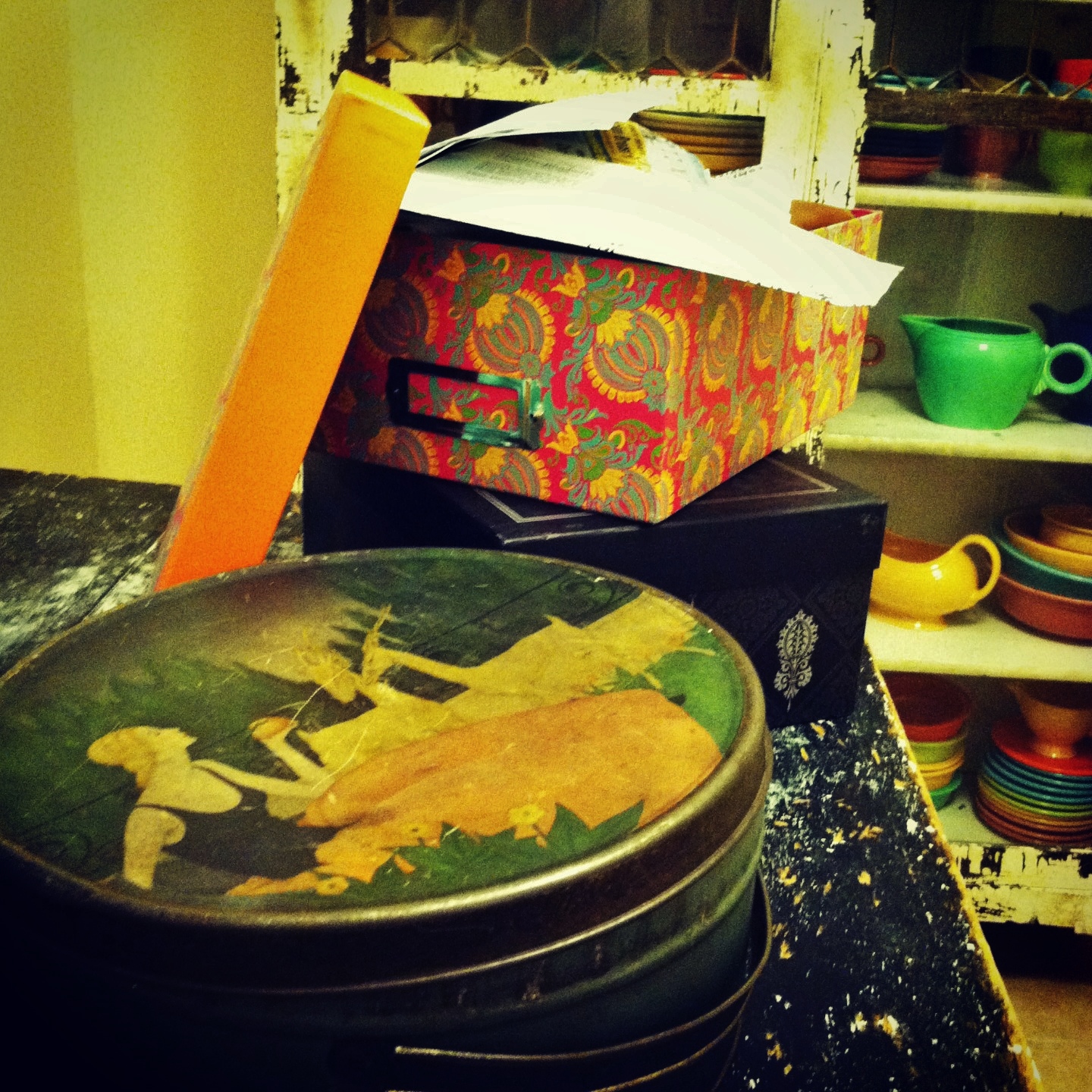 Banana-Orange Muffins
Yield: 12 large muffins
Ingredients:
Dry.
1.5 C All Purpose Flour (I use wheat)
0.5 C Sugar
2 tsp Baking Powder
0.5 tsp Salt
Wet.
1 C Ripe Bananas (~3-5 medium; mash'em good like)
0.5 C Soy Milk (if it's flavored, that's fine)
~0.5 C Freshly-squeezed Orange Juice (just give one orange a good squeeze)
1 Large Egg
2 TBS Vegetable Oil
2 tsp Lemon Juice
1.5 tsp Vanilla Extract (I love it)
Prep It!
Preheat oven to 400 degrees (F). Coat muffin tray with cooking spray or butter (mmm…butter).
Whisk/mix *all* dry ingredients (as measured out) together in a medium-sized bowl. Set aside.
In a large bowl, mash bananas until your stomach feels a little queasy from the texture. Mix the rest of the wet ingredients (as measured out) in with the bananas, making sure to incorporate each in turn (and there's no order that you need to follow).
Once the wet ingredients are fully mixed, combine them with the dry, incorporating well. Spoon batter into the muffin tray, filling each cup to the brim.
Bake ~20 minutes, or until a tester (knife/toothpick) to the center comes out clean. Turn out of tray and onto a cooling rack for ~10 minutes. (Or you can scald yourself and eat one right away, like me!)
You can add/adapt this recipe really easily. I basically add new things every single time. It's super quick and easy, especially if you have unexpected guests. Or need a carb fix.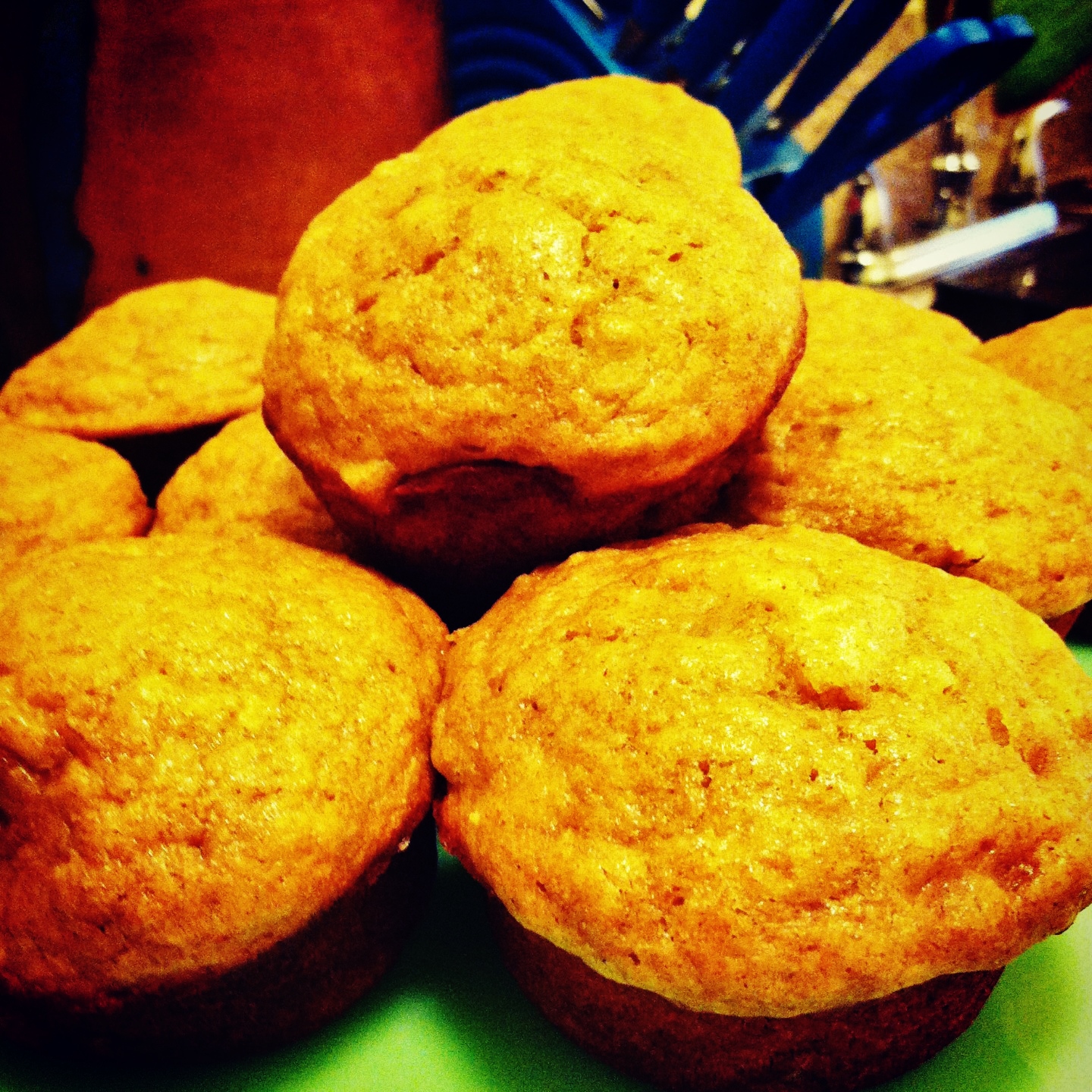 Super Simple Chocolate-Orange Bark with Sea Salt
Alright, this is one of my babies. But since it's so damn easy to make, I felt sort of guilty for not sharing it. It's seriously one of the easiest and fastest desserts you can make. Seriously fast. Like, say, you have guests coming in 30 minutes and you need something to munch on–that kind of fast.
Yield: Enough to fill a Fiestaware bowl or jadeite cake stand (or, at least enough for a munchy appetizer)
Ingredients: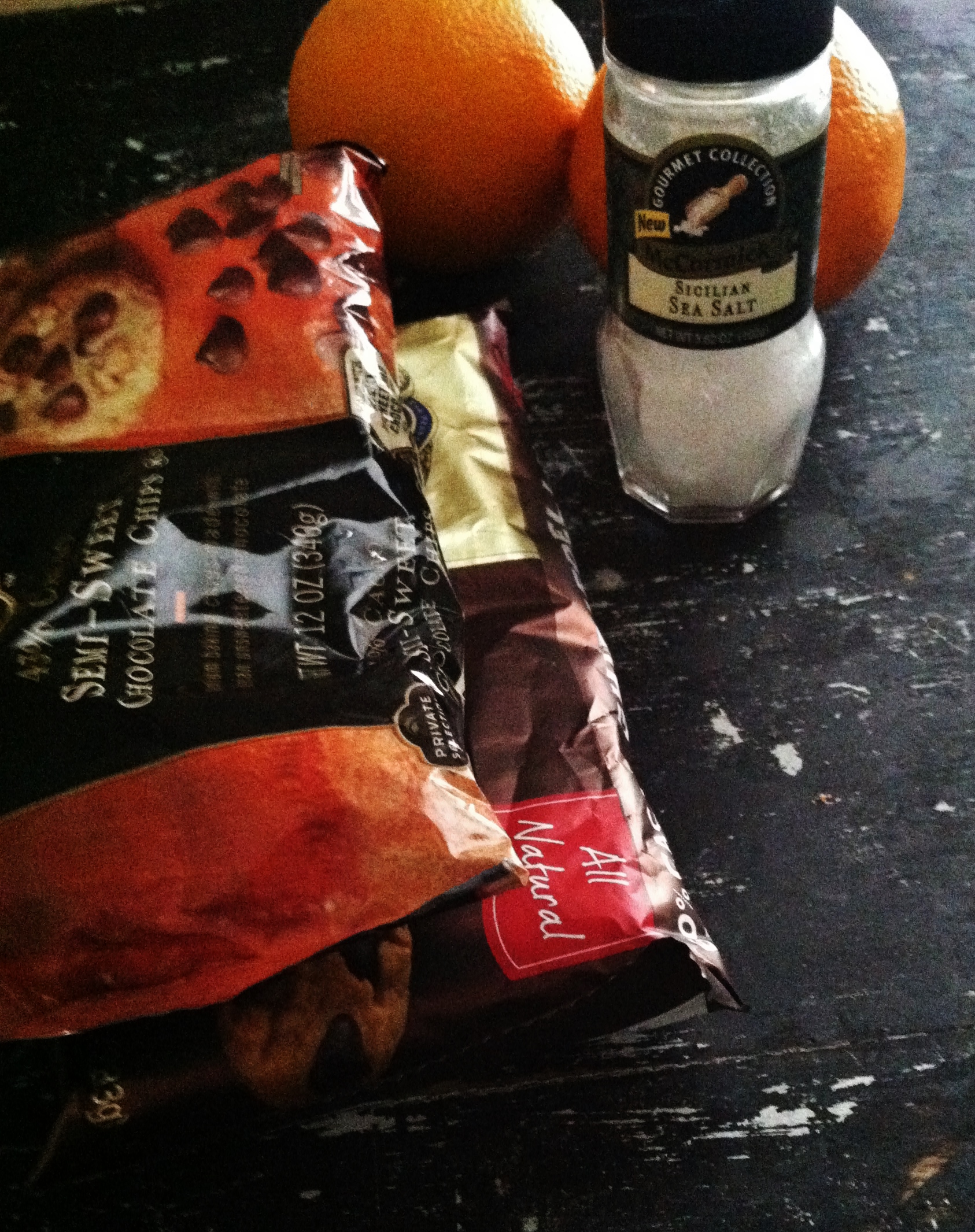 1 10 oz Bag Ghirardelli dark chocolate chips
1 12 oz Bag semi-sweet chocolate chips
Sicilian Sea Salt (to taste–I love it, so I add a lot)
Zest of 2 oranges (just microplane the zest–I use ~2 TBS)
Prep It!
Line a baking sheet with either aluminum foil or parchment paper.
Boil about 1.5 C of water in the bottom of a double boiler. Fill top nested pot with all ingredients and nest over water pot, stirring constantly with a small plastic spatula until all chocolate melts and is slightly creamy (it may be a little lumpy, too–that's fine).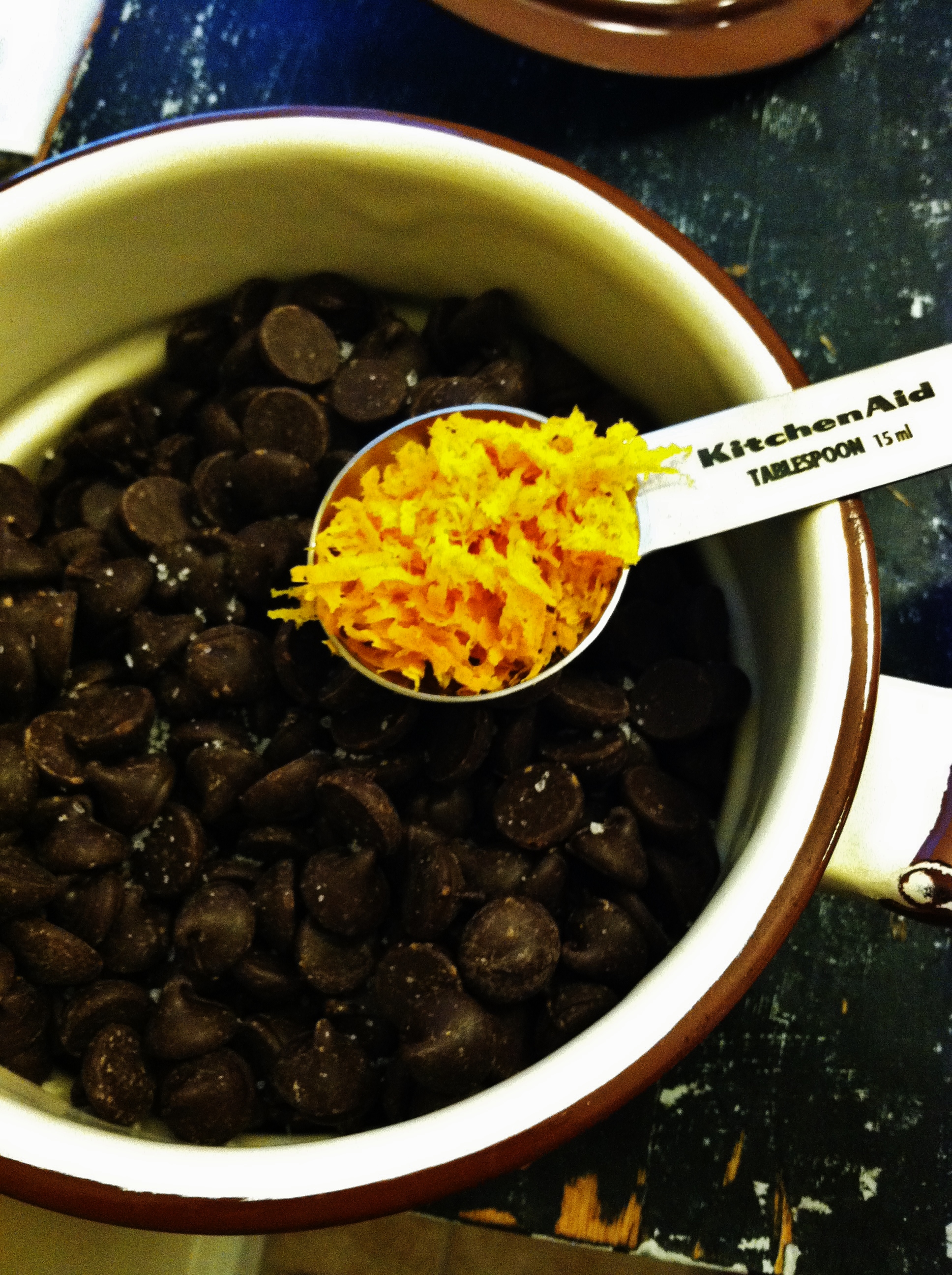 Once melted, remove from heat and quickly taste; season accordingly if either more zest or salt is preferred. After melted and seasoned, pour chocolate out and spread over lined baking sheet with spatula (the same you stirred it with–less to clean!) and even out as best as you can–just so certain areas aren't super thick while others are really thin.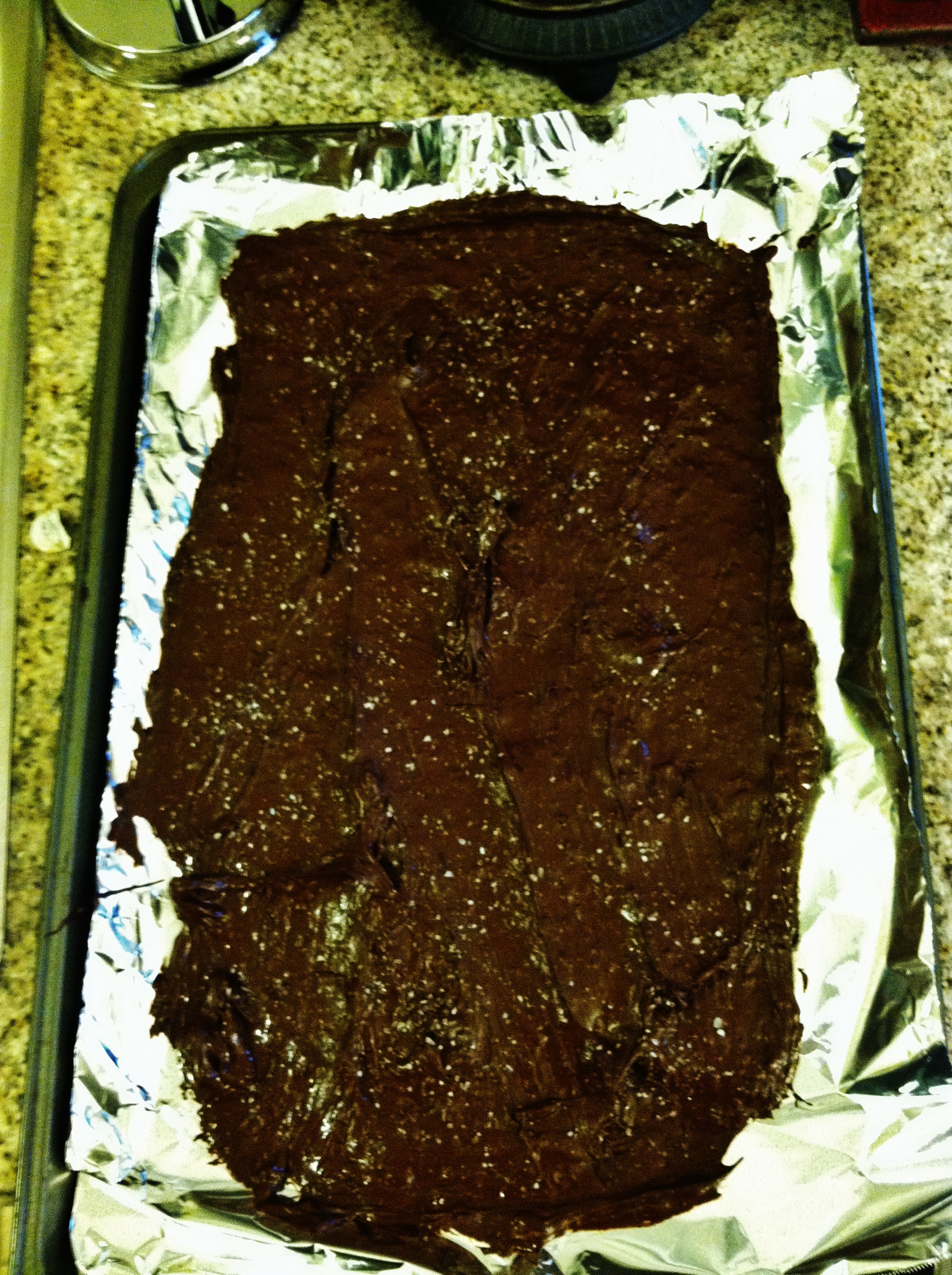 Sprinkle top with sea salt. Refrigerate (uncovered). Should be solid and set in ~15-20 minutes. Break apart with your hands and serve.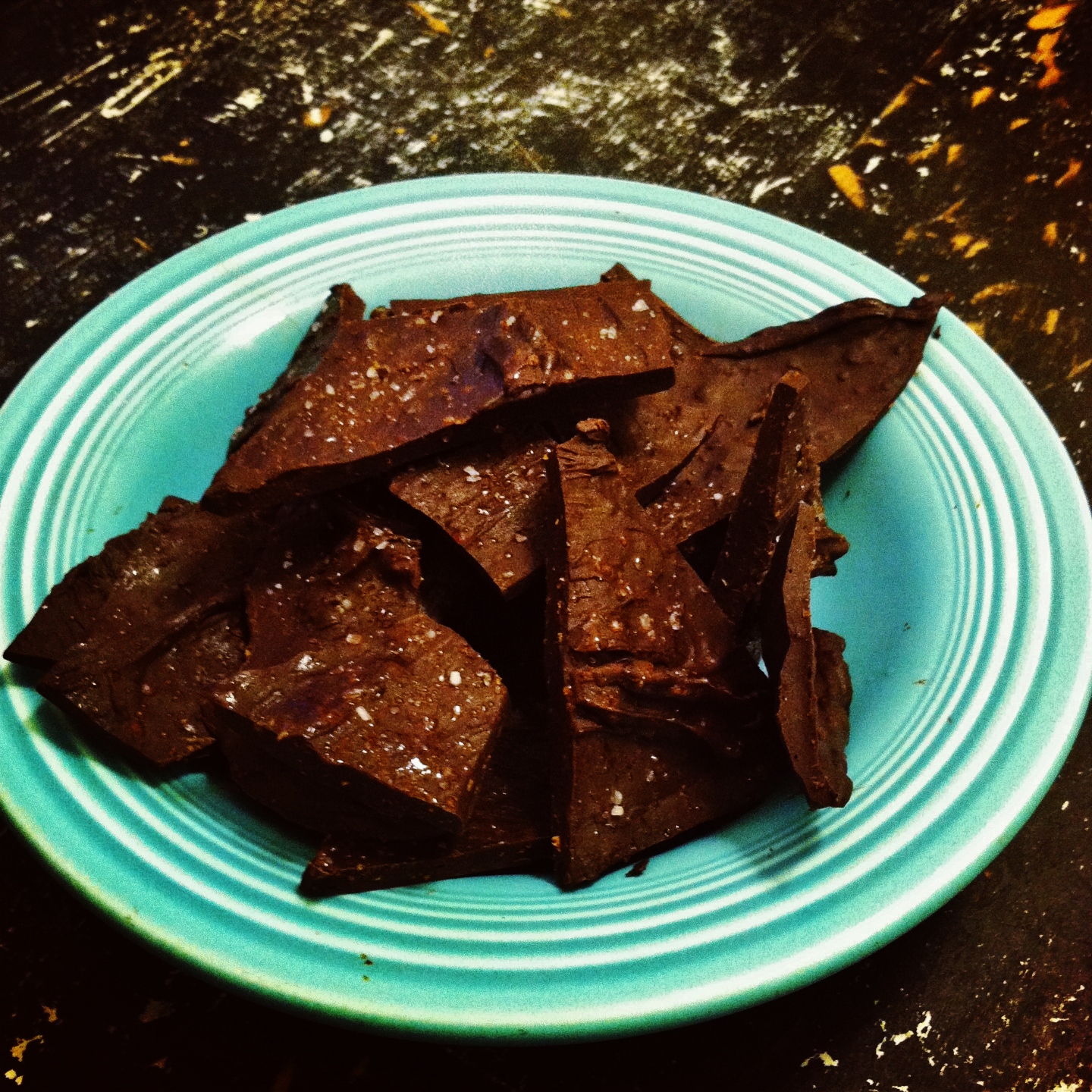 Hakuna Frittata
I love eggs. So anything with an egg-affiliated base is a pretty good bet in my book. And so it shouldn't come as a surprise that I've taken to making a frittata or two when there're a handful of veggies I need to use up, and about a half dozen eggs left in the carton. The great thing about a frittata is that it can double as breakfast and dinner!
Yield: 9-10 slices (~2 is a meal)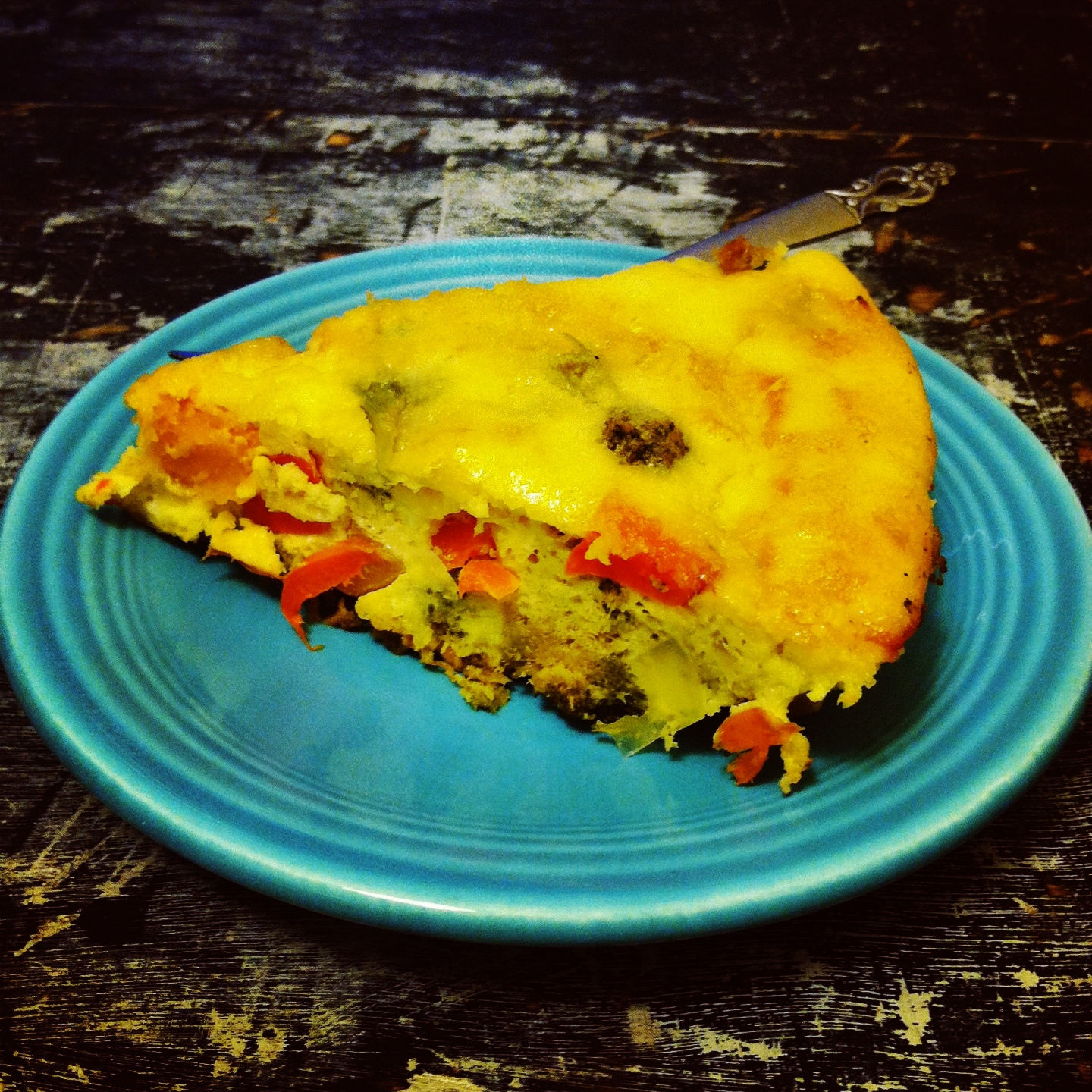 Ingredients:
6-8 large eggs (depends on your preferred eggy:veggie ratio)–I use 8 brown eggs
1 butternut squash, gutted and chopped (nothing fancy)
2 large broccoli florets, chopped
2 large carrots, chopped (I never peel mine)
1 TBS extra virgin olive oil
Salt or garlic salt to taste (I love garlic salt–probably too much)
Ground black pepper to taste
1/2 stick butter (amount depends on if you're using a cast iron skillet vs. non-stick)
1 TBS honey (and a little extra for a final touch)
1 C Parmesan cheese, grated (and a little extra to sprinkle on top while baking)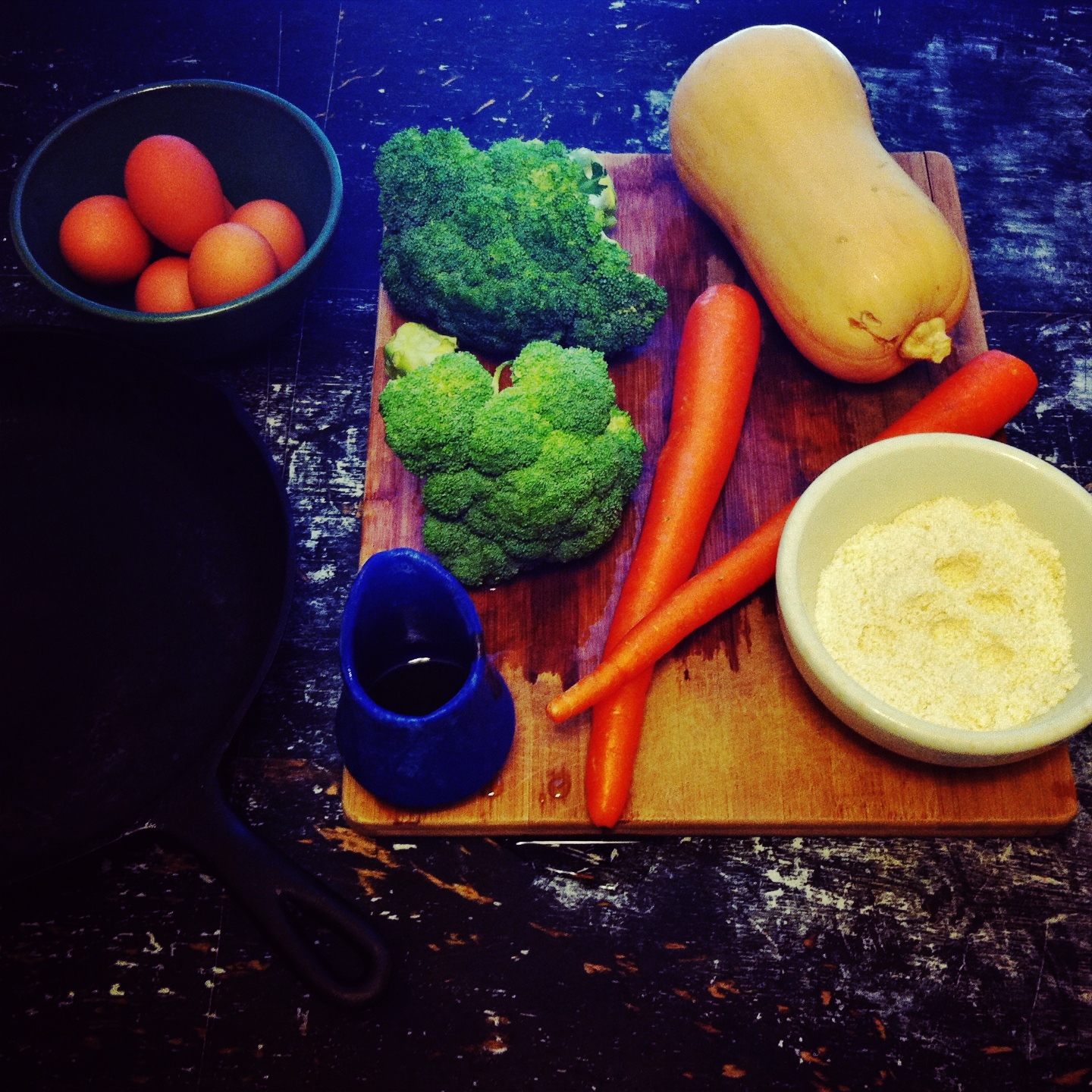 Prep It!
Preheat oven to 375 degrees.
In a deep cast iron skillet (or ovenproof pan–whatever you have), melt most of the butter (I use all but a TBS or two) and spread around pan.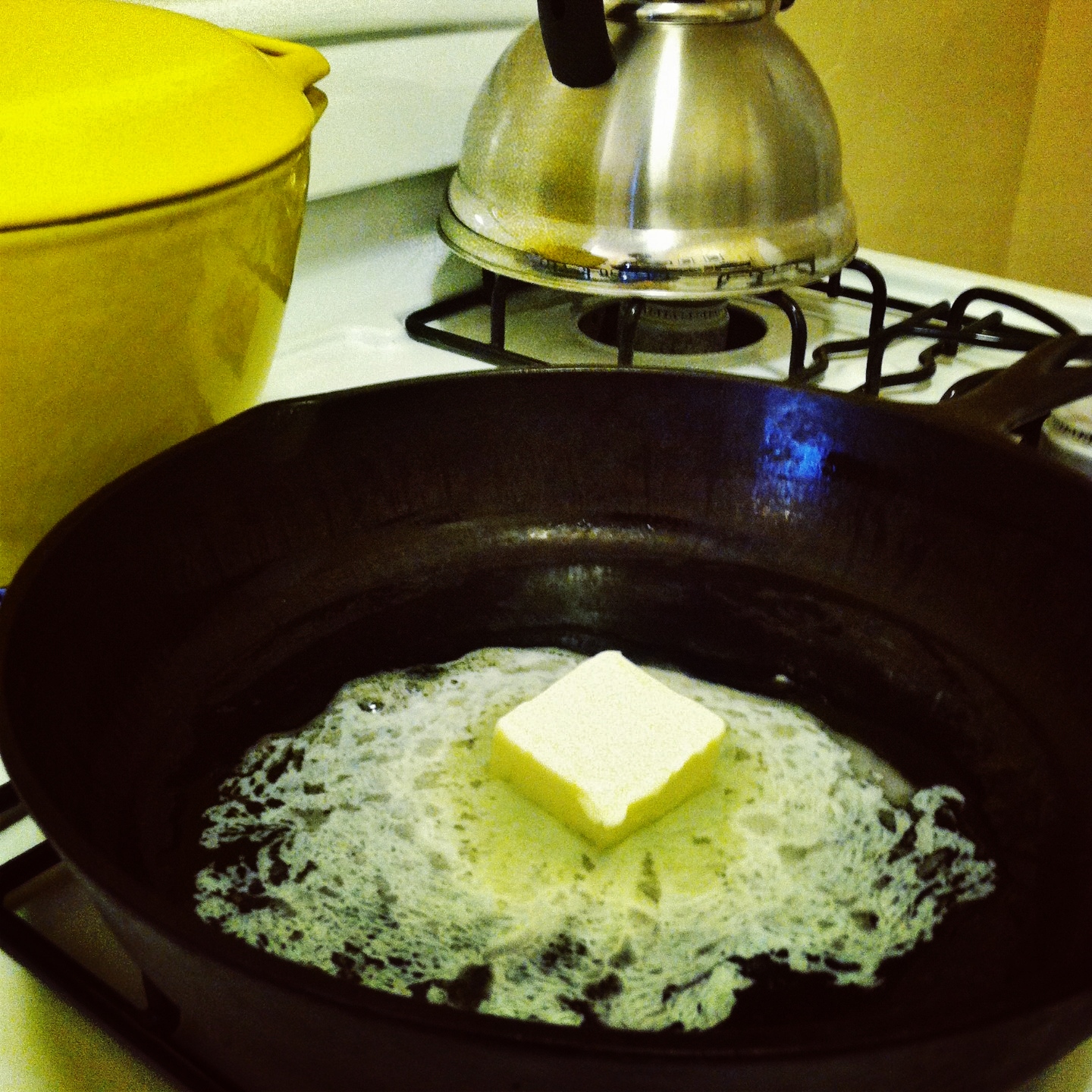 Saute the veggies in the butter, starting with the squash, and adding in the broccoli and carrots. Add remaining butter and drizzle EVOO over top of the veggies, and season with salt/garlic salt and black pepper. Drizzle a little honey over the entire mixture. Cook until veggies start to get tender.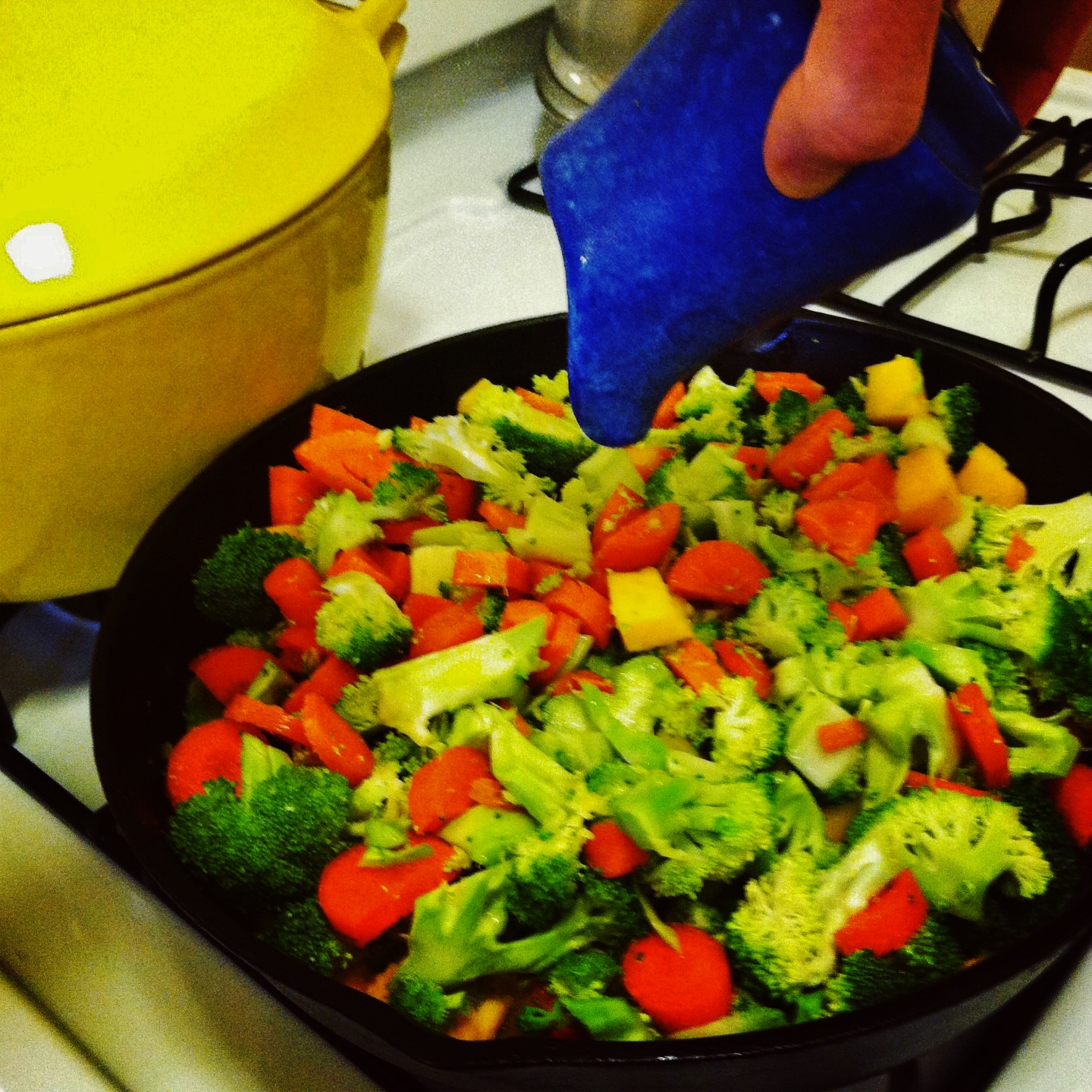 While veggies are cooking, beat together all eggs (again, I used 8 because of the depth of the skillet I use) with the cheese.
When veggies are just about tender, pour eggy-cheese mixture over veggies, making sure the outermost veggies are encased by the mixture. If eggy-cheese mixture doesn't completely encase the outermost veggies, beat a few more eggs and add, pulling veggies a bit to the middle and incorporating them into the mixture as much as possible. (I leave any veggies poking out of the top unmoved). Layer the top (including any protruding veggies) with a little Parmesan cheese and another light drizzle of honey.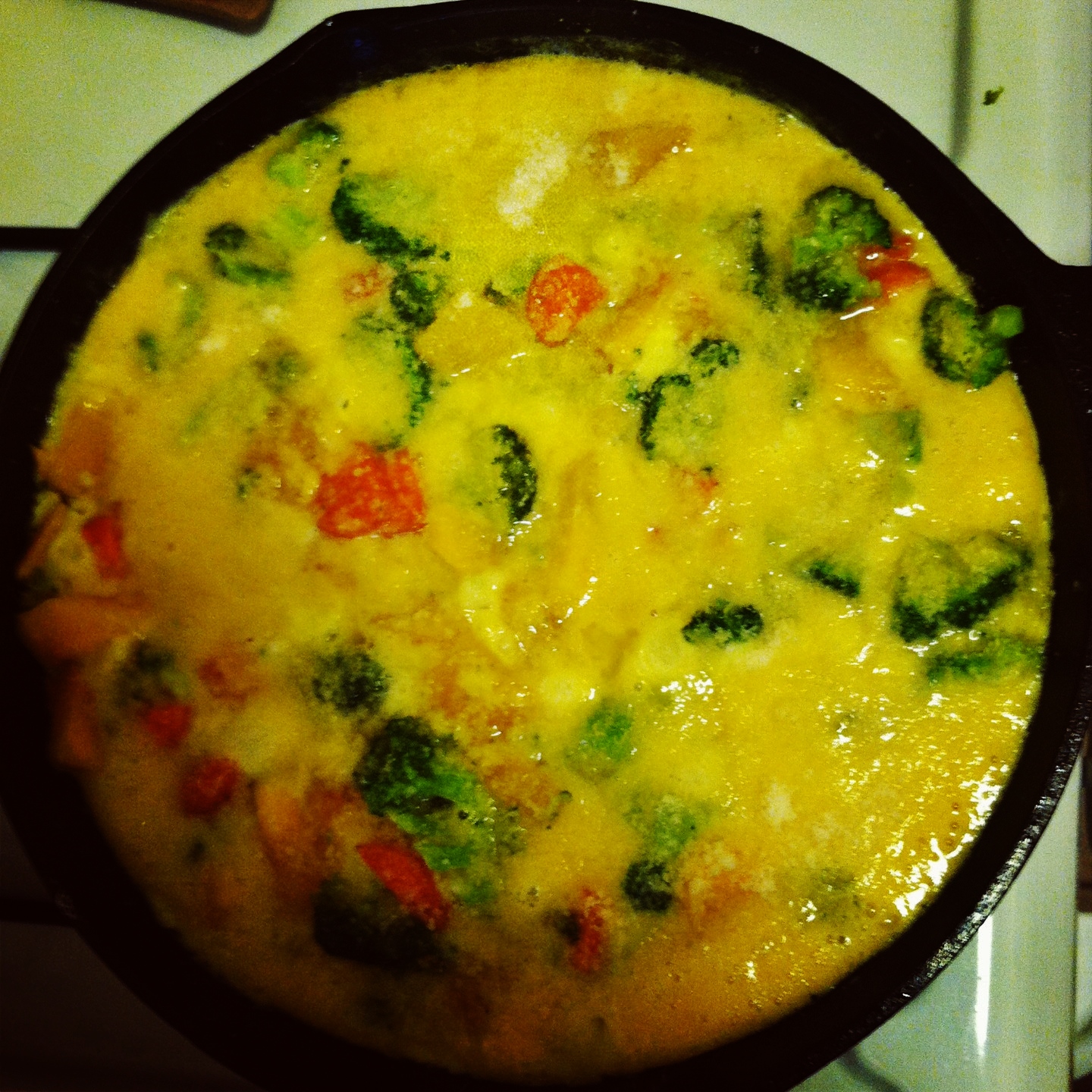 Put entire skillet into oven and bake between 40 minutes to an hour–until tester (fork or toothpick) to the middle comes out clean (time depends on number of eggs used). The frittata should be getting close to done when the top and edges start to brown.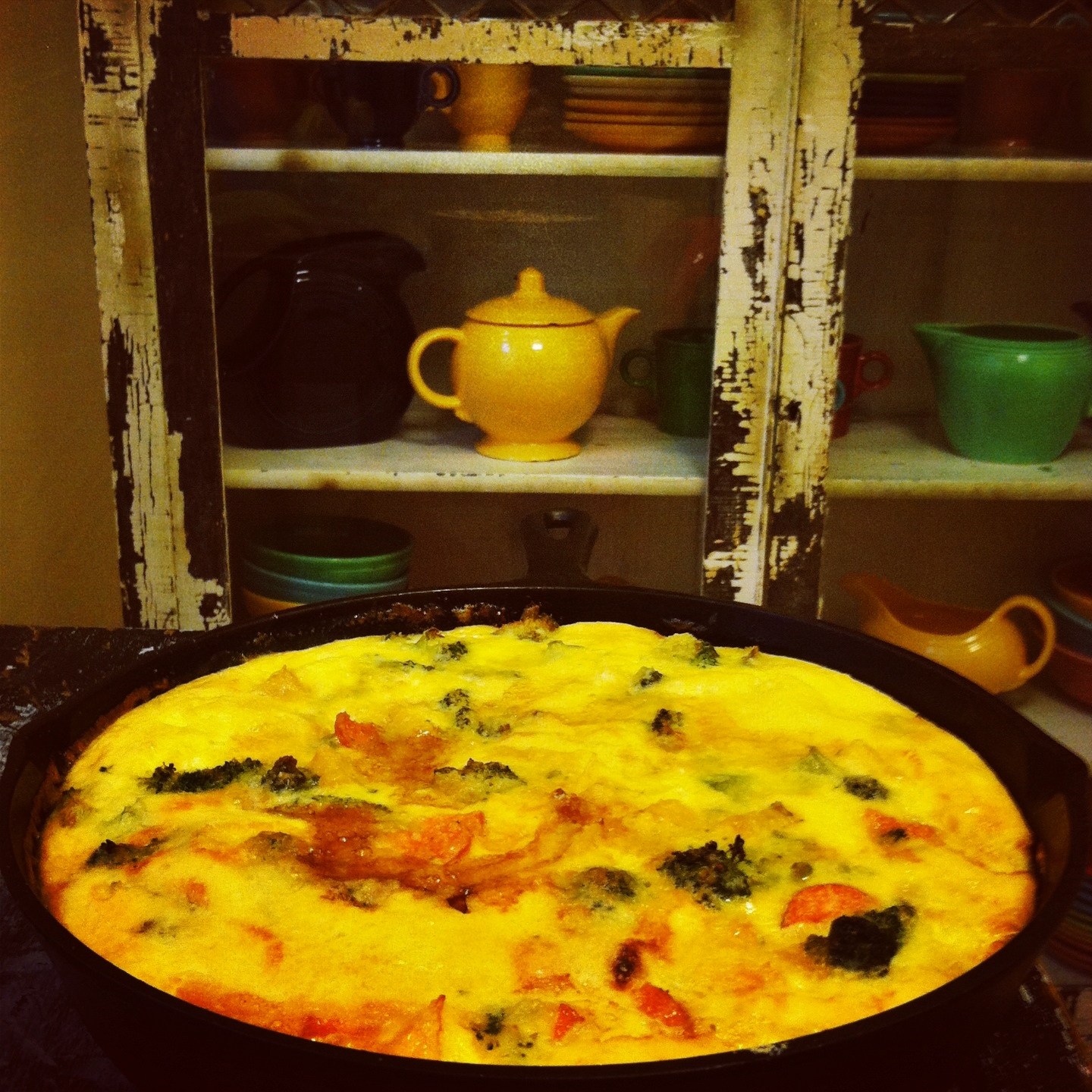 Obviously, you can play around with the veggies for different frittatas, and add different protein. Like tomatoes and broccoli with tofu!