While stamping down the sopping, saturated potty pad into the small, overflowing garbage can, I wield a tomato red bottle of pet cleanup spray – the label boasting an ability to remove pet pheromones to better prevent repeat accidents. I coat the X-pen's lined floor and, for safe measure, the edge of a nearby blanket. Then channel The Karate Kid.
Wax on. Wax off. Wax on…
A minute later, there's a new pad down, and the general area around Joanna's temporary lair smells less like fermented urine and more like fermented urine overlaid with disinfectant.
Three minutes later, a steaming turd archipelago dots the pristine pad and freshly cleaned blanket.
Opposite her deposit, Joanna stares up at us through the pen's mesh sides – her marble-like eyes darting from the offending nuggets to us, her five-o-clock shadowed saviors.
Andy puts on another pot of coffee, and I retrace my steps back to the cleaning supplies, my eyes heavy and knuckles dragging ever so slightly.
***
Adopting a puppy isn't something you can do on a whim and expect it to just work out. Which is why, being the planners we are, Andy and I discussed every possible scenario, every sacrifice and associated cost, and asked ourselves a billion questions before taking the plunge.
Is this the right time?
Is there ever a right time?
WiIl Toby resent us?
Can we handle a puppy?
Can Toby handle a puppy?
Do we have enough time to devote to a puppy?
Is our apartment big enough?
Will it be harder to outrun zombies with two dogs instead of one?
Each round of cross-examinations ended the same way: we could handle it – and, after all, we'd planned for just about everything.
But life often has a way of dropping trou and taking a nice hearty dump on even the best laid plans.
***
Walking into the shelter, we have a very short list of dogs we want to meet – and one is Joanna. The narrow corridor is flanked by kennel runs, and very few dogs are out enjoying the unseasonably arctic winds. Midway down, we spy Joanna's picture and, like kids in a candy store, press our noses against the plexiglass and ooh and awe at the lithe, tan Chihuahua mix curled in a bony ball on her bed. A few moments later, while rubbing her belly and having one-on-one time with her, we know she's ours. But we still want Toby to meet her, and we've intentionally left him out of this preliminary screening so that we can get a sense for her personality sans furry counterpart. So we go to put her on hold, with the familiar mixture of exhilaration and anxiety flushing our cheeks.
"Oh, actually, we can't hold puppies. And we don't require them to have an intro with other dogs in the house."
While I bite my tongue about this seemingly big ass hole in their adoption process, Andy gives me the WE CANNOT LOSE THIS DOG look – mostly because three people kept hovering outside Joanna's kennel while we engaged with her, all of whom seemed extremely interested.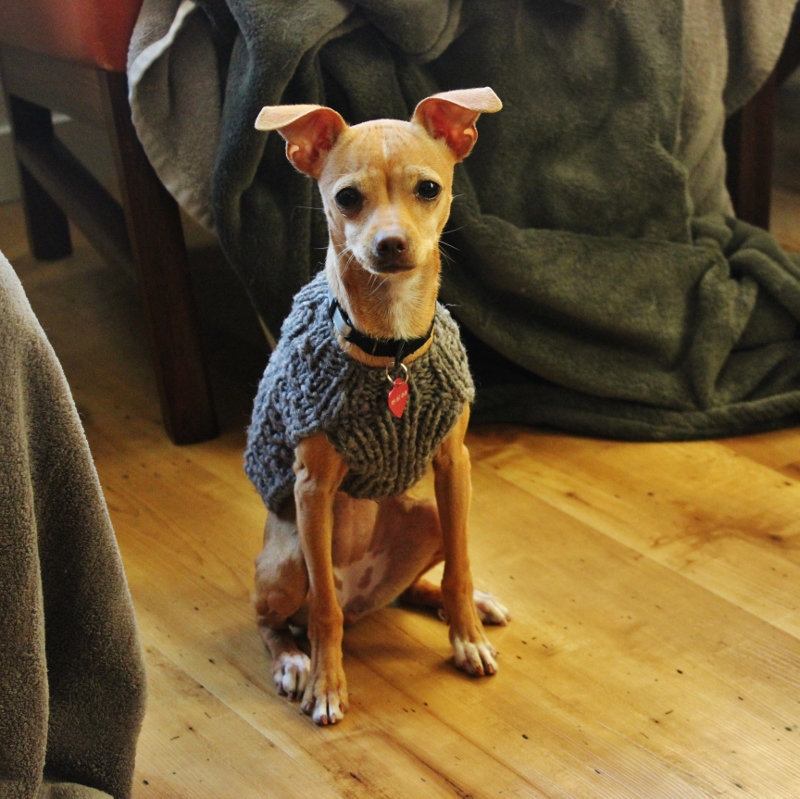 But what about Toby? We fret for a few minutes before coming to the realization that Toby will disapprove of any new addition that isn't a glazed ham or personal pan pizza.
And after the adoption contract is signed and stowed in the car along with Joanna, and we get home, Toby doesn't disappoint.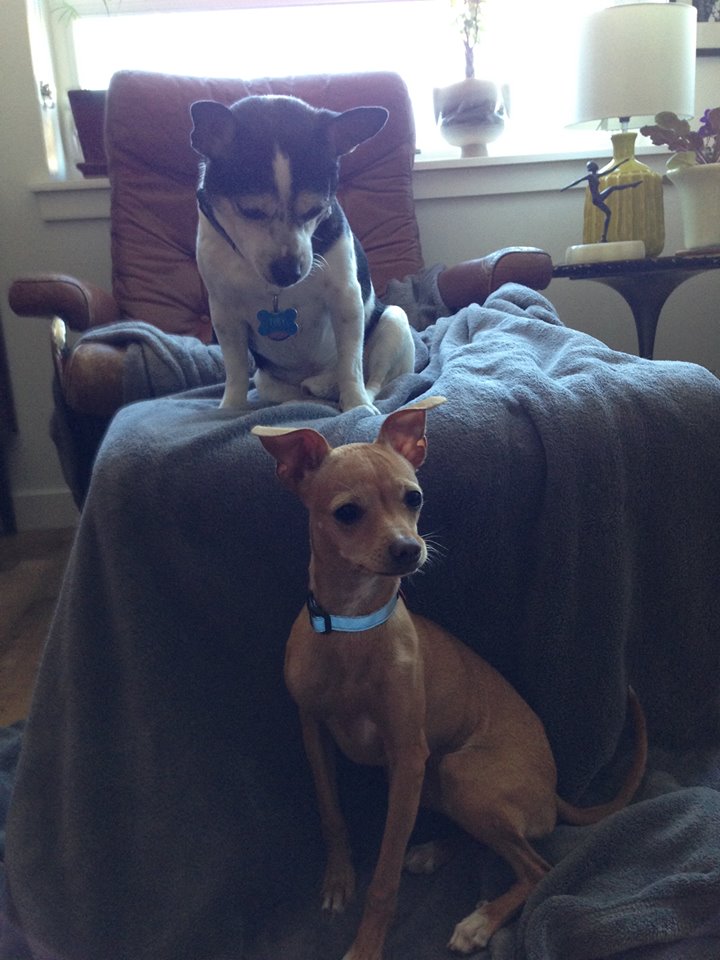 Like any big brother, he's skeptical, but completely intrigued. Until Joanna makes a beeline for the overflowing toy basket, her playful growls most likely translating in dogese to something along the lines of "I'm gonna play with your toys now! BU-BYE!" And he's all, "OH, GURL. NO."
We observe the typical dominance dances with baited breath, and are relieved to see that, as we'd hoped, Joanna is ingratiatingly submissive. We mop our brows, and keep reassuring both of them and, quite honestly, ourselves.
This is our family now. We've got this.
We look at each other over the pups and smile.
And then, like a leaky faucet, Joanna spritzes the floor, and doesn't stop for the rest of the afternoon.
***
It's pretty common knowledge that a new puppy translates to sleep deprivation. And we spend the next day pounding back coffee while making trips to the curb every 20 minutes. Little by little, we make potty training headway. We begin feeling invincible.
And then Joanna breaks her leg.
It's one of those disturbingly slow-motion moments – watching as she launches herself off Andy's lap, despite his buffering attempts, and her long-limbed body's kersplat-thwack on the floor. And then, the yowls.
Oh, the yowls.
Ten minutes later, we're sitting in our vet's office cradling our shocked little monster, listening to the vet's recitation of Joanna's injuries and feeling like the worst pet parents in the entire universe. With a tractor-adorned cast as a souvenir, Joanna heads home with us and some heavy-duty painkillers.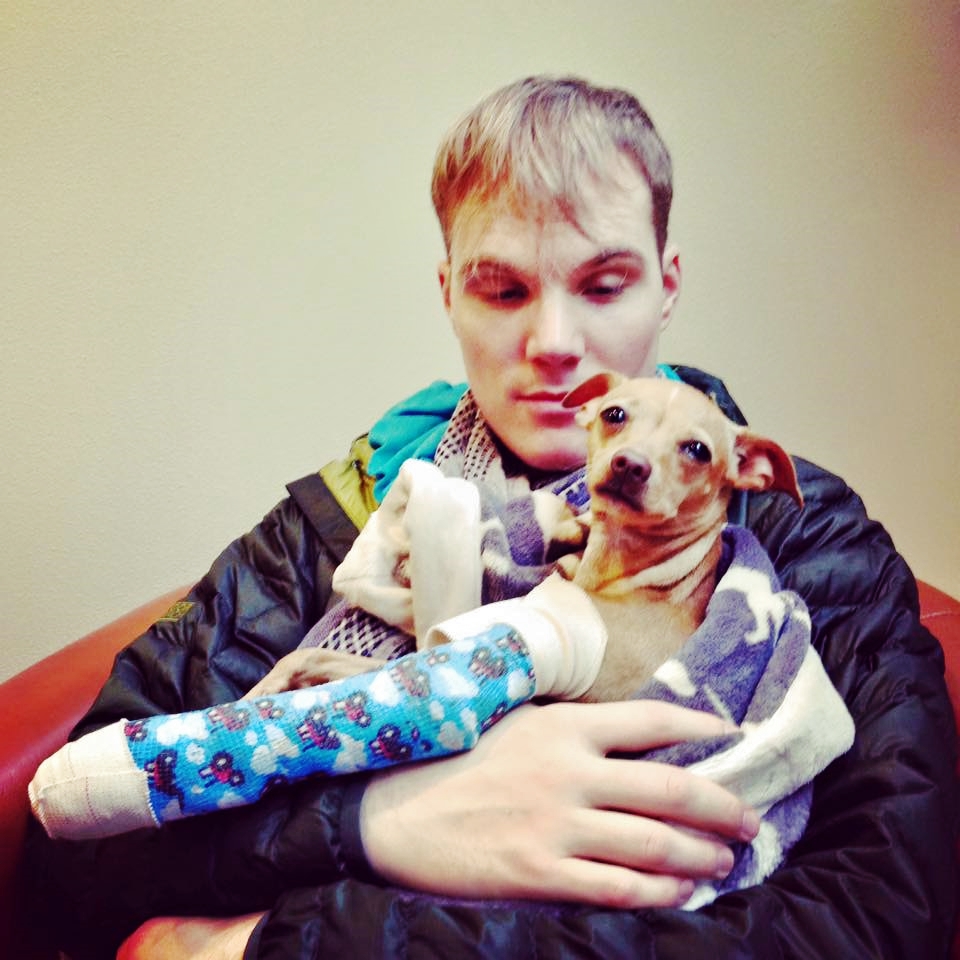 After another sleepless night, we're sitting in another vet room listening to a speech about bone plates and surgery. Joanna's broken ulna and radius have to be mended immediately, so we hand our little baby over for the night, head to the nearest big box pet store for all of the necessary recuperation accoutrements – including a massive X-pen corral since her cast makes crating even more uncomfortable – and reflect on the joys of puppy parenthood.
***
The next day, I leave work midday, snag Andy, and collect our broken baby. We get stuck in pre-Thanksgiving traffic hell; I wear my stress like a well-tailored sport coat, and curse the congestion – my knuckles gripping the steering wheel tighter and tighter with every inch forward we take.
But then I look over to the passenger seat where Andy holds our precious, dazed, drugged cargo, cooing things in her ear and rubbing her neck.
And I remember – We've got this.