Like flipping through an old high school yearbook after a few fingers' worth of scotch, scanning through an old external hard drive can dredge up more than bad hair, angsty clothes, and Ewww, that guy! memories.
For me, this latest traipse through the digitally curated past unearthed some shockingly offensive photos. Some that made me wonder if there was any humanity left in the world. And confirmed why I hadn't had much luck in the love department.
No, they weren't of my excessively over-plucked eyebrows (although they surely didn't help). They were of my first apartment.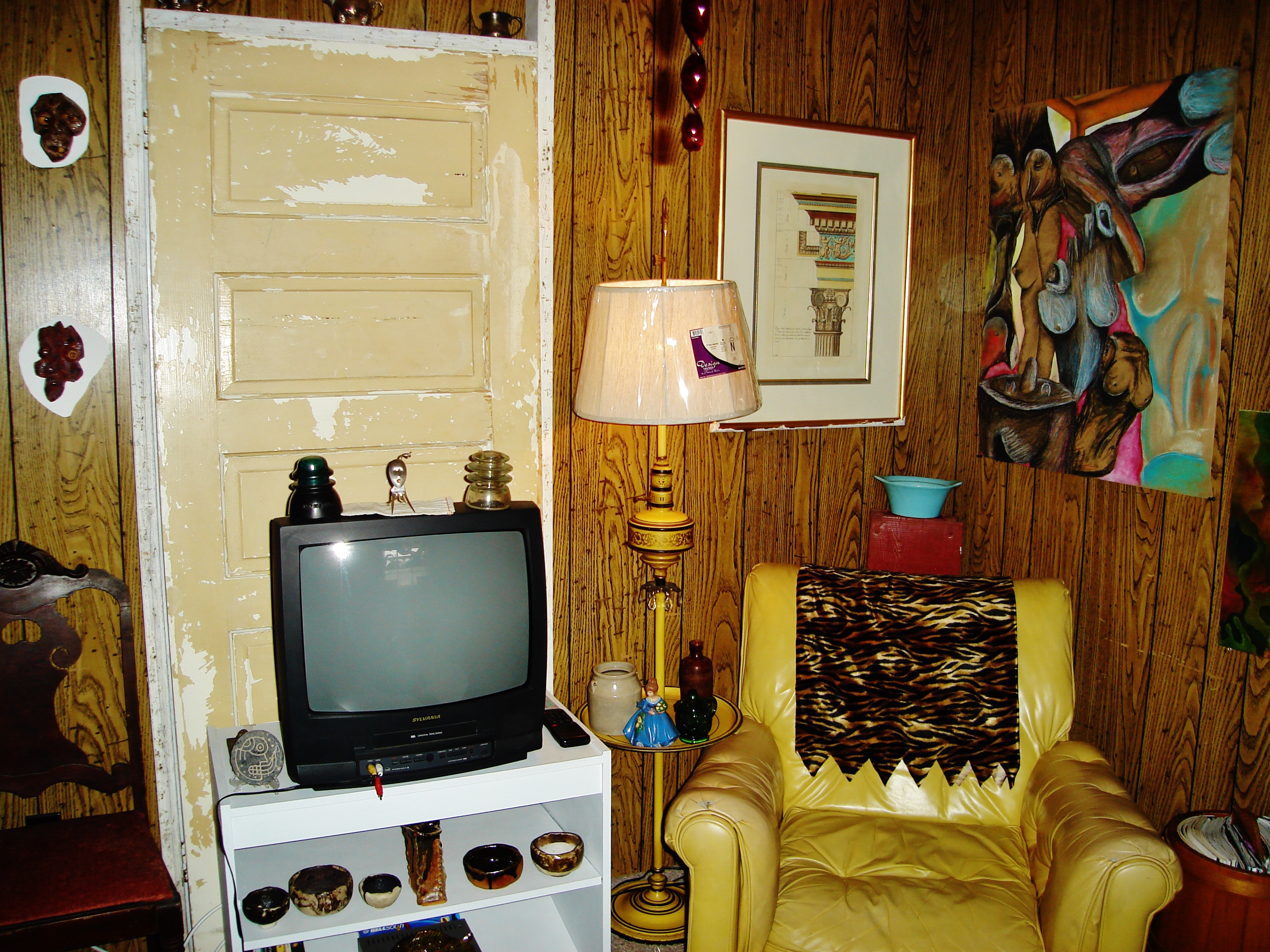 Now, everyone who has ever lived alone has a few photos like these. Probably even Kelly Wearstler and Jonathan Adler. (Actually, especially Kelly Wearstler and Jonathan Adler.)
Not only did my first apartment scream I can drink Smirnoff Ice now! but it appeared as though Mr. Magoo had ingested a handful of psychotropic mushrooms and tripped all night. In short, I was having an identity crisis–floundering somewhere between Slightly Goth and Very Gay, neither one of which could fully breathe amid the cluttered cat lady tschotskes, taped up art, and dumpster-pilfered furniture. Case in point: a gnawed particle board shelf that I'd painstakingly screwed together and painted in rainbow colors before realizing it'd been saturated with cat piss.
But with time, experience, and friends forcibly knocking crap out of my hands with a Leave it on the damn curb! I re-tooled my style lens, and augmented my behavior a bit. Like, say, ceasing to hoard historic doors and turning them into headboards. (Although I still sort of pride myself on doing that before it became chic.)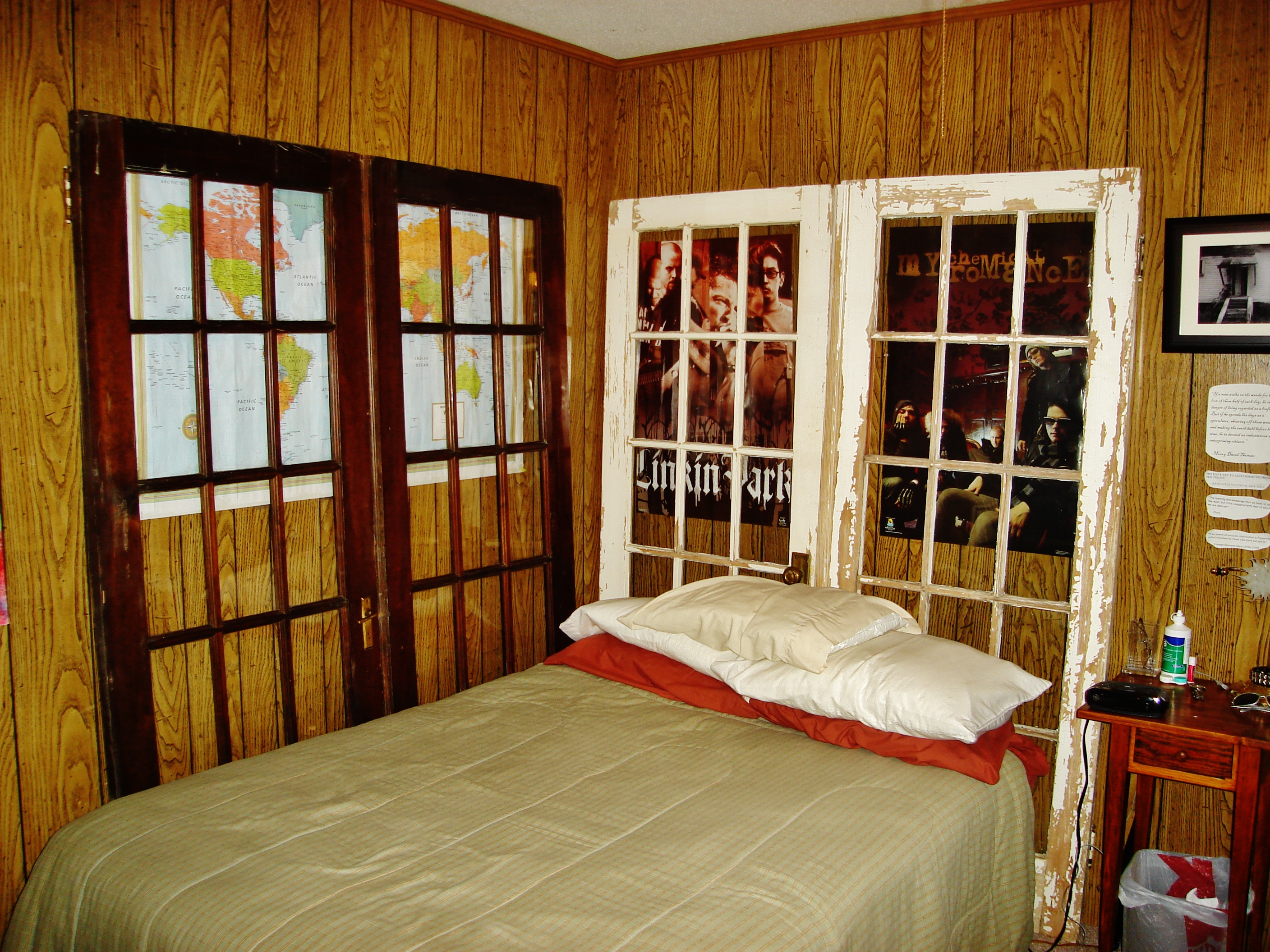 Instead, they were recycled back into historic homes, and I started to get my design sense in tune.
***
A slightly different aesthetic took hold as I fledged from undergrad to graduate school. And while my style did mature somewhat, it still exhibited some kid-like elements–and not just tattered band posters hanging over my bed.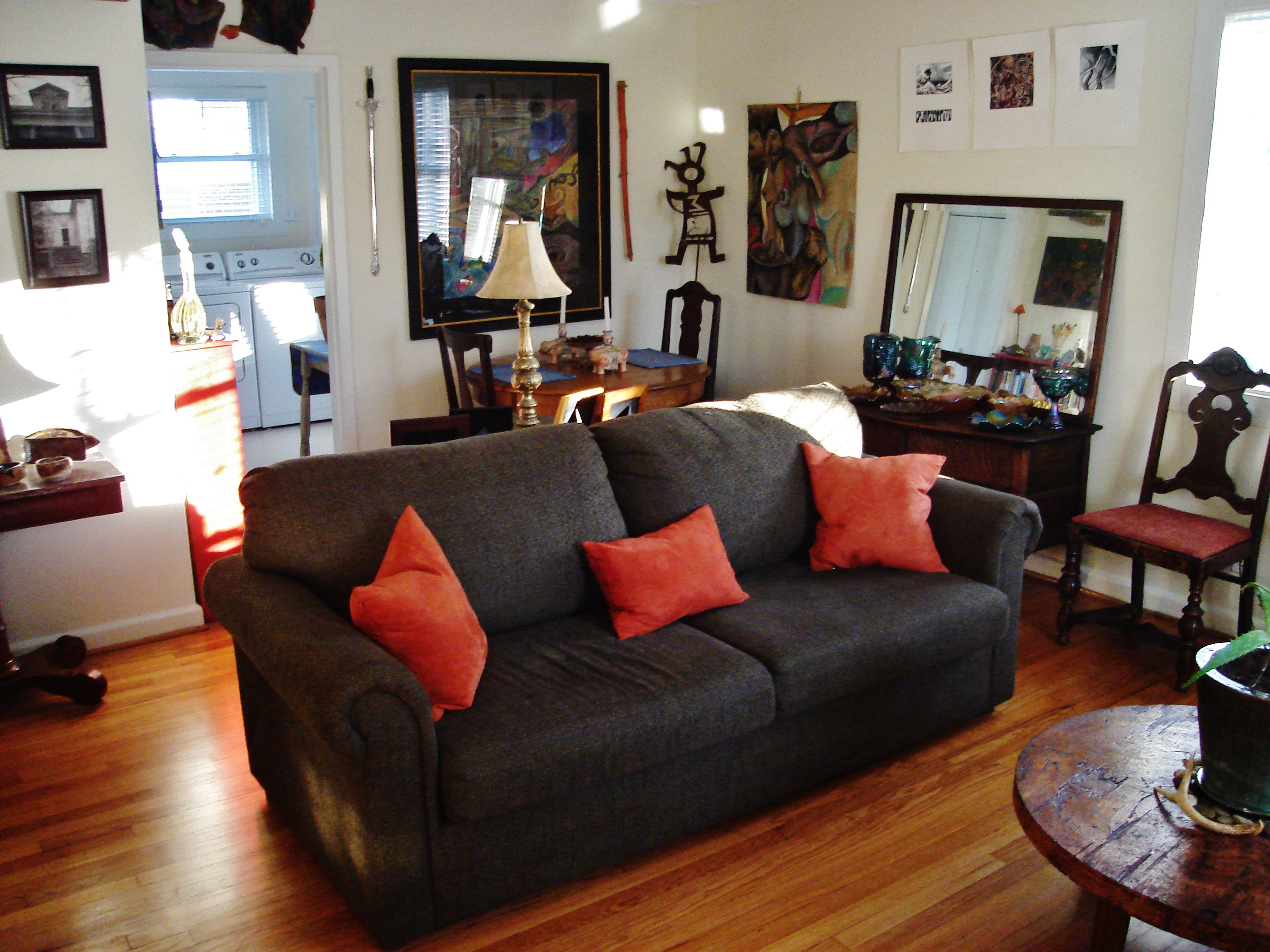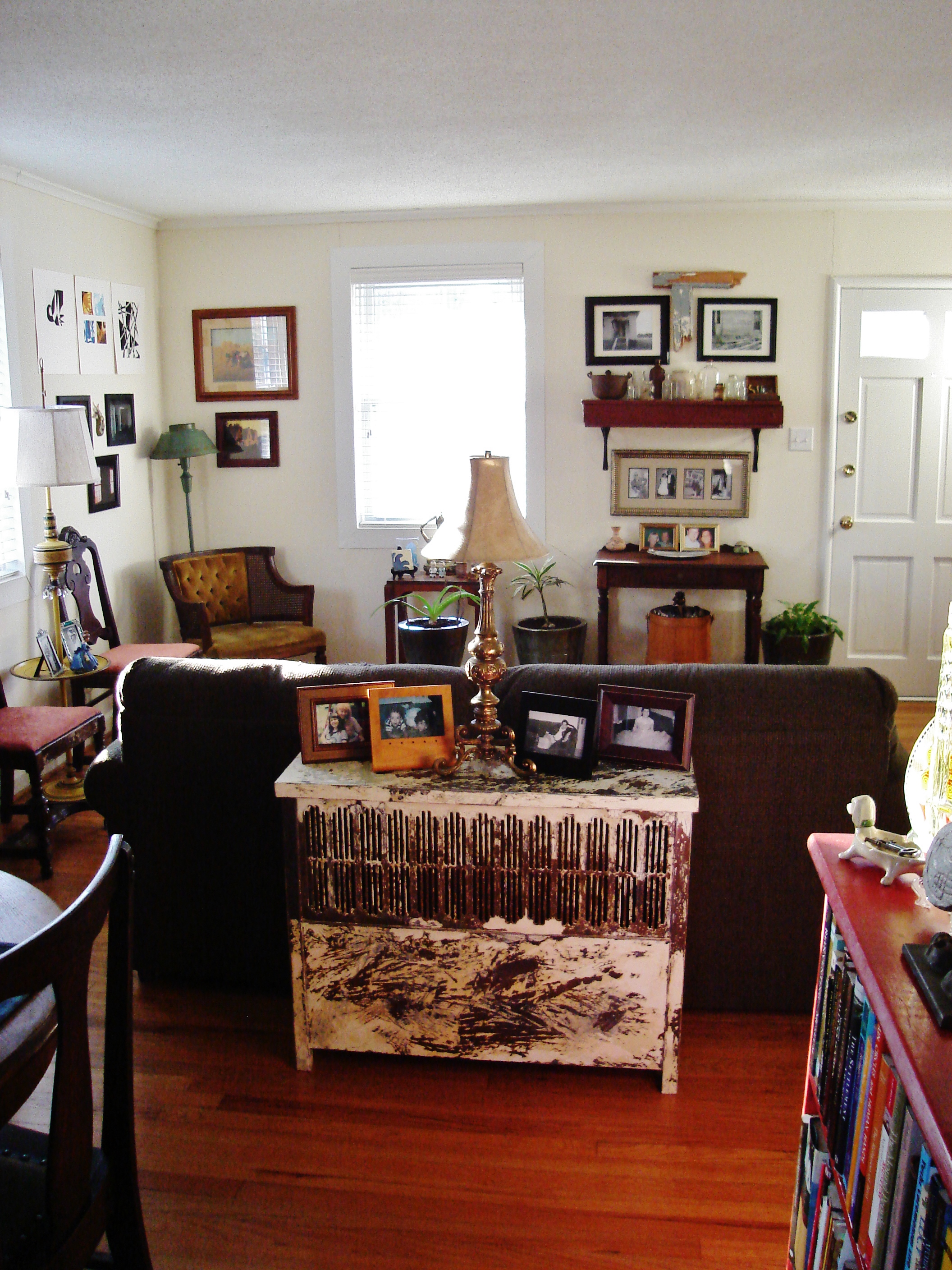 And while I couldn't quite pinpoint what was off, I did know that I loved antiques–old, rough pieces with history or mystery about them. But instead of channeling that in a controlled way, I pulled an Exorcist move, spinning around like a whirligig, vomiting old things all over the place. It was haphazard at best. But at least I was trying to define spaces, and be more selective in what pieces I did bring in from the street.
So, in lieu of a cat pee shelf, I opted for a castoff Art Deco cabinet (which we still have).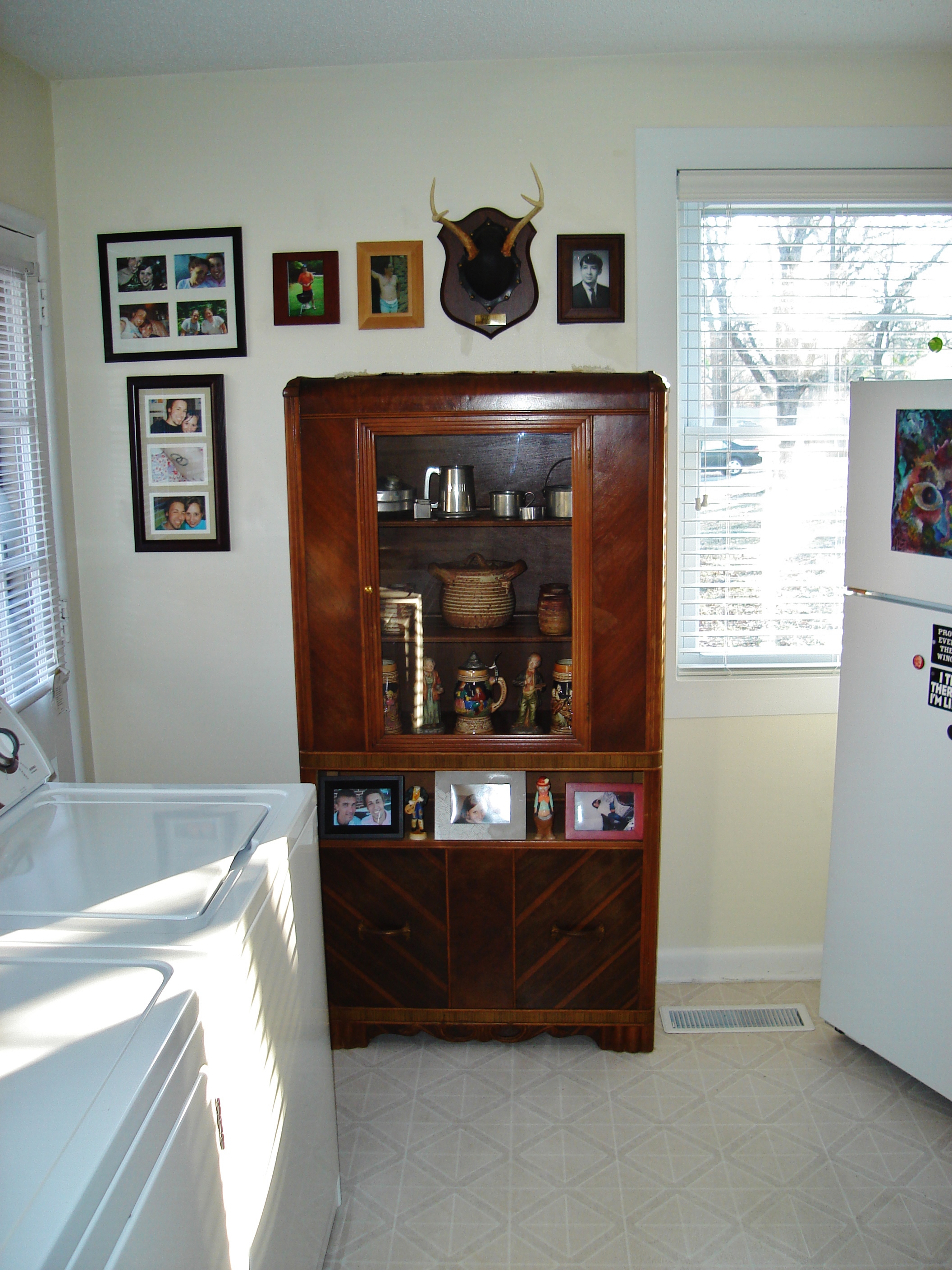 And while I may not have used it efficiently at the start, I knew that I liked it–that there was something about its style that struck me. It seems my taste continued to mature–from Oh, it's sort of usable! to Oh, it's good quality and worth it!
***
After a few more moves, my design sense began to translate into more cohesive spaces with less, or more contained, clutter.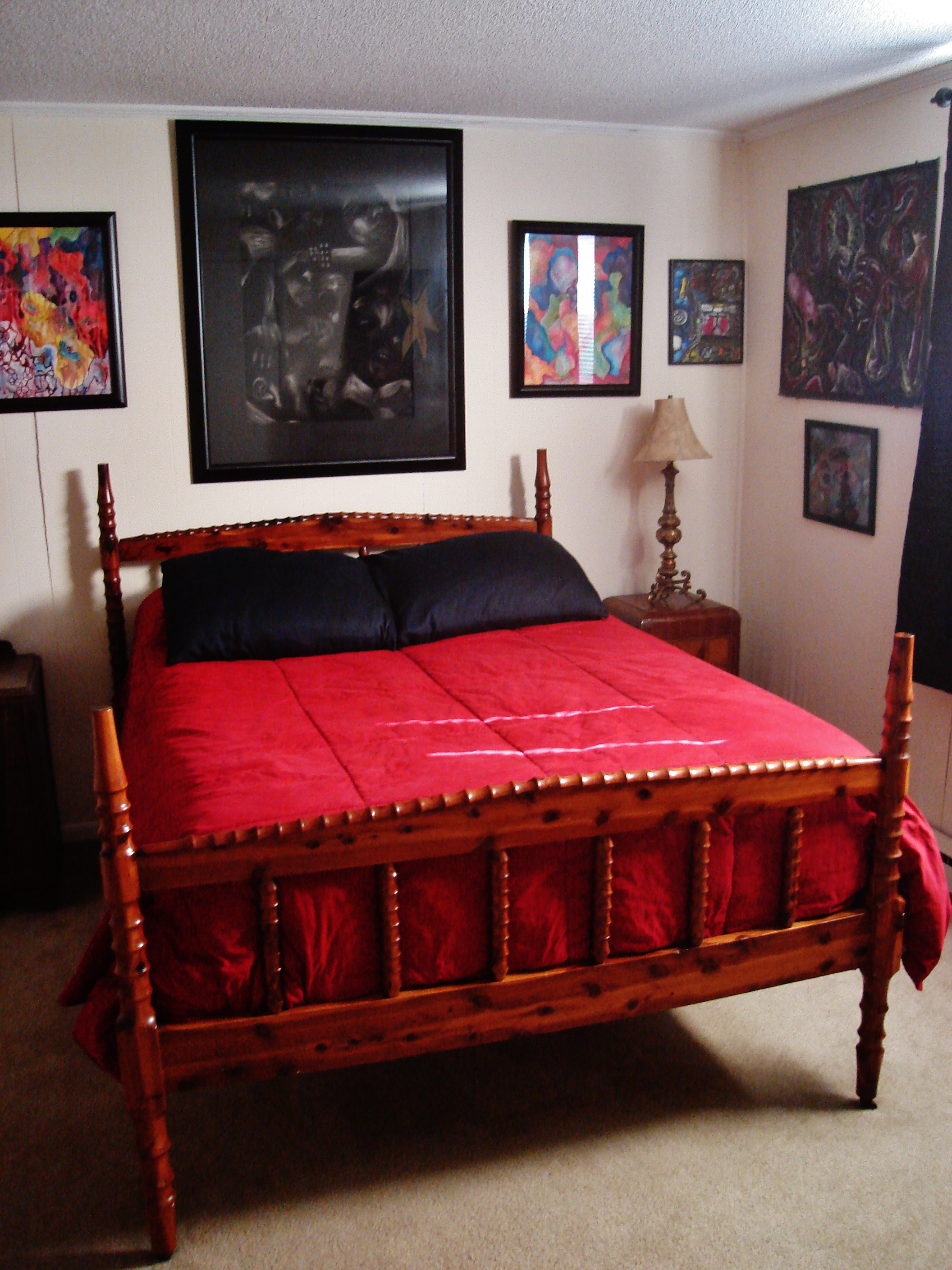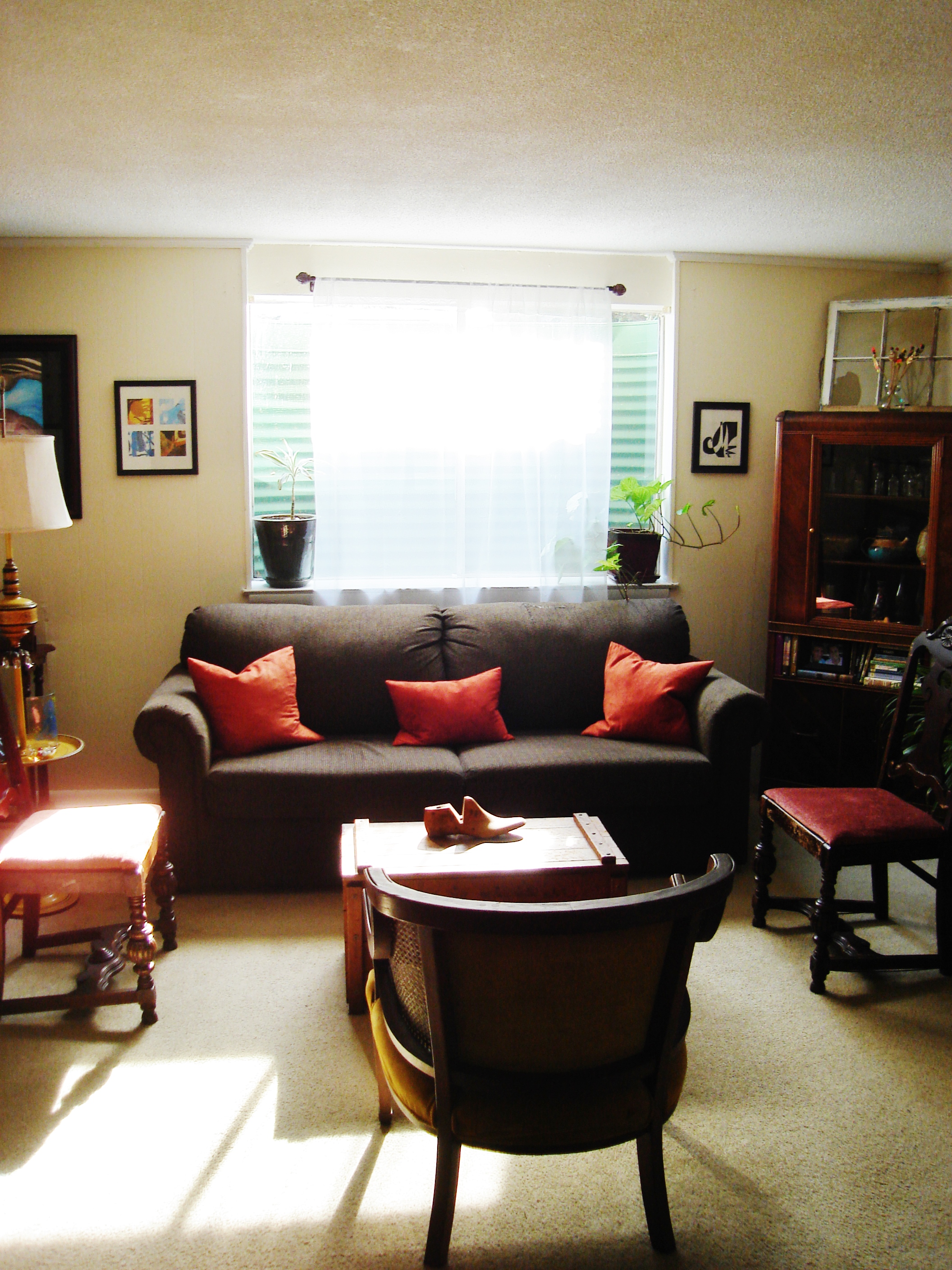 No longer resigned to have things just because they happened to be cool, I wanted what I did because I saw them as functional investments–and treated them as such.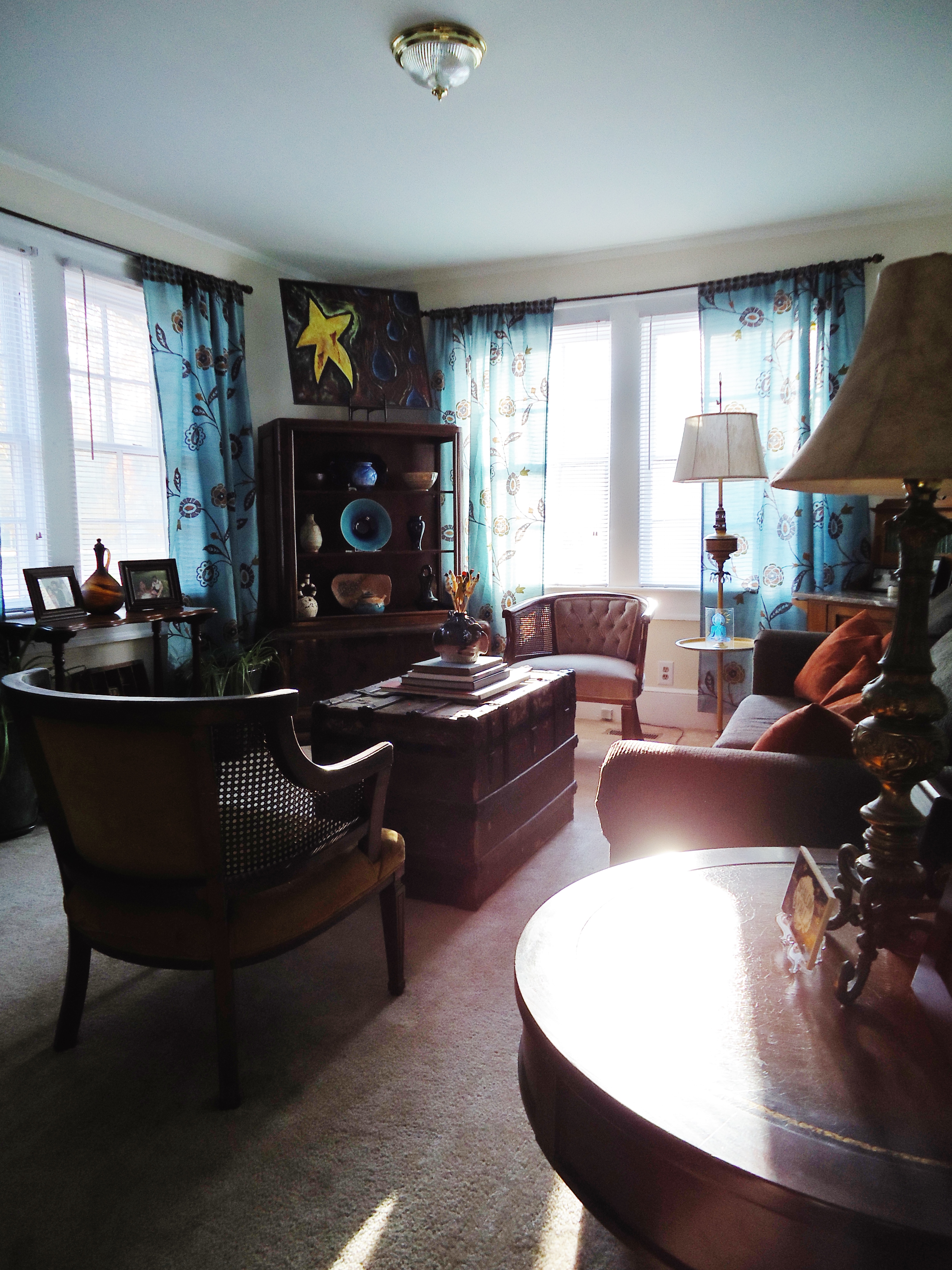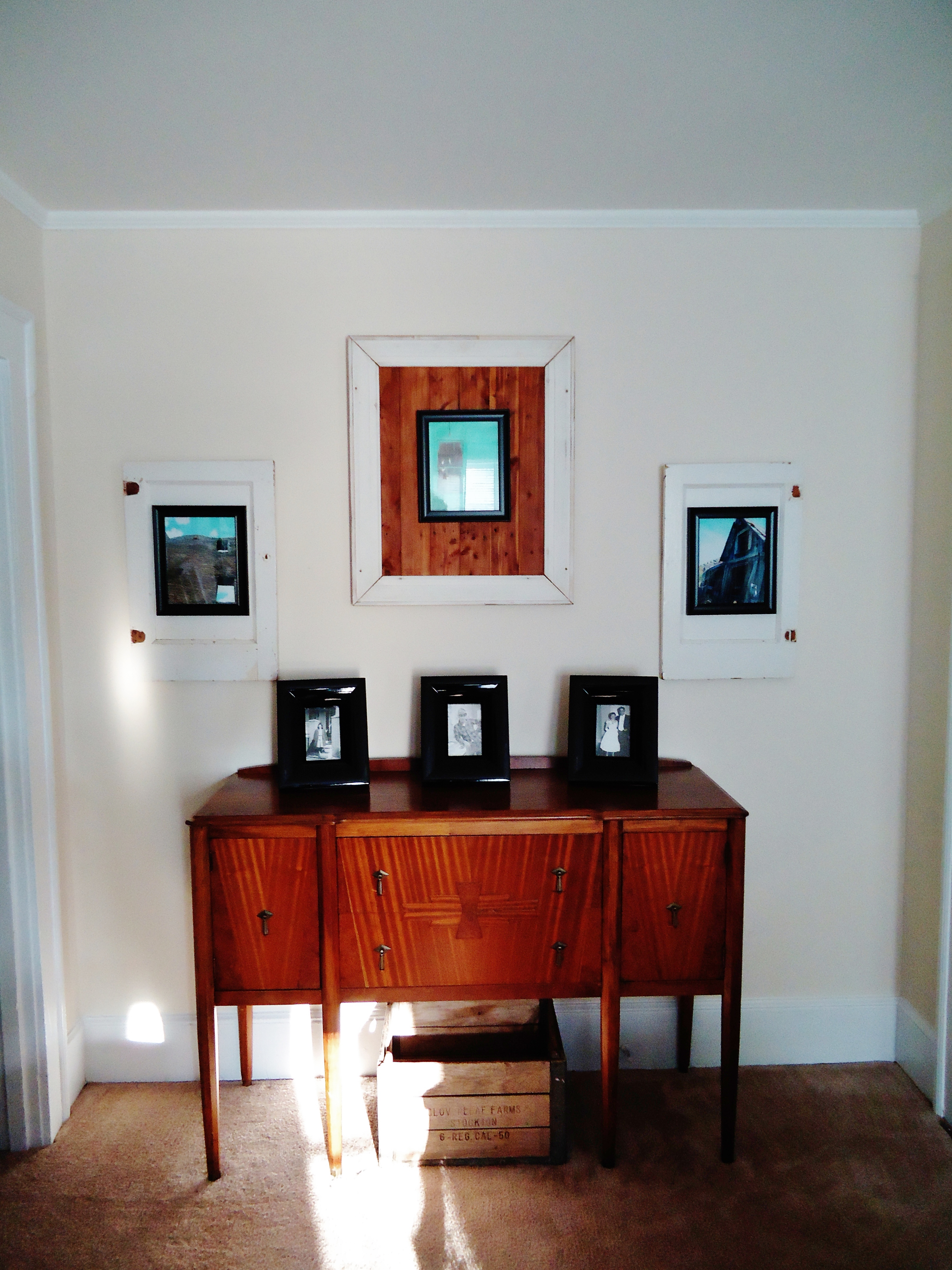 Along the way, I hemorrhaged bits and baubles that I'd kept just because–they'd been in my grandparents' house; they'd had a story associated with them; they'd been with me ever since I could remember. Still, before I culled them, I snapped a photo–which takes up much less space, but still triggers the same memories. After all, life is about you figuring yourself out, not toting relatives' crap with you.
***
It wasn't until Andy moved in that I learned a critical design lesson: Sometimes, it's better to let go.
Household melding became an exercise in maximizing functionality within our space without sacrificing our distinct styles, or having one overpower the other.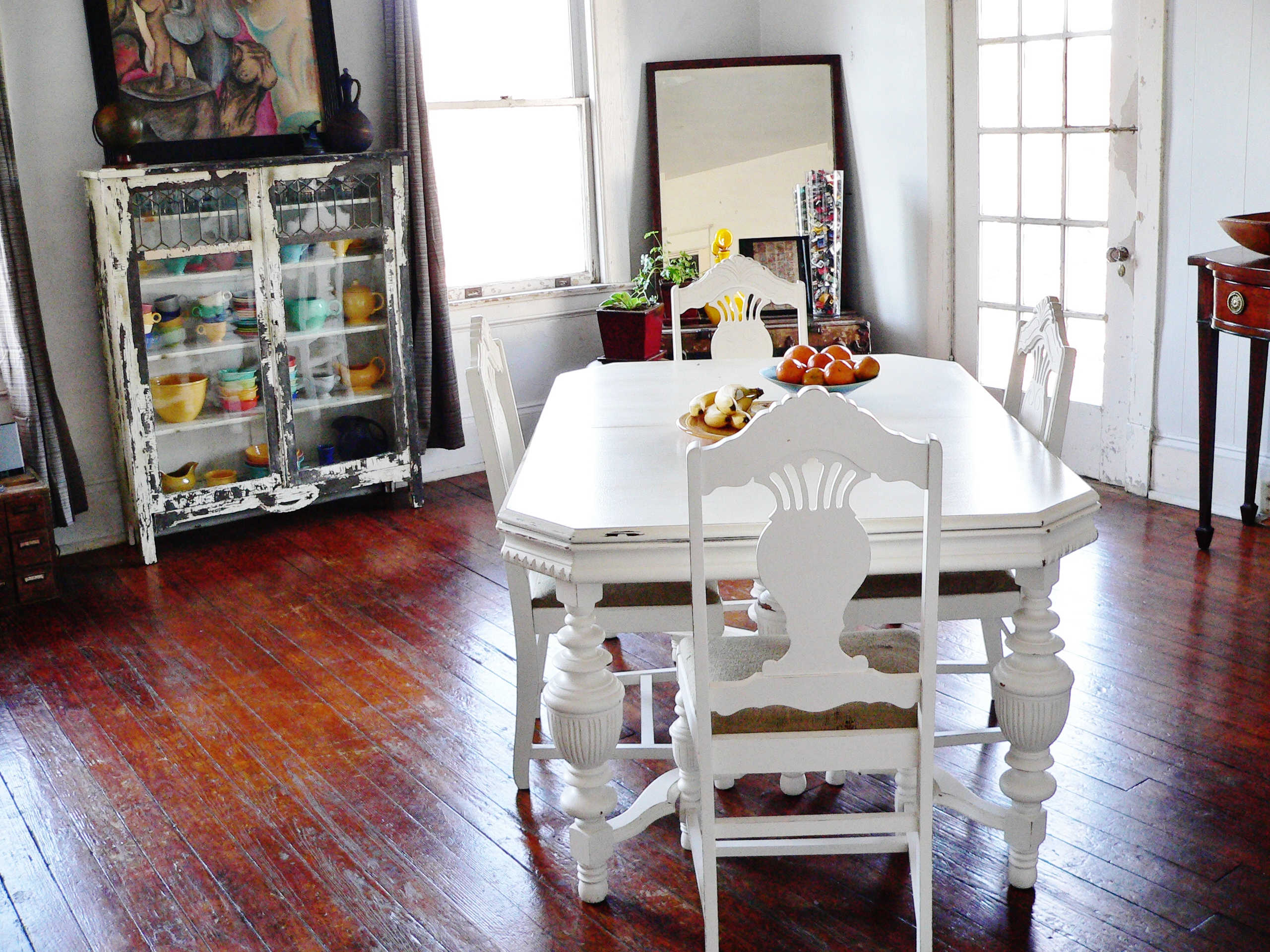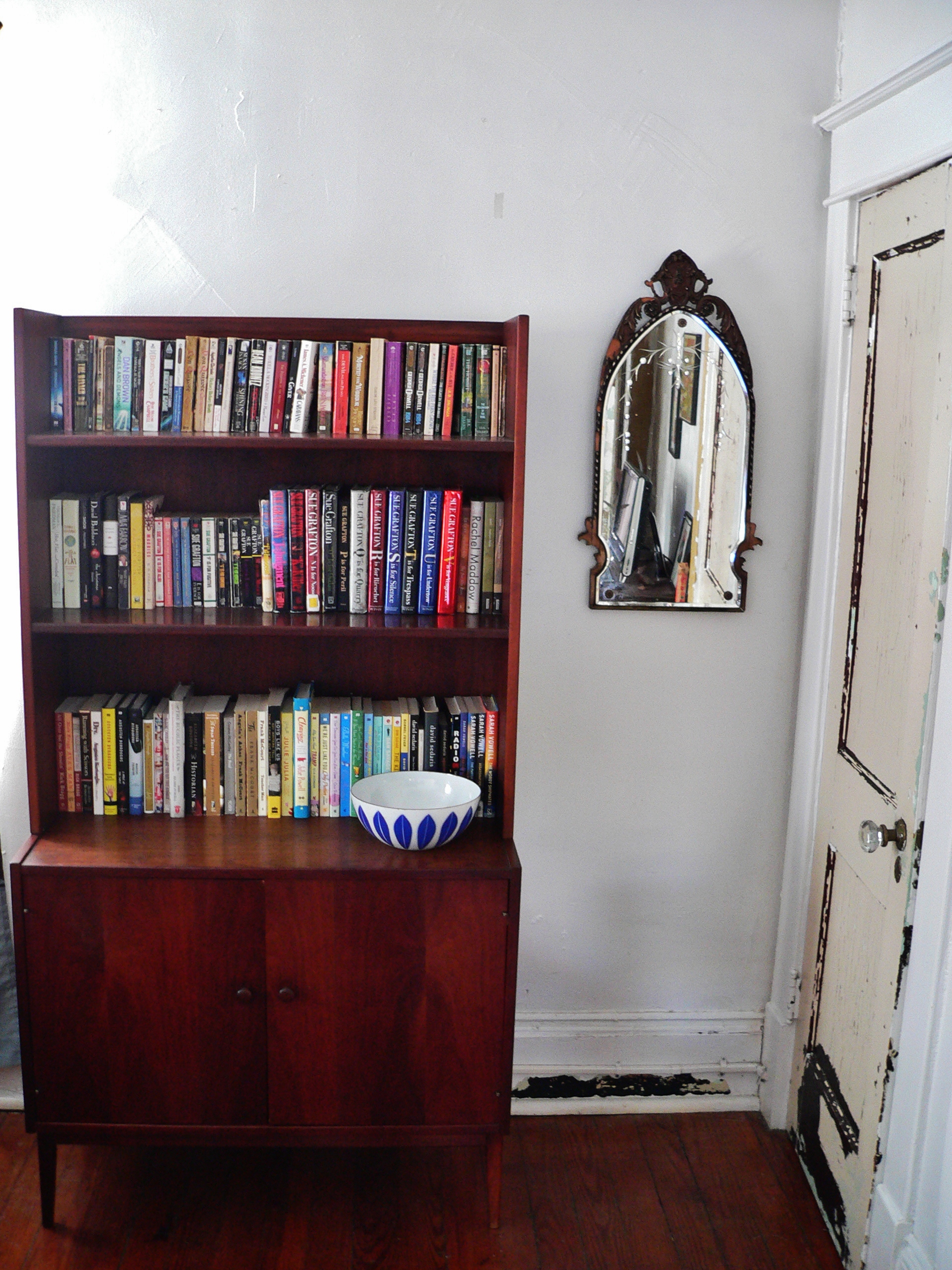 And after a design hiccup here and there, and plenty of conversations about what should stay and what should go, we created something that captured us rather than just me or Andy. Did we both let go of pieces that we'd cherished? Yes. But the result was worth it.
In many ways, we'd outgrown those particular pieces–not so much in the sense that they weren't quality or "adult" enough, but rather they'd always been the "pretty" pieces that hadn't really been used much. And letting them go to homes where they'd be used and cherished made the separation that much easier. And you know what? I still don't regret letting any of them go.
***
Design can be so damn delightful. And a little draining–both on you and your wallet/purse/murse. But it can also be terribly rewarding. So much so that it makes you want to cry at the thought of having a cleverly designed oasis of your own, and of your own making. (Seriously.)
Plenty of professional designers pepper their streams of consciousness with references to fabrics and styles and color swatches to such a degree that you just want to throw your hands up, scream to a deity or two, pour yourself a cocktail, and watch reruns of Days of Our Lives on your overstuffed, tattered sofa.
But you don't always need professional advice to take matters into your own hands–especially when it comes to figuring out your own style, and what really makes your place feel like home.
So put down that damn Bloody Mary and pay attention! Here're a few things I've learned along the way.
(1) Know what you like and embrace it. Plenty of people abide by the adage I may not know much about XYZ but I know what I like. But equally as many gloss over how important it is to acknowledge exactly that, and how to focus your aesthetic lens on similar things when creating a space for yourself. It can be a particular form, color, texture, theme, or object that just screams, THIS IS WHO YOU ARE! Build on it.
(2) Have the courage to go out on a design limb. Like being haute couture, innovative design can sometimes push you out of your comfort zone. But the result can be phenomenal–whether you're recovering a chair in paisley or refinishing a flea market steal.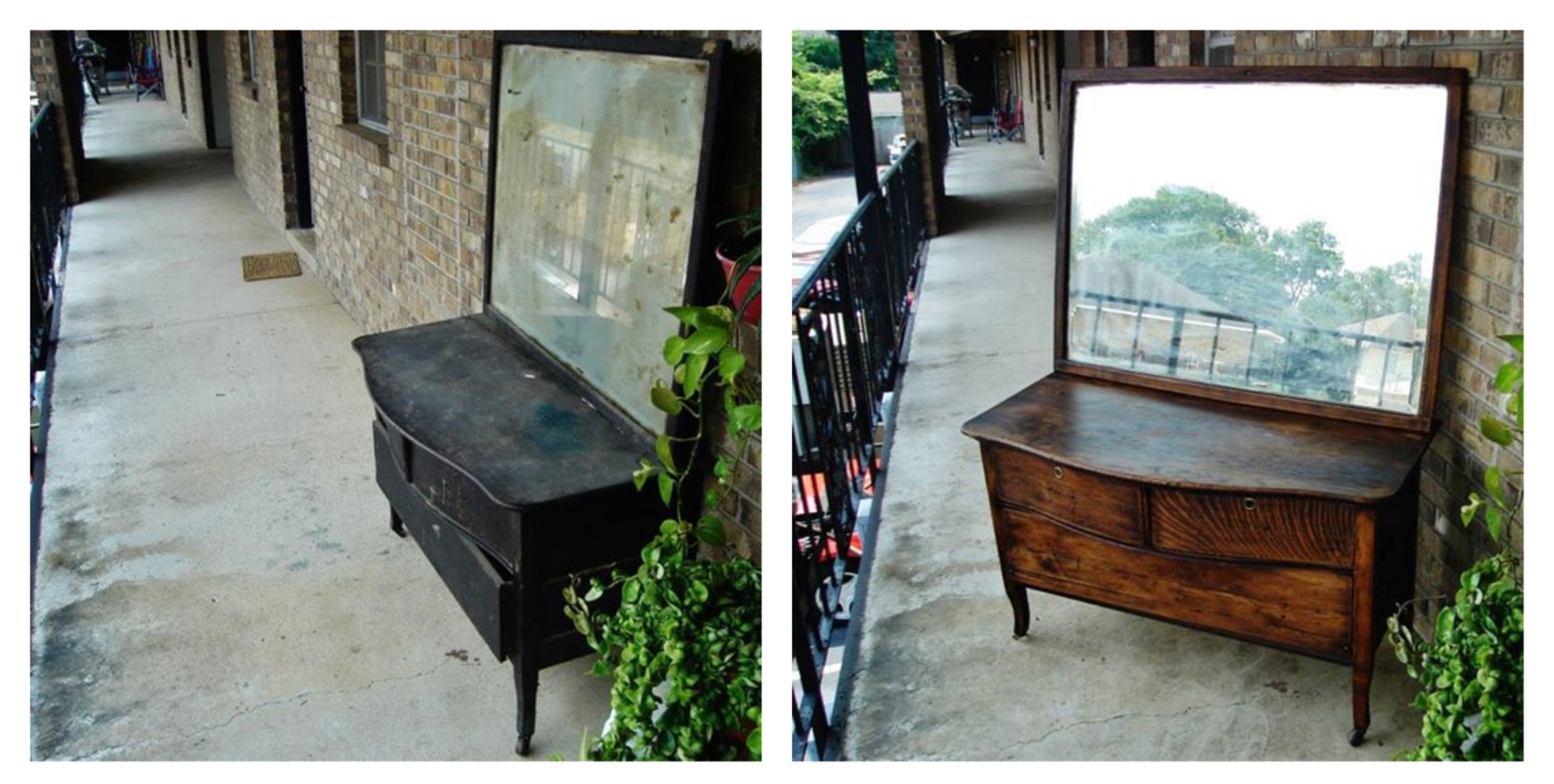 (3) Reuse anything you can. It's often cheaper, with an even greater payoff. Like, say, my grandfather's wooden skis turned photo ledges. Or my childhood pencil-toolbox turned spice caddy.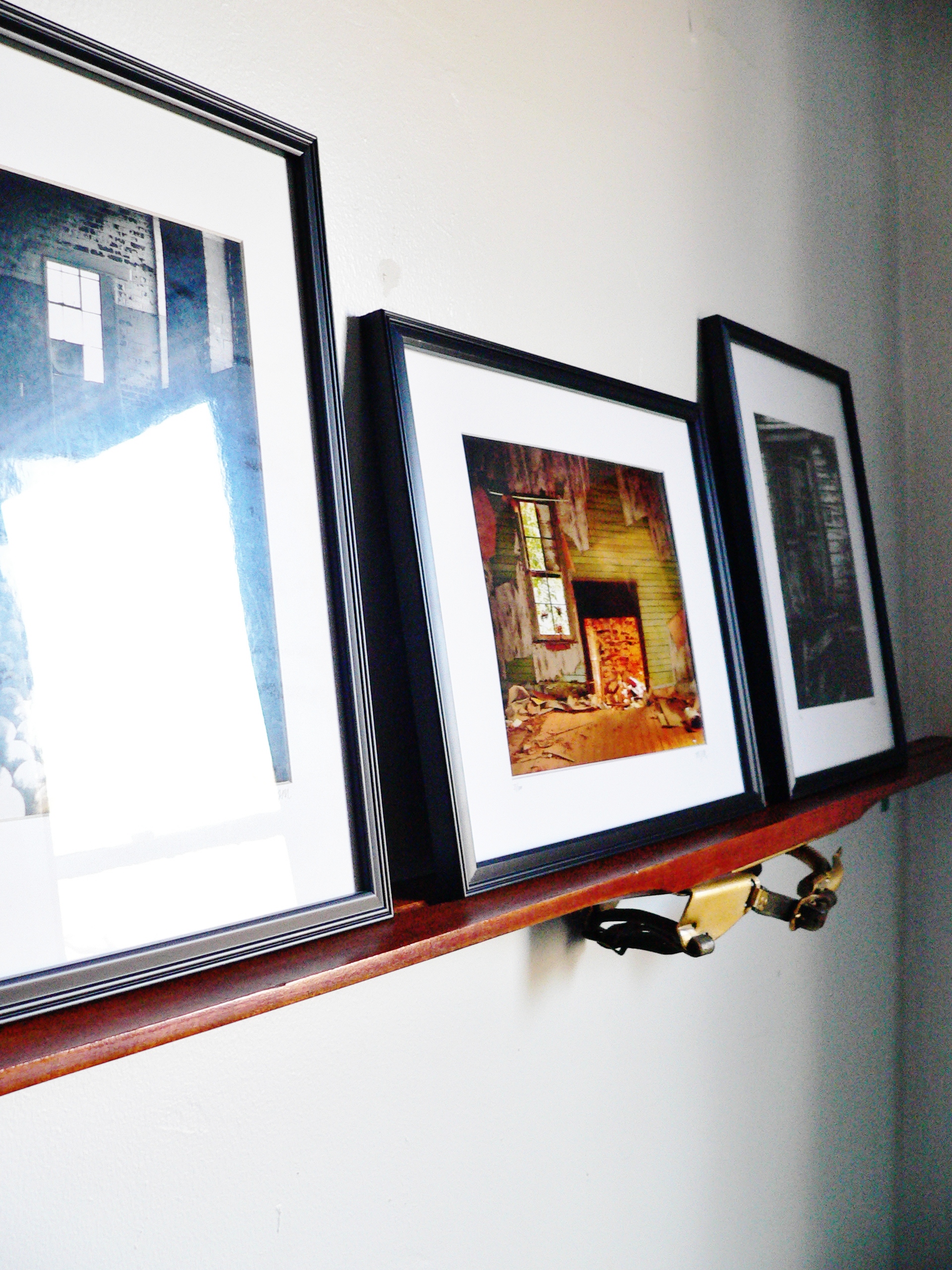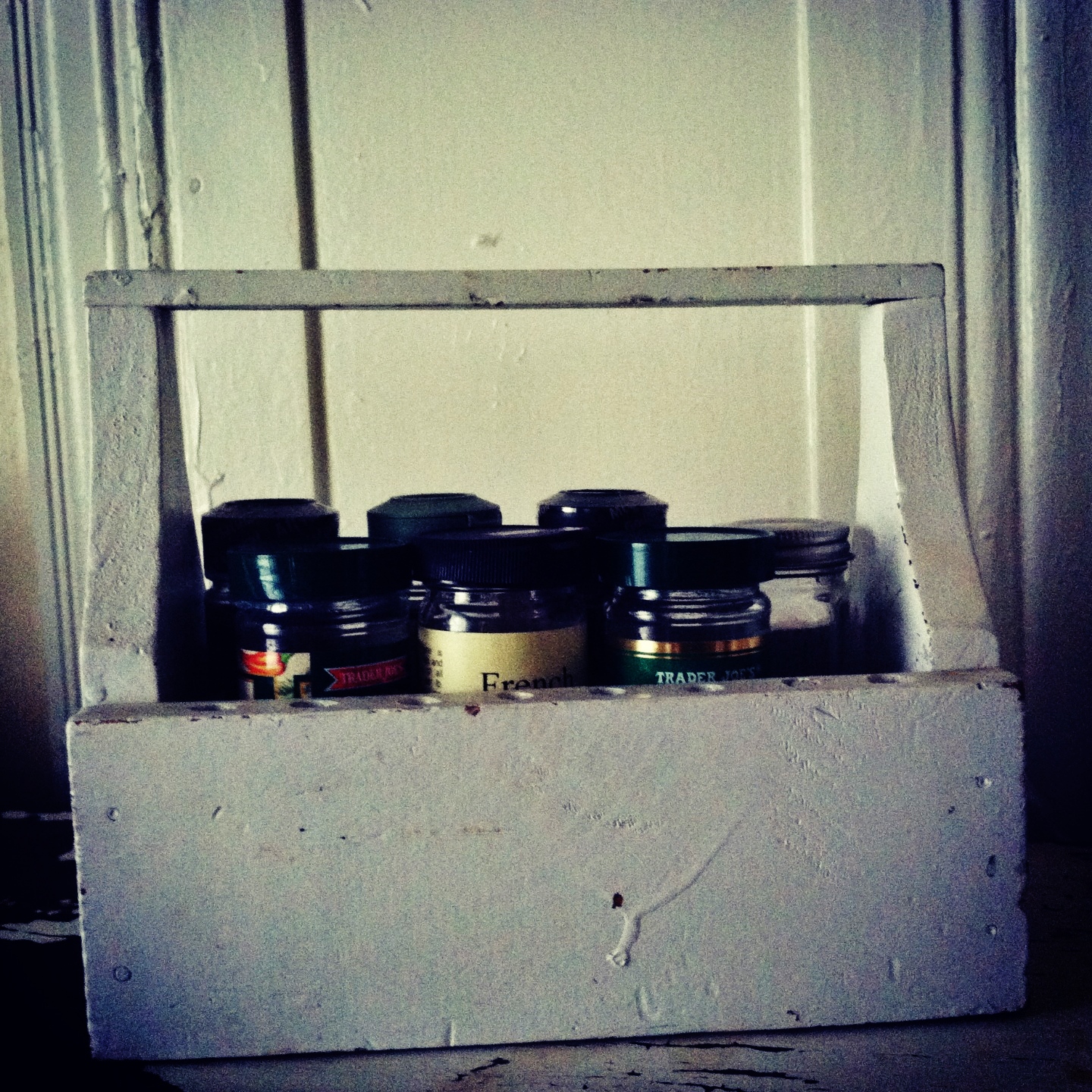 (4) Use found furniture or homegoods to fit your needs. I'm not above rummaging along the curb for cool castoffs, or even something that's not necessarily cool, but useful for the time being. For instance, take the planter stand Andy and I picked off a curb in West Hollywood.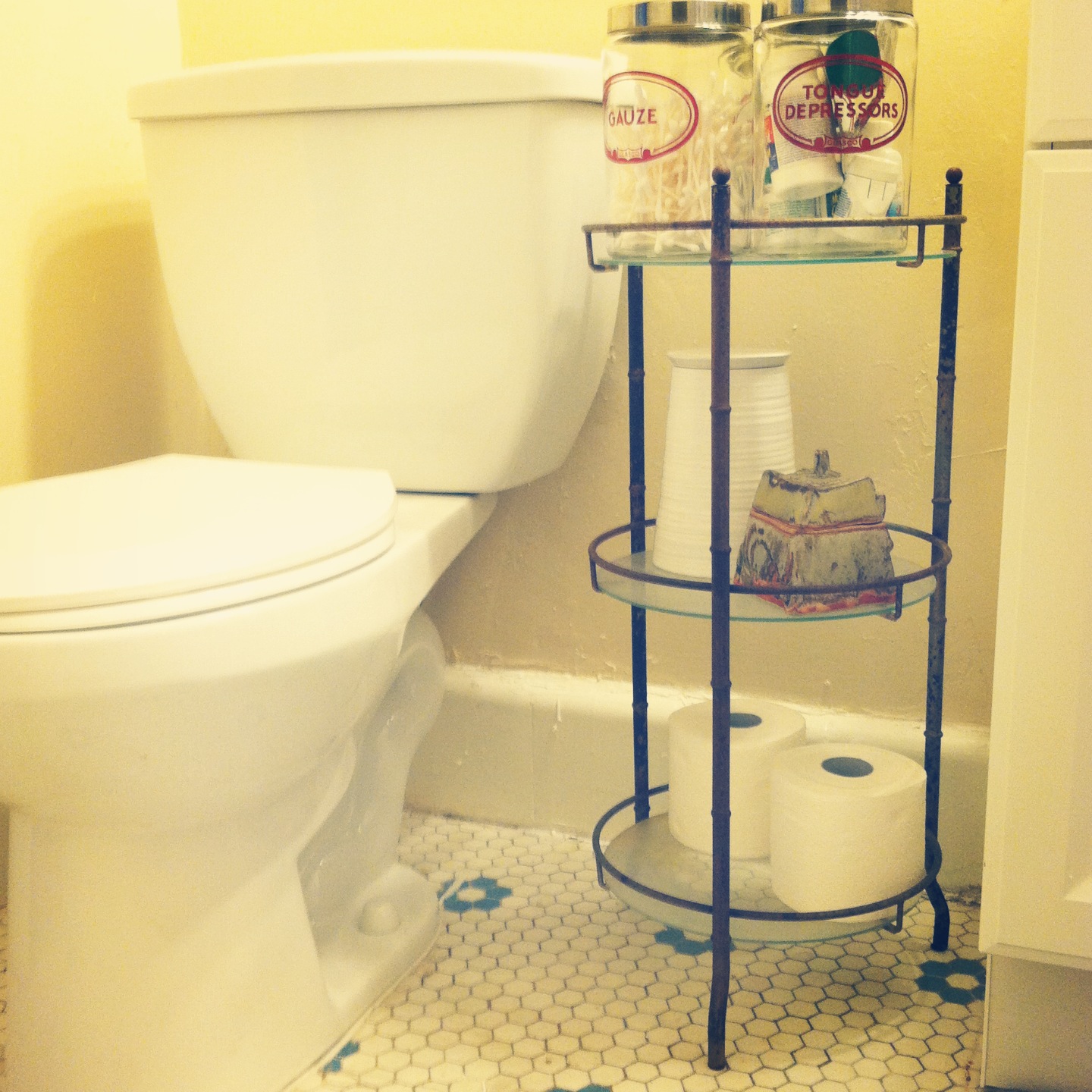 Is it amazing? Not really. But it works for now as a toiletry tower in our storage devoid bathroom. So who cares if the gays who tossed it were probably watching us with pity, exclaiming, "Look at the poor gays, honey. Aren't they sweet? Hopefully the Crate & Barrel truck won't run them over." Once we land our own WeHo apartment, I'll paint this sucker silver and load it down with succulents.
(5) Practice controlled culling. It'll do you wonders.
***
With all this said and written, you might still be asking Why should I care about design? And I totally understand. I mean, I'd always thought of Interior Design as a frilly, inconsequential profession. But then I realized how incredibly important having a well designed personal space is to framing your perspective, and informing your behavior.
Good design starts at home. And takes a lot of practice. Still, it's all about the process. And you first have to take a leap and try. Because, really, what's the worst that can happen? You fail? That's not really a big deal. The most unfortunate outcome of any endeavor in life is regret–wondering if things could have been different if you'd told fear to sit on it.
Perhaps I'm mapping more onto design than I should. But really, I think growth and change are most always reflected in our homes–how we make things work as we move through various chapters. I know it sounds dumb. But as ludicrous as it seems now, one of the major hitches we had prior to moving was what we'd do with all of our stuff–how it'd make us feel to part with some of it. But the emotional catharsis of doing so was well worth it.
***
We often find ourselves in the fray, getting intimidated by all the glitz and glam surrounding us that we neglect to see the beauty we create–acknowledging what we do every single day to make our lives more balanced, light, and comfortable.
But the minute you start creating a more enjoyable life–starting with the space you call home–you begin to live, to unlock your potential.
To design an exciting, fulfilling life.