Her bouncy hair bobs up and down as she bulldozes over to the cash register.
"CHARLENE," she booms to her counterpart three feet away, "I'M GOIN' ON BREAK AFTER I RING THIS GENTLEMAN UP."
Without looking up, Charlene nods – an apparent pavlovian response to her colleague's generously full voice.
Ears ringing, I turn back to my cardboard tray sitting atop the counter as the nursery cashier rounds the high wood island and takes her position behind the cash register. She clears her throat, as if preparing to conduct an orchestral suite. Instead, she curls her arm around the entire tray and begins scanning my veggie starts, interjecting commentary regarding the growth rates of each teeny sprout. Shoving the bulk of the starts aside, she eyes two wispy asparagus plants closely – even suspiciously.
"Well, you do know that these won't be ready for years, right?"
Fuccccck. My face flushes.
"Oh, OF COURSE. Just figured I'd get them in the ground now!"
A card swipe later, I fasten everything into the back of the car while casting intense shade at my two albatrosses and muttering, "I may just eat you out of spite."
***
Back home, I set my full trays down inside the piecemeal garden enclosure I spent the previous afternoon methodically crafting together – using chunks of concrete as ad hoc sledgehammers, driving corroded metal stakes and rebar into the ground for structural support; wood pallets from my neighbors' garbage for windscreens and walls; scrap fencing and old, severed wire strands for holding things together; wood paneling from a deconstructed closet for a makeshift door; and cast-off, roadside planters for additional storage.
Adding the clearance veggie starts to the mix, I halfheartedly chuckle and call up to Joanna peering out the window.
"Well, our scavenged garden isn't going to win any beauty pageants, is it?"
JoJo sniffs the air, then disappears inside as I begin to gut bags of soil, emptying their contents into the raised bed.
Hours later, and ankle-deep in dark, rich soil, I step back and admire the hodgepodge before me: planters overflowing with half-wilted mint, parsley, basil, green onions, and shiso, and the rotting raised bed filled with rainbow chard, beets, broccoli, purple cauliflower, and kale. Mopping my brow and taking in the scene, I realize I haven't tended a garden since I was 8 years old.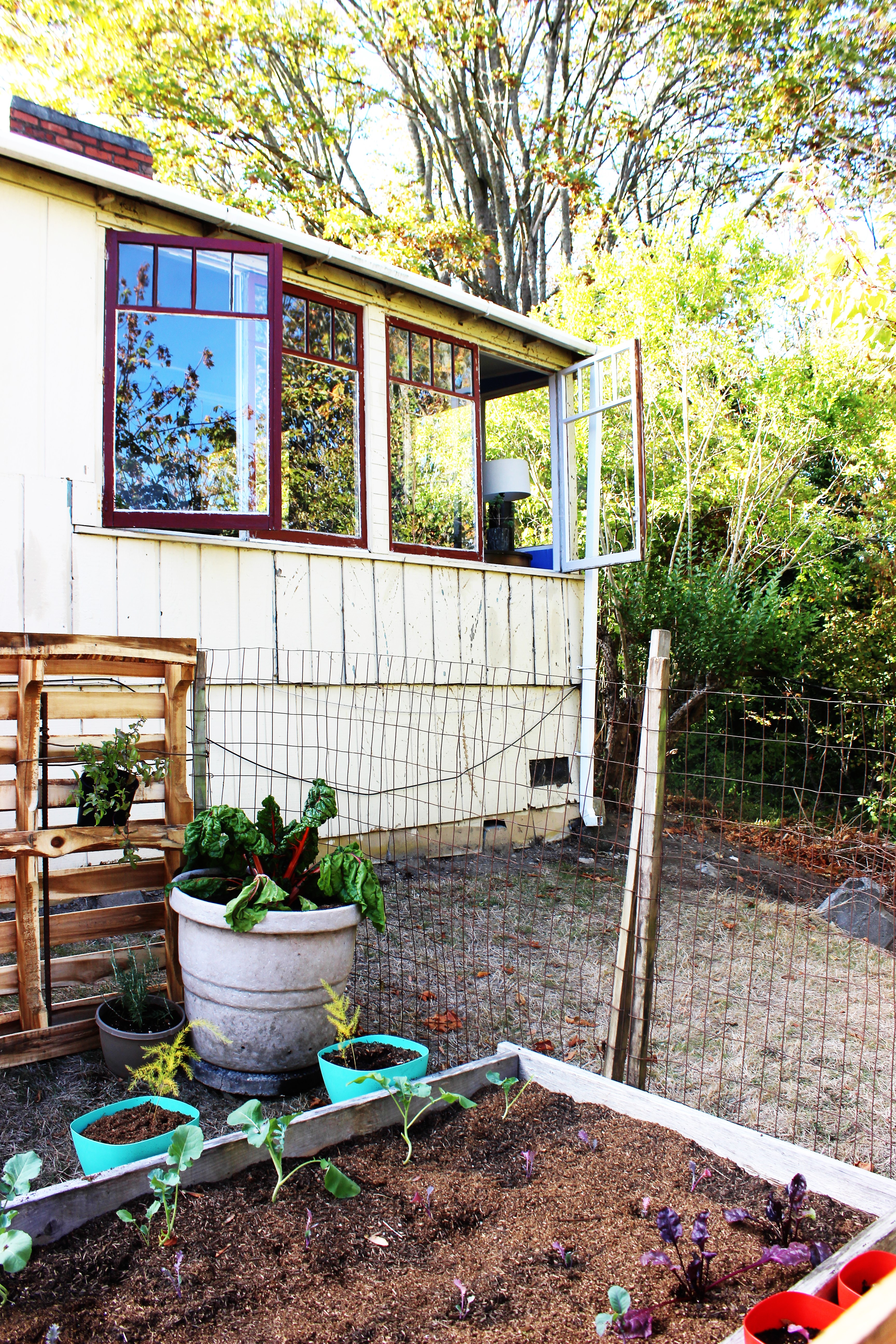 I have no clue what I'm doing. The only thing I do know is that this is more of a necessity than a hobby. I really need this to succeed.  
***
A few hours later, as the sun begins setting, I'm toting my last full watering can to my parched starts when my super hot neighbor waves from his side yard, and ventures over. Like a deer in the headlights, I stare entranced, my vocabulary quickly descending into unintelligible gibberish.
He starts chatting about the garden, and I try to play it cool, but then I notice his fly is wide open.
There is a god! 
Quickly noticing his wardrobe malfunction, he adjusts himself and zips up without the slightest bit of embarrassment. Without thinking, I sigh loudly, dejectedly – catapulting our awkwardly stilted conversation into mortifyingly tragic territory.
But as he turns to go, he calls back.
"You know, this place looks really good. You should be proud."
My response can only be described as 40% dolphin squeak, 60% hyena shriek. I watch him walk back to his place, and then swivel around to my ramshackle garden – and then at my little rotting house.
It is something, isn't it?
I pull open the newly secured garden door, and wander inside my little corral, nudging planters here and there, and dousing everything with water.
Tiny beads dangle at the ends of the fragile shoots, the wilted leaves. I take a deep breath, smile at this haphazard life, and whisper to myself.
Confidence. Patience. Courage.