Sweat beads on my brow, and Jimmy Eat World's "Middle" blasts through my ear buds. Brier-pricked and cut, my gloved hands receive little in the way of protection from nature's most annoying floral bastards. My paint-spattered, dirt-coated glasses slip and fall into the growing pile of freshly weeded detritus amassing at my feet as I bend to unhook a gargantuan, spiked vine from my pilled It Gets Better tee.
Now free of unwanted hangers-on, I step back and survey the cleared areas of the sprawling stone-laid terraces. Insects dart over the freshly uprooted soil, congregating around fractured, dewy stalks and root balls. I pause my music and sink into the morning's natural calm. Hollow, browned stalks of Japanese knotweed clang together in the wind like bamboo chimes, and dead leaves filter down through new gaps in the overgrown canopy and settle in sun-dappled piles.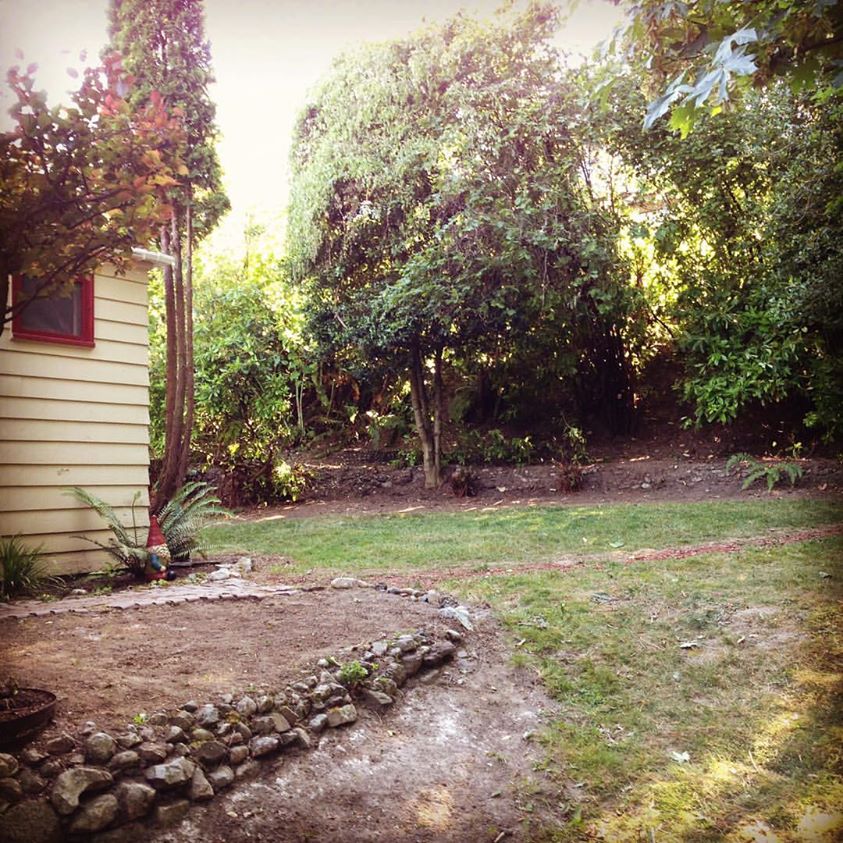 It's an uncharacteristically hot Seattle day, and the formerly shaded earth quickly dries while I sit for a much-needed respite, feeling the worn stones warming the insides of my calves. Like Kate Winslet in A Little Chaos, I've been methodically unmasking mature ferns, shrubs, and trees from their brambly oppressors and mapping a new, slightly haphazard order onto the leftovers.
Metaphors for every sort of life experience drift in and out of my mind as I till the soil and pull at stubborn roots. I give each thought a little slant of limelight before letting them dissipate into mental white noise.
***
Sided with weathered, warped yellow clapboard and sloppily trimmed in faded red, the cottage sits on a shoddily cleared terrace, accessible only by a rickety wooden staircase built into a steep hill just off an arterial, hilly road in West Seattle. Its seclusion is just what we wanted – the antithesis of our small Capitol Hill apartment in the center of a growing party district of young twenty-something college students.
And while the subsequent tours with the uninformed property management company's agents brought us vis-à-vis with the cottage's less than stellar drawbacks, we went for it – mostly because its location, privacy, and space aligned with the most desired bullet points on our wish list.
Of course, being a post-war cottage that'd been overgrown for a few years, it needed a lot of help, which hadn't exactly been a priority of the decade-long tenant before us, or the property management company: turd-colored, faded interior paint; an illegally enclosed back deck; a disgusting bathroom; dirty, ivy-covered windows; hole-pocked walls; and more than a fair share of creepy-crawly roommates.
But even before we fully moved in, we decided to separate. Sharing a home that feels more like a staging area isn't easy for anyone, which is why the forgotten gardens started to play such a therapeutic role for me.
Now that we're both in our respective nests, it's time to move forward – to take time to celebrate the good times, focus on the future. And, for me, perform plenty of internal weeding.
***
The whir of far off traffic on the bridge melds together in a wave-like, rhythmic tide, lulling my eyelids closed. Seclusion like this is beyond rare, especially as Seattle continues to boom and rental prices soar. I'm sure at some point I'll get priced out, the cottage will be torn down by a developer, and the carefully curated landscape will be razed asunder a bulldozer.
Until then, I'll be channeling Kate and using the landscape both as an emotional crutch and an aesthetic treasure. And will keep slathering as much lipstick – and paint – on this cute pig as possible.
Because I'd like to keep Gay Gardens full of character and far away from descending into a moldy, waterlogged lair wherein I routinely swaddle my fro in a cashmere headdress and soft-shoe down the hallway to the applause of a ragtag crew of feisty raccoons.
As my cackling drifts up through the attic, between cracked seams, and melts into the night.