Outside, rain beat the last leafy hangers-on from their branches as rivulets cascaded down the clapboard, its longstanding paint bubbling out—lesions awaiting a lance. Overly-saturated potted plants brimmed with water as the unceasing rain fell down, down, down—quietly lingering in every one of the yard's myriad depressions, slicking the pavers pocking the weed-cluttered, soggy grass.
Lamplight glowed dully, illuminating the living room, the air heavy with the smell of buttered, peppered eggs bubbling in the dented cast iron skillet. Laughter filled the house as my sister and I recounted past family foibles. And then, as we quietly watched JoJo bat around her toys, a nature-inspired metronome broke the silence.
Drip
Drop
Drip
Drop
Spanning a badly patched seam, a strand of rainwater dribbled down the sunporch wall, over a painting, and pooled onto the chipped, white floor. After wiping down the painting and shuffling it aside, I piled towels along the floor, and situated a bowl beneath the small bubble slowly expanding along the ceiling.
A few months ago, when I recognized that I couldn't stay here, I realized why it was that I sequestered myself in this cracked, rotting shell in the first place—chose to stick with it for another year.
I needed to heal, rebuild, and transform myself. And Gay Gardens was my cocoon.
But as I watched the dripping slow, and the water pool in the shallow bowl, I recognized Gay Gardens had done her job; I chuckled quietly, and dabbed the water rings on the floor.
Over the past year and a half, this little cottage and I forged an imperfect, symbiotic relationship—and this marked the beginning of its graceful end.
***
Weeks later, my head was nearly inside the oven, my eyebrows level with the wiry heating element. JoJo puttered up and gave me intense side-eye until I retreated from my Sylvia Plath-inspired attempt at staying warm. I sighed, watching my breath cloud dissipate.
Hours before, at my behest, the handyman pounded on the hallway's walls.
"Jesus, you're right. This isn't even lathe and plaster. It's fiberboard. I've never seen it…at least not in a house anyone is still living in. I mean, wow. I bet you get cold."
From beneath my hoodie and coat, I exhaled deeply in his direction, following the rapidly cooling cloud with a vacant stare until he continued with his line of questioning. Soon thereafter, he left, citing that he'd be unable to fix the heating system.
Roughly an hour before he arrived, an antique dealer perused furniture and haphazardly sorted collections of keepsakes earmarked for sale, cherry-picking pieces for his shop.
Once a curated refuge, Gay Gardens has quickly become a staging ground. The structure remains, rotting quietly, nobly. But the home I created has been reduced to piles of once cherished items, each sporting a fluorescent price tag—an intended passport to others' waiting hands.
After he left and I drew up his list, I scanned a tabletop cluttered with planters. They'd been so vital when I moved here; I needed to plant things—watch them grow. Scouring deserted thrift store shelves, the warped cabinets of a hoarder's house, I'd seek out chipped and worn, dust-covered planters and revive them. Filled them with soil and the hopeful starts of a new plant. I yearned to see the planters' glazes glow in the sun, the tiny greens nested inside them slowly pushing upward, filling out their translucent tendrils, the ends dripping with nascent buds.
But now their vegetative charges would grow without me—under someone else's dutiful gaze.
***
The night before my heating system failed, I sat on the sunporch floor, my hands shaking—hovering over the small, identically sized boxes labeled "Mementos" as JoJo dragged her bed closer to the spectacle.
Quite suddenly, I was awash with anxiety. Because I knew what was inside the boxes. They didn't contain newborn velociraptors or pictures of Ron Pearlman dressed as Vincent from the eighties television series Beauty & the Beast. The menacing "it" they held was more biting, more terrifying: paper.
As I opened the first box, JoJo gently rested her paw on my hand. She stared intently, tears forming at the corners of her eyes as they always do. I nuzzled my head against hers and took a deep breath.
"Thanks, baby girl."
And then I started ripping. Cards, Post-its, little musings and love letters I'd squirreled away were reduced to bits, quickly filling a garbage bag. Then two.
Hours later, I looked from the emptied boxes to my palms, cross-stitched with paper cuts—the last, necessary wounds to heal.
I have to make room for less in my life.
***
Condensation pooled along the weathered mullions, occasionally overflowing, collecting along the warped sills. The heat finally kicked on, and my sinuses flared in response. Beyond the clouded panes, a humungous neon star glowed atop the steel mill downslope, casting its white light up into the backyard.
As the wind moved through the trees, rocking them side-to-side, the diffused light fell upon the garden's withered remains. The entrance door hung open—warped and water-bloated; the veneer cleaving from the hardy core. Soon, the walls will come down; they'll be transformed into ad hoc displays featuring all the bits and bobs to be paraded out for the subsequent yard sales.
Between passing cloud banks, sunlight glanced across the turquoise kitchen wall, amplifying the brilliant greens and cool blues. I stood and stared—through the wall, into the not so distant future, where everything around me has been reduced to splinters that once framed a brilliant life chapter.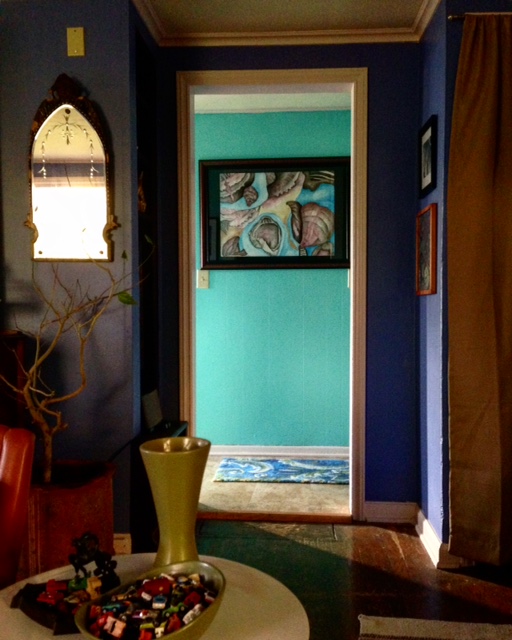 We're all fragments striving to piece together a life that, at least from the outside, appears fortified, secure; but the inside is sometimes empty, a looming vastness into which the echoes of dreams reverberate and quietly die.
And in this future ruin, I pieced myself back together—filled that emptiness with something meaningful. I didn't cure an insidious disease or eliminate poverty. But I made this particular place better. And, in so doing, proved to myself that I could, once again, make it on my own—that though I may be fractured, my edges roughened by experience, I've embodied the beauty of this self-reflective process, and know that my subdued resilience helped me survive, and molded me into the person I've wanted to be.
And that's something.
What lies beyond Gay Gardens is unknown—a cloudy picture at best. But within that mental frame and fog, I imagine about 400 square feet with my bed floating out from the wall, surrounded by the plants I'm able to bring along. There, JoJo putters from one sun spot to the next, stretches, yawns, and dozes off. A few other pieces of furniture are scattered around the studio apartment, their valuable surface space cluttered with greenery.
And I'll be there, assessing my new beginning and willing goodness into it, as I frequently did as I hovered over my planters—the smell of damp potting soil filling the air, the blips of green poking out toward the rising sun.
And I will recognize that I, too, will keep bending toward the light.