Halfway through his second sentence, my supervisor (whom we'll call "Precious") smiles warily.
My eye starts twitching.
And I know what's about to pop out of my mouth like the Kool-Aid man through a brick wall.
"Matt, you're killing me," he laughs.
"Oh, Precious. Before I provide further comment on that issue, let me say something."
"Oh…er, okay."
"I'm done, Precious. I'm done. Even if Congress sorts out this mess."
*Silence*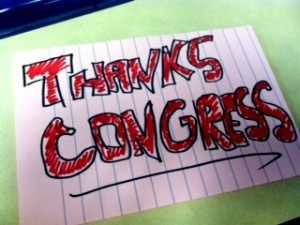 *Precious tilts his head*
"Now, Precious. About the emails I sent."
***
Kittens, y'all know about McNutterpants. So I'm not about to drag that toe up horse out of the barn and beat it to death. But yesterday, when she started shooting off emails lined with crazy, I lost it.
And the bitch sprinkle cap popped off.
And those sundaes got coated, y'all.
Coated.
But just so y'all have an idea, here's a sample email I sent after I was excluded from yet another office-wide email:
Hi all,

McNutterpants, thanks again for including me. I know I'm invisible, but it'd be great to be told so directly (like this) instead of typical passive-aggressive tactics. I'll be sure to contribute a representative (—-) photograph, too.

Best,

Matt
Which was followed by:
Matt. Please do not email me again.

McNutterpants
Because, as we've seen, ignoring the problem is the best way to solve it.
***
So, Precious and I chat a bit, and I try not to vomit up my lentils as he begins assuming the apologist role instead of his supervisorial mantle. And then, when the patronizing commentary starts trickling between his statements, and the subtle chastising begins, my other eye starts twitching.
And I do a complicated hand motion.
And I serve up a plate of insubordination with a side of realness.
Because I can only be professional to a degree before I start laying it out and my Italian chattery kicks into overdrive.
(This is when Precious begins faltering. Because reconciling confrontation isn't his strongest suit.)
Nearly an hour later, the realization that I'm nearly free from this welter of madness begins to sink in. And I get tired. Really tired. Exhausted–like with imitation Luis Vuitton bags hanging under my eyes.
I think I feel a few hairs suddenly go gray.
And I go print off a two line notice, sign it, then turn right around and hand it to him.
With the warm paper between his fingers, and my signature still slightly wet, he suddenly looks like I smacked him across the face.
And he, too, looks tired.
"Oh, uh, so, uh, you're sure? Were you planning to, uh, do this already?"
"Positive. And as you've well known, it's been a long time coming."
***
That's how it ends.
Two lines and weary eyes.
Because as much as I'd love to rock out to "Dancing Queen" while raising my middle fingers and wearing a skin-tight pink leotard and doing cartwheels and knocking over cubicle walls, I'm just too damn tired.
It's as though the nearly three years I've let this place suck from my life have suddenly been multiplied by ten, and I'm standing at the edge of a new world like Brooks in The Shawshank Redemption.
Too dramatic?
Probably.
***
But there's no curmudgeonly crow on my shoulder, and I have no need for a noose.
Not when I have a partner reassuring me that I've made the right decision—that we'll make it work.
Or when there's a birthday to celebrate, a cupcake tower to demolish, and liquor to drink.