Turpentine-soaked rags and paint-splotched smocks hung lazily on the hooks twisted into the little house's crumbling plaster walls. Music played softly from a cassette player in a far back room, and occasionally the back door would creak open as another student came in, settling in at a vacant table.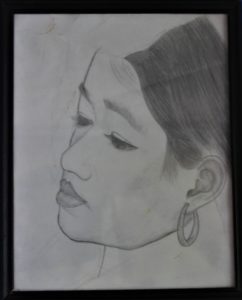 My instructor, a former neighbor, was calm, measured, and reassuring. He helped me turn my distorted sketches into fairly recognizable scenes from real life. And there in his studio, I completed my very first lesson-inspired drawing.
As a kid, art lessons were the only ones I ever enjoyed. Trombone lessons were painful, mostly because I loathed and resented the fact that I had to stay in marching band. Soccer devolved into a weekly bloodbath. Hunting never took. But the smell of oil paint, the visual explosions of acrylics across worn palettes, always awakened something inside me. Art and poetry were the only things that made high school bearable.
***
What I cobble together through paint, mixed media, and ink doesn't always register as "art" to plenty of folks. And it doesn't have to. Art for me is a way to track my life, to see the evolution of my style and confidence—visually express life stages through two dimensional geometric sketches, photos snapped from odd angles, or abstract paintings inspired by a touch of the macabre.
I don't aspire to produce high art, or even be considered an artist. What I make strikes a chord with me. And if it does the same for others, all the better.