My flip flops clap clap clap along the pavement, echoing off the mid-century apartment buildings lining our block.  Keys jingle in my pocket, and the slight wind cuts through my pajama bottoms.
Clap clap clap.  I'm almost there.
I unlock the car, throw open the glove compartment, and rifle through blindly — knowing it's there.  But the only things I pull back are old insurance cards and Vaseline that's bubbled out of its well-worn travel container.
Come to think of it, my lips are chapped.
I smear a bit on my lips, then shove my hand through the pile of papers until I hit the cold metallic edges.  The knife; I hadn't lost it.  With my nubby nails, I pry open the scissor attachment.  Then turn and run to the corner, just out of the cone of light cascading down from the street lamp.  The air is heavy and potent — the roses dripping over the stained, white iron gate always in bloom.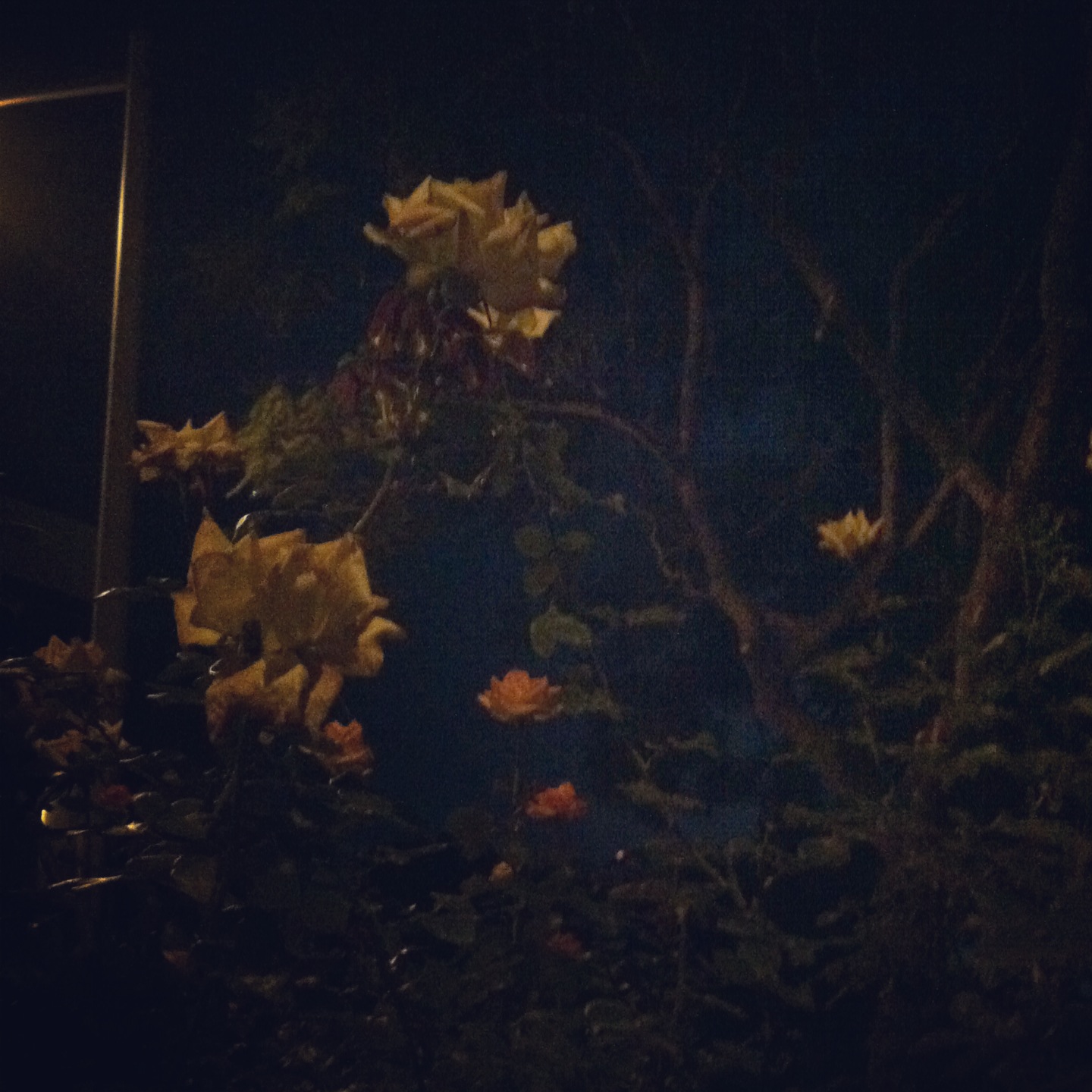 I look left, then right.  Someone's talking from an open window, but where?  No time to waste.
Snip. 
A single rose falls into my palm, and I gingerly place it into my pocket before melting into the surrounding darkness.
Clap clap clap.
***
The locks click over.  Silence.  He's still in the tub where I left him.  I shuffle past the closed bathroom door.
"I'm back."
"Okay."
Then I set to work — grabbing Deco picture frames from off the vanities and arranging them haphazardly across piled books at the foot of the bed.  A wooden box from Haifa becomes an ad hoc ring box.
Lifting the glass dome covering an assortment of dried roses from our first date, I pull one out and nestle it into the box.  Then pull out the fresh rose — the stemmy juices wetting the inside of the jacket pocket.  I nudge it next to its dried counterpart.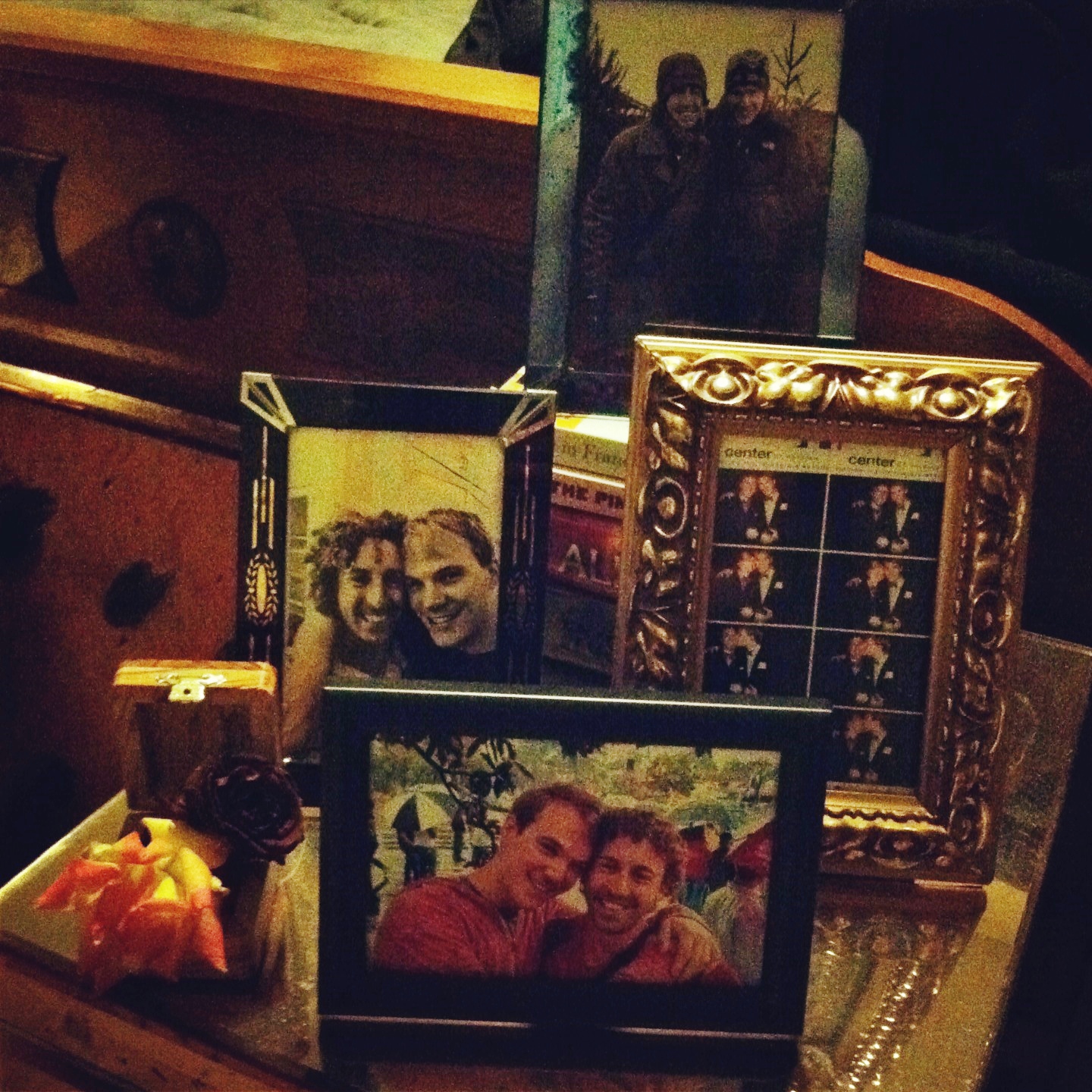 I change, and throw on a sequined bow tie.
Rehearse the lines a few times over — our past, our future, all the while looking at the two symbolic roses.
And wait on bended knee, with Toby snoring on the other side of the room.
***
Weeks and months before, we'd been talking intensively about getting engaged — the who, what, when, where of it all.
Earlier in the day, we'd been texting back and forth about eloping, because we'd found just thinking about all of the logistical planning — flowers and flights and hotels and venues and this and that and Toby's tux — just plain exhausting.
But we knew that if we did elope, both of our mothers would find us, no matter where we fled.  Sort of like the girl from The Ring.  Except New York and Alabama versions.
*Shudders*
So we figured chatting about things over wine and cheese and 30 Rock would help calm our nerves, let us focus on what's really important.
You know, like wine, and cheese, and 30 Rock.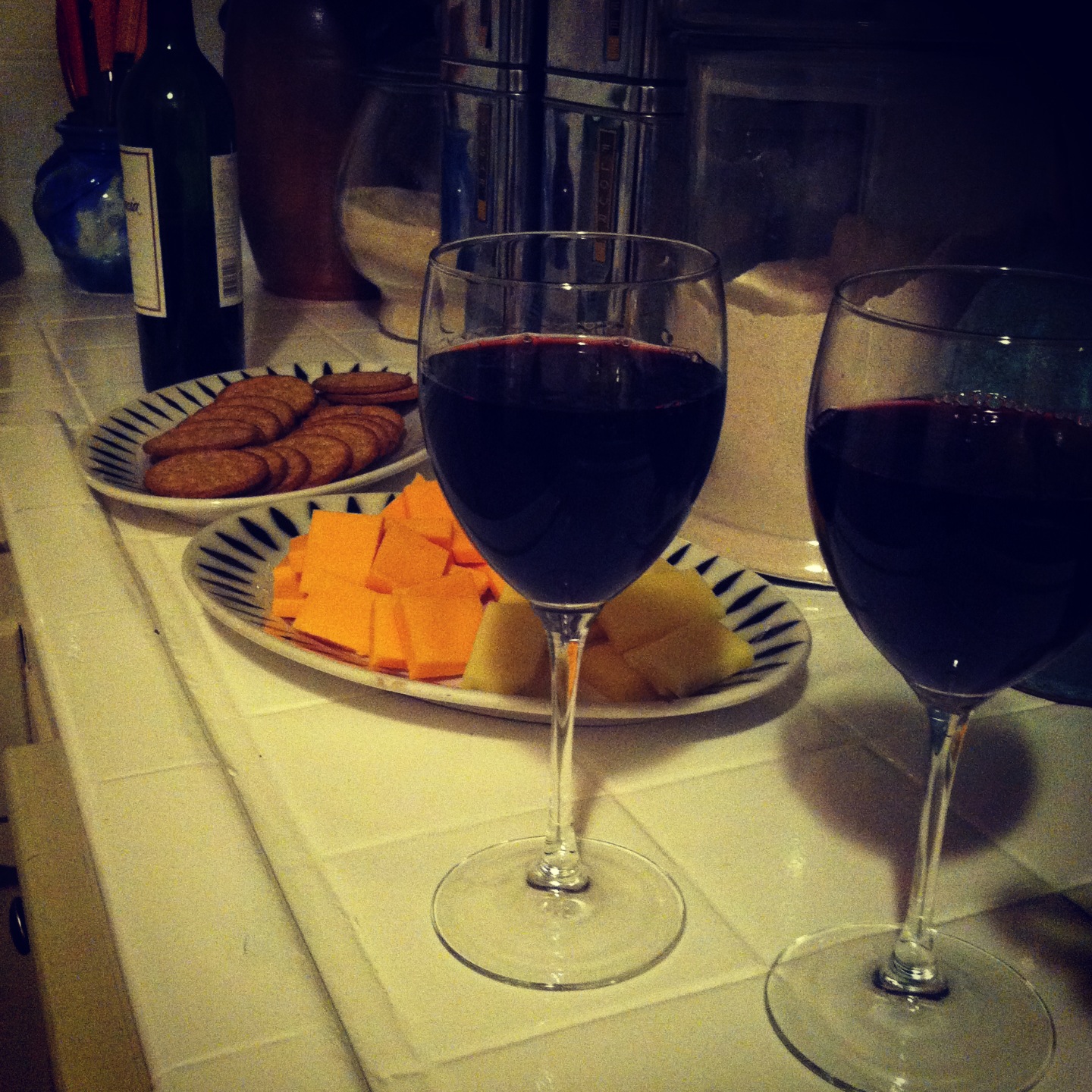 A couple of episodes and a half bottle in, and I quickly start to realize the proposal plans I've already made — to be implemented a few weeks from now — need to be bumped up a bit.  Like to tonight.  Everything just feels right.
Except for the fact that I have none of the props I'd intended to have.  Little things, like flowers and music and nice clothes.
And a ring.
But then I exhale, and take heart in the fact that one of the constants in all of our plans has been choosing our own rings together.  Usually underscored by Andy with something to the effect of, "Don't you dare get a ring without my approval!"
(Kidding!  [Not really.])
So I start putting into motion a bastardized version of my plan — recommending he decompress with a good book and a good soak in the tub.  Which he does.  Which is my cue to run.
***
With my knee pressing into the floor, irrational thoughts race through my head.
What if he never comes out of the bathroom?
What if he turns right instead of left and doesn't see me?
What if I can't get back up and I'm stuck in this uncomfortable position for the rest of my life?
But then I hear the tub empty and the medicine cabinet open and close.  And then, the door opens.
He turns and stares down at me.
And smiles nervously.
"What're you doing?"
"Put your book down."
The Commitment smacks on the floor.
"Give me your hand."
And then I actually remember everything I've rehearsed.
And he says the magic word.
We hug.  I cry.  Toby farts somewhere in the corner.
***
Two days later, I watch as Andy peruses cases of engagement rings, and smile — partly because he has no idea he's standing right next to Christopher Plummer.  The light is dim, but outside along Rodeo it's piercingly bright — giving the space a bizarre glow around the edges.
The sales associate reemerges, carrying in one hand a tiny black bag — the creases hardened, the silvered lettering shimmering from the alien light filtering in, like the scales of a fish swimming through a clear, dark pond.
In the other hand, he reveals a black box and pops it open — presenting its silver ring for inspection, like a plate of grapes for some Grecian king.  And then, it's my turn to look.  Another black bag and box later, and we're heading out with our spoils.
***
A purplish glow from our "bordello lamp" envelopes the living room, and Toby snores at Andy's feet.  The ring on my finger feels heavy, like a new appendage my body is accepting.
An hour or so later,  I jump.  I don't feel it.  But it's there; like it's always been a part of me.