Life is weird. If being an autonomous agent in this world teaches you anything, it's that. You can plan and scheme and outline your entire future – or even just your morning – and everything can change without pomp or circumstance, without some clouds parting or an internal voice telling you "This is your moment."
Things change. People change. We get older and more tired. But something that few of us leave behind fully is a taste for life, for the sweet, sometimes unexpected bits sprinkled into our daily existence like toppings over ice cream. And right as you're squaring your jaw, drawing a hard line, you break into that bizarre, alien sweetness – an experience that, again, throws you off balance just enough to make you pivot and change course.
This past year has been full of heartache and changes. We've said gut-wrenching goodbyes, moved from a desert to FernGully, had plenty of hiccups, and started all over again.
As freeing as moving here and there can be, I've found myself waiting for that inevitable push elsewhere, using a bad day or passerby's glare to fuel some choking ember into an inferno – raging and demanding change, being that ostensible evidence that I belong somewhere else.
Not long after we rooted in Seattle, we both started having misgivings. Perhaps we succumbed to Seattle's permeating dampness, its seemingly impenetrable gray skies; or maybe we just needed something in the world around us to reflect our internal dialogue. So, yet again, we vowed that perpetual motion was the only way out of this overwhelming, emotionally draining welter. And where better to funnel our efforts than toward the place where we first met, where we first made a home together – on the other side of the country.
Returning to a place you consider home almost seems a given these days. Or maybe it's just a product of getting older, realigning priorities – all of those revelatory moments you witness onscreen and never imagine actually taking hold in your own consciousness, made audible by your two lips and shaky vocal chords. And for a while, we began to pave our road back to Raleigh, imagine house-hunting around our old haunts, remembering all of the goodness we shared with family – genetic and chosen. But, as I've said, life happens.
***
A few minutes into my 90-day review, I know everything is about to change. My director is leaving the organization, and I know with the utmost certainty that it's only a matter of weeks before the other member of our dwindling department raises anchor and sets sail too. I swallow. I smile. I say all the things a professional would – interjecting humor where necessary, blunting cynicism with sarcasm.
And so the shift begins. A week after she leaves, my other teammate departs, as I'd suspected he would. So, it's down to me.
This is it. There's no point investing my time or energy here. 
But the departmental chaos reveals a chance to propel up the ladder a few rungs faster than I'd imagined. Coupled with a few other wrenches that've been thrown our way, we have a lot to consider, more than a few decisions to make.
***
It's easy to run away; it's harder to stay, absorb, learn, grow as much as you can, and have confidence that, no matter what, you're doing something because you want to – not because you have to, or because it's what's expected at this point in life.
So, we're leaning in. We're staying in Seattle – for now.
We're acknowledging that where we are today is incredibly different from where we were in May, when we first set foot in the Pacific Northwest. And that's a good thing. And we owe it to ourselves to keep making it as good as possible, to let the ink dry on this latest map we've scribbled down before wetting the quill again and drafting a new one.
For me, the scariest character in all of our conversations has been that familiar specter – the great and powerful Unknown, which gobbles up fear and optimism, dreams and nightmares. And we never know if what we entrust to it will ever manifest down the line in some guise – vindicating or damning us.
But at some point we have to look beyond the paths we see ahead of us and take stock of what encompasses them – limitless beauty and opportunity and, yes, that terrifying, ghoulish Unknown bathing in a soup of ambiguity.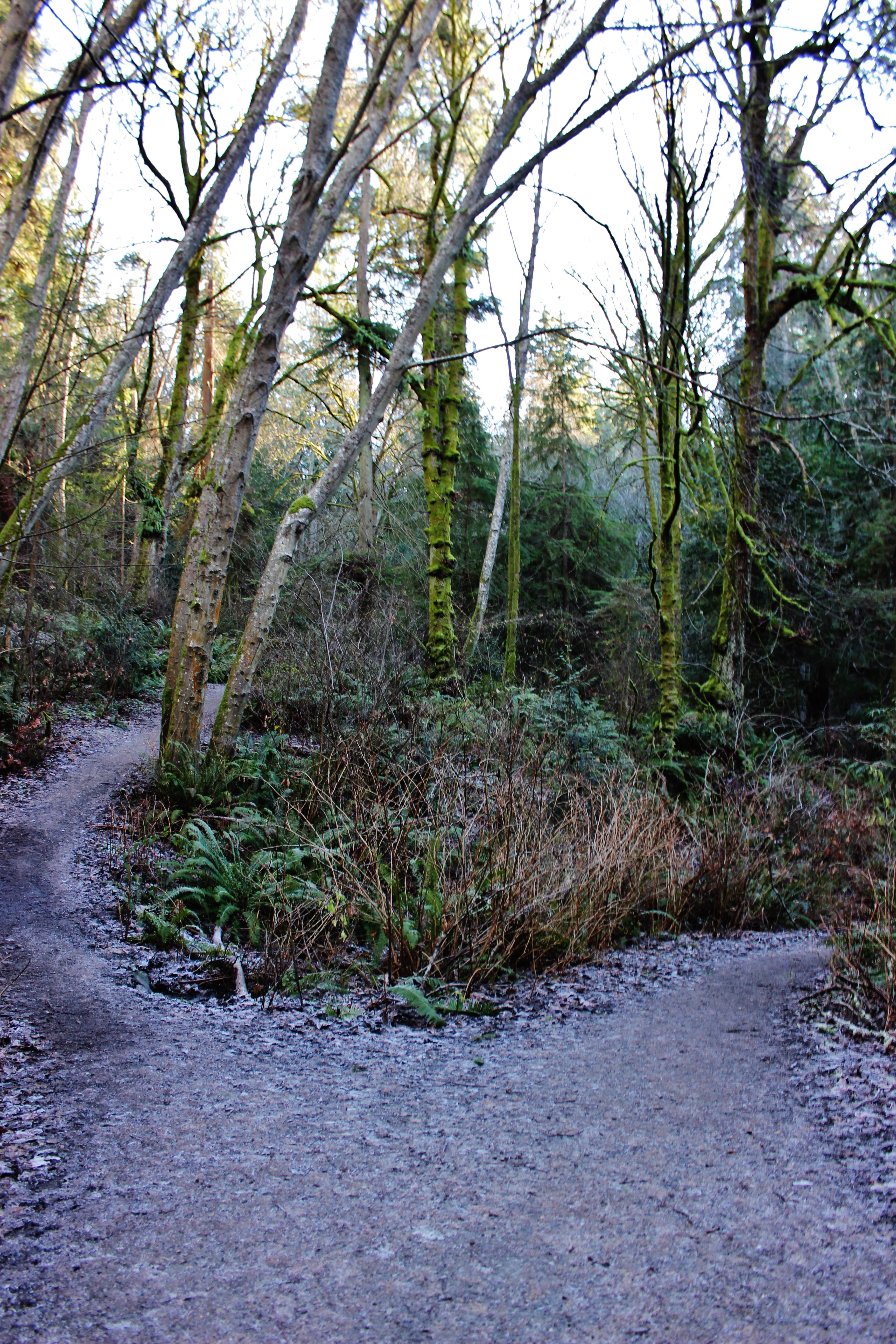 You can yoke yourself to the trite saying "There's a time and place for everything and everyone" – that when you hit some arbitrary number of years on this earth, you must fall in line.
Or, you can acknowledge that there're lots of places, and time enough to do some exploring.